---
---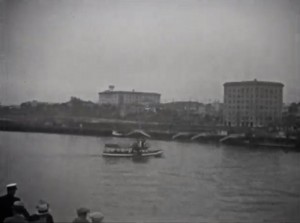 Date produced: 1934
Filmmaker(s):
Description:
"Footage of various places in Southern California and Mexico." Archive.org
---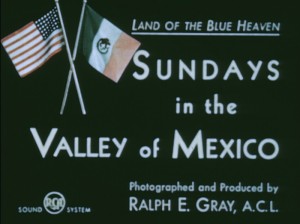 Date produced: 1942
Filmmaker(s):
Description:
"A colorful travelogue of modern, urban life in Mexico City. "Shows scenes typical of modern Mexico, such as the tall buildings and wide boulevards of Mexico City. The canal leading to Xochimilco, with its fruit- and flower-laden boats, is pictured. Then describes a festival held in honor of the Vice President of the United States, Henry Wallace, when he visited Mexico City. It includes a bullfight and a parade of Mexican beauties. Ends with a pageant of old and new Mexican dances" (War Films Bulletin of the Extension Division Indiana University, February, 1943, 19)" Indiana University Libraries Moving Image Archive.
---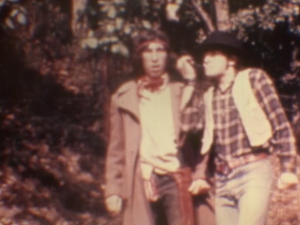 Date produced: 1970
Filmmaker(s):
Description:
"El título venía del juego de palabras con "West/Oeste" que da origen a "western". Alegaba la posición sureña de México en relación con el viejo oeste estadounidense y por eso se llamaba Sur. Al inicio de la película, sobre el título, una voz en off se aseguraba de explicarlo "Sur: Un western de acá de este lado"" (Vázquez Mantecón, 2012).

"The title is a game with the words "West/Oeste", that originate the term "western". It pleads the southern position of Mexico regarding the old United States west, and that is why it was called Sur [South]. At the beginning of the film, above the title, an off voice makes sure to explain it "South: A western from this side"" (Vázquez Mantecón, 2012).
---
Date produced: 1970
Filmmaker(s):
Description:
"EL TERCER SUSPIRO. Separa de un grupo de paseantes en la Alameda a un joven que al aceptar la invitación a subir a un auto que le hacen tres desconocidos (identificados con el movimiento revolucionario de 1910, mediante un montaje de fotografías de la época), durante el paseo por el Periférico se ve acometido por una serie de evocaciones imaginarias. Primero se le ve huir del coche saltando a un paso de peatones, y ser acosado a través de casas derruidas. Al regresar al tiempo presente uno de los hombres le pone la mano en un revólver. Después se ve en un lugar desierto, penosamente sostenido en pie por un aparato ortopédico, mientras una marea creciente lo empieza a cubrir. En ese punto desciende del coche en marcha y se coloca en el centro de la carretera, amenazando con el arma a algo que se aproxima; pero antes de que se produzca el disparo evoca un encuentro amoroso. Esta acción se repite varias veces antes de disolverse en las imágenes de un lago que ahora lo ha cubierto todo"(Garmendia en Vázquez Mantecón, 2012).

"THE THIRD SIGH. Separates a young man from a group of pedestrians in the Alameda, when he accepts an invitation by three unknown men to get into a car (the men were identified with the revolutionary movement of 1910 through a photographic montage of the time), during the ride through Periférico, he is undertaken by a series of imaginary evocations. First he is seen running away from the car, jumping to a crosswalk, and being harassed through demolished houses. When coming back to the present, one of the men puts his hand on a revolver gun. Afterwards, he is seen in a desert place, shamefully sustained by an orthopedic device, while a rising tide starts to cover him. At this point he descends from the moving car and goes to the center of the highway, menacing with his gun something that is approaching; but before the shot is produced, a loving encounter is evoked. This image is repeated several times before dissolving into images of a lake that has now covered everything" (Garmendia in Vázquez Mantecón, 2012).
---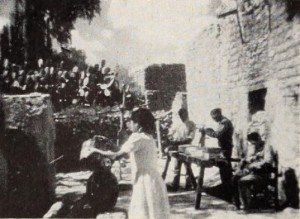 Date produced: 1946
Filmmaker(s):
Description:
"The vivid pageantry and somnolent landscapes of Mexico assume a new grandeur as filmed by Ralph E. Gray, a cinematographer who has long been recognized as one of the most accomplished amateurs on the continent. The land of contrasts and contradictions is beautifully presented in Typical Times in the Tropics, for here is one of the few travel films that ignore the tourist penchant for flashy trivia, to reveal the spirit of a people and the pictorial splendor in terms of lasting values. Mr. Gray has lived in Mexico long enough to recognize what is really significant; consequently, his film — for all its 1400 feet — seems to be a distillation of the unique charm which continues to attract Americans on vacation. The Mexican's strange blend of religious sincerity and garish ceremony is evidenced in a ritual filmed in Cholula, in which the local livestock — besmeared with gaudy paints and dyes — are presented for the blessing of the village priest — to insure the animals' fertility. The bouganvillea and hibiscus that frame the vistas of sleepy Fortin are contrasted with a boisterous Cuernavaca carnival and the hard riding charros of Mexico City. The latter scenes give Mr. Gray an opportunity to display his technical prowess at its best, for his handling of exposure problems in filming sombrero shadowed faces, his revealing closeups of spectators and skillful following of the wild horses and steer roping are proof of his stature as one of our finest amateur filmers. One of Mr. Gray's most valuable assets is a keen eye for detail, whether it be in the embroidery of a shawl or the weird sculpture left in the path of a lava flow. Intelligent use of a polarizing filter heightens the tawny stuccos of the cathedrals and intensifies the architectural detail of the facades and bell towers; and a fine feeling for human interest gives his shots of a Tehuantepec celebration, the Tirada de Frutas, an added opulence. The cliff divers of Acapulco staged some hairbreadth scenes for Mr. Gray, and he has made the sequence even more breathtaking by cutting in shots of the rocky hazards which had to be cleared by these young daredevils. Saving his trump for a fiery finale, this second time Maxim Award winner winds up with a series of frames of Paricutin, smouldering under her own gray vapors. Sustaining interest throughout 1400 feet of film is no mean task, even when abetted by the natural resources of Mexico; but Mr. Gray has met his challenge with a maximum of taste, discrimination and a completely craftsmanlike approach to a subject that has seldom been presented with such polish and vitality." Movie Makers, Dec. 1946, 470-471.
---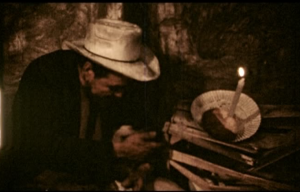 Date produced: 1971
Filmmaker(s):
Description:
"Era una película muy sencilla, filmada al estilo de cine directo, que seguía los pasos y la vida de un personaje urbano singular: un hombre que acompañado de su perro recorre las calles de la ciudad, las barriadas miserables. La cinta lograba momentos de una gran intimidad al mostrar la vida de este paria solitario y marginal, como aquel en que comparte con su perro un pastel para celebrar su cumpleaños en la soledad de su cuarto" (Vázquez Mantecón, 2012)


"It was a very simple film, made in the style of direct cinema, that followed the steps and the life of a singular urban character: a man that in the company of his dog walks through the city streets, the miserable neighborhoods. The film achieved moments of great intimacy by showing the life of this lonely and marginal pariah, like the moment when he shares a cake with his dog to celebrate his birthday in the loneliness of his room" (Vázquez Mantecón, 2012)
---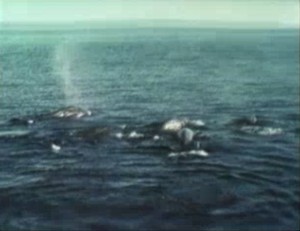 Date produced: 1986
Filmmaker(s):
Description:
"In January 1986, Dr. Robbins Barstow of Wethersfield, Connecticut, filmed a two-week cruise circumnavigating Mexico's Baja Peninsula. The trip included close encounters with seven different species of cetaceans -- Gray, Humpback, Bryde's, and Blue Whales, three kinds of dolphins, and giant elephant seals." Archive.org
---
Date produced: 1934
Filmmaker(s):
---
Total Pages: 5