---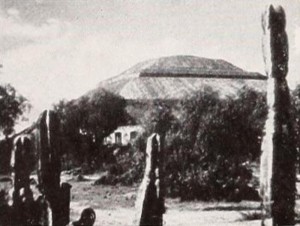 Date produced: 1944
Filmmaker(s):
Description:
"Down Mexico Way, by Lester F. Shaal. is a pleasing combination of travel, education and simple, stirring beauty. Beginning at the Providence (R. I.) railway station (the producer's home city), the film takes us swiftly by train to Mexico, D. F., the country's capital. After a tour of that metropolis, one visits in turn such popular tourist meccas as Xochimilco, San Juan Teotihuacan, Cuernavaca, Toluca, Taxco and others. An attractive map of Mexico, in color, introduces these several journeys and makes clear the geographical relations of the different towns. Mr. Shaal's camera work is tripod steady throughout, his compositions are pleasing and his musical scoring is an effective supplement. Of outstanding beauty are his sequences on golden, sunny Taxco and of the ancient, so often cloud shrouded, twin volcanos." Movie Makers, Dec. 1944, 495-496.
---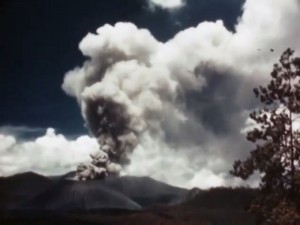 Date produced: 1943
Filmmaker(s):
Description:
"Paracutin, by Ralph E. Gray, is probably the most complete and accurate record of Mexico's new world wonder yet to be produced on 16mm. film, even possibly in the 35mm. medium. Mr. Gray, long one of Mexico's most devoted American friends, was on the scene soon after the eruption broke out in a peasant's cornfield, and he has made four further trips to record changes and progress in the volcano's life. His superbly filmed footage presents the dramatic subject from every available viewpoint — even to seemingly dangerous closeups of the fiery rim — but it has been edited and is presented in strictly accurate chronological order. Human interest scenes of the effect of the giant cauldron on native life are plentiful and appealing, even to a striking sequence of the heavy dust deposits along the streets of Uruapan, more than thirty miles from the eruption. Paracutin is today a dramatic study of beauty and power; it should prove in the future to be a unique and valuable scientific record." Movie Makers, Dec. 1943, 474.
---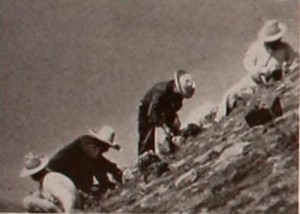 Date produced: 1941
Filmmaker(s):
Description:
"The immaculate camera work, incisive editing and attractive titling of Frank E. Gunnell have flowered into a new and superior beauty in Down Mexico Way. Here, in two full reels which seem like less, are all the standard Mexican Meccas — the capital city, the pyramids of Teotihuacan, Cuernavaca and the rest — each suavely sequenced and beautifully filmed. Added to these is a wealth of human interest, in smoothly planned records of such odd Mexican folklore as the self threaded needle cut from a maguey cactus, or the red dye concealed in the silvery cochineal wood louse. Mr. Gunnell's most superb triumphs, however, are in his moody and magnificent studies of Xochimilco and Taxco, Mexican communities which have beckoned to countless movie makers, but which only a few have answered with genuine eloquence and distinction." Movie Makers, Dec. 1941, 563-564.
---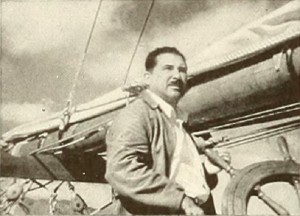 Date produced: 1940
Filmmaker(s):
Description:
"When the schooner yacht Enchantress put out from San Pedro for a five weeks' marlin fishing cruise in the Gulf of Lower California, fortunately James H. McCarthy was on board with camera, Kodachrome and a filming plan. The result was Before the Wind, as happy a movie yarn of a pleasure cruise as we have ever seen. A spirit of jollity and a general good time pervade this chronicle, which is adequately strung on the thread of a series of entries in the ship's log of the Enchantress. This casual continuity is entirely sufficient, for each episode is beautifully sequenced, and the whole film reflects a consistent happy go lucky holiday spirit. Exquisite shots of the schooner in translucent California Gulf waters, numerous studies of ship life, handsomely lighted interior views in cabins and engine room are all technical accomplishments in this picture. The sequences of marlin fishing and of clam digging on the Mexican shore are gems of good film planning and good cutting. The movie is presented with an intelligently planned musical accompaniment that really fits the film, but it is the natural handling of sequences of people on a carefree sea vacation that makes this picture superb entertainment." Movie Makers, Dec. 1940, 577.
---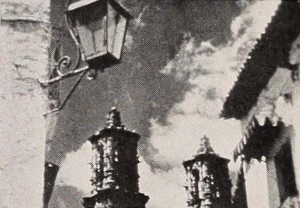 Date produced: 1939
Filmmaker(s):
Description:
"Mexican Silhouette, conceived as a gamble, has grown up to glory. After but a few years of average movie making experience, Clement K. Chase — as with so many — felt an irresistible urge to attempt, in one film, a concentration of all his accumulated skill and experience. He turned to a subject he knew with intimacy and affection, and Mexican Silhouette was the result. It is a splendid educational and general interest study, divided flexibly into three main sections — Mexico, D. F., Mexican Agriculture and Mexican Cities. To these subjects, Mr. Chase has brought a mature photographic skill, marked by tripod steadiness, stimulating compositions and a dramatic feeling for the use of filters. Well titled in the original silent version, the film is now being distributed commercially in both sound and silent editions." Movie Makers, Dec. 1939, 633.
---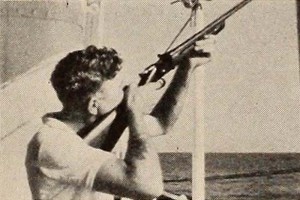 Date produced: 1938
Filmmaker(s):
Description:
"Frances Christeson, experienced cinematographer and artist of cine devices, gives us in Log of the Timber Rush the movie diary of a holiday voyage. That the freighter, in which she had booked passage, stripped its gears and was stalled somewhere in the Pacific Ocean, well off the coast of Mexico, upset her film plan but did not stop her. It became part of an amazing personal and movie making experience. But before the misfortune at sea and the long delay of weeks, waiting for help and repairs. Miss Christeson had filmed the loading of the Timber Rush with affectionate attention to detail and the use of fascinating cine symbols. She also had captured sequences of gorgeous quality, framed through ship's gear and depicting the beautiful, lazy clouds of the tropics and the life aboard the vessel. When the gears were stripped and the long period of inaction came, the camerawoman had, as she puts it, "the job of filming nothing happening." She does that as well as possible, and the result is a delightful sea picture marred only by the doldrums of fate." Movie Makers, Dec. 1938, 619.
---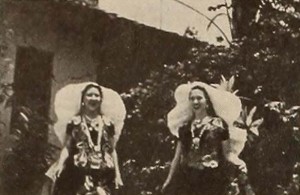 Date produced: 1938
Filmmaker(s):
Description:
"In producing Mexican Fiestas, the Hiram Percy Maxim Award winner of 1938, Ralph E. Gray has written a triumphant climax to his sympathetic and beautiful studies of Mexican life. Last year, in the Ten Best winner, Primitive Patzcuaro, he trained his camera quietly but observingly on the small scope of a single village. This year, in the dynamic sweep and action of Mexican Fiestas, Mr. Gray has ranged the length and breadth of Mexico to record with amazing vitality the thrilling ceremonies of a people at play. Here is an authentic documentation of religious and quasi religious holiday customs, both pagan and Christian. Here the simple mind of the Indian peasant interprets history and theology in his own colorful and often childlike idiom. Here, in the words of the film's own preface, "brave fireworks still exorcise the Devil; bright costumes do honor to the Diety, and exciting dances revive in antic splendor the ancient folklore of Aztec, Moor and Spanish Christian. To this striking and turbulent subject matter, Mr. Gray has brought a photographic skill which but rarely returned him anything less than perfection. The film's episodes, well edited and shrewdly titled, march smoothly onward to an amazing climax of pageantry and beauty. Important as a document of ethnologic value, entertaining as a drama of people at play, Mexican Fiestas is a worthy winner of the Maxim Award for 1938." Movie Makers, Dec. 1938, 596-597.
---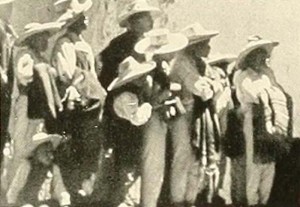 Date produced: 1937
Filmmaker(s):
Description:
"One comes from a screening of Primitive Patzcuaro, by Ralph E. Gray, with an overwhelming impression of pure beauty. Here, in compositions which often echo the Old Masters in their warmth of color and satisfying balance, an amateur movie maker has turned his camera on the simple life about him and found it pleasing. One after another, the magnificent scenes and sequences bring from the spectator that involuntary expression of deep pleasure which is ambrosia even to the great of amateur movies. In Primitive Patzcuaro, Mr. Gray has portrayed, with leisure, the life of the Tarascan Indians, remote from civilization in a rarely visited section of Mexico. Although magnificent in its color studies, the film is abundant in human interest as well; in portions devoted to the bright native dances and religious ceremonies, it presents a series of tableaux that are breath taking in their effectiveness." Movie Makers, Dec. 1937, 626-627.
---
Total Pages: 5