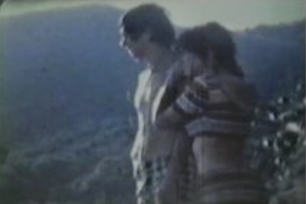 Date produced: 1971
Filmmaker(s):
Country of Production:
Mexico
Languages:
Spanish
Format:
Super8
Colour:
Colour
Sound Notes:
Unknown
Awards/Recognition:
Part of the book
El cine súper 8 en México 1970-1989
[Super 8 Film in Mexico 1970-1989]
Described as an iconic film of the super 8 countercultural movement in Mexico.
Description:
"Era una película que desarrollaba un tema muy propio de la contracultura de la época: la posibilidad de regresar a la naturaleza para vivir una vida al margen de la contaminación y de la vida moderna. Se trataba de una cinta de menos de diez minutos de duración, que contaba una historia breve pero ilustrativa de la naturaleza de los debates entre los jóvenes mexicanos cercanos a la contracultura. [...] La historia de Sergio García hacía una crítica al escapismo hippie, esperanzado por la posibilidad de crear un mundo alterno al de la realidad del capitalismo industrial" (Vázquez Mantecón, 2012).

"It was a film that developed a topic very related to the counterculture of the time: the possibility of going back to nature to live a life away from pollution and the modern life. The film lasted less than 10 minutes, and it told a brief but illustrative story about the nature of the debates between the Mexican youth that was close to the counterculture. [...] The story by Sergio García was a critique of the hippie escapism, hopeful for the possibility of creating an alternate world to the reality of industrial capitalism" (Vázquez Mantecón, 2012).
Resources:
Vázquez Mantecón, Álvaro. El Cine Super 8 en México 1970-1989 . Filmoteca UNAM, 2012. Find this book in Filmoteca UNAM Docs
Subjects:
Genre:
Form:
Tags:
---