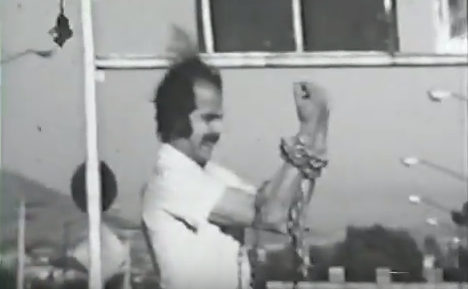 Date produced: 1971
Filmmaker(s):
Production credits:
Country of Production:
Mexico
Languages:
Spanish
Format:
Super8
Colour:
B&W
Sound Notes:
Unknown
Awards/Recognition:
Part of the book
El cine súper 8 en México 1970-1989
[Super 8 Film in Mexico 1970-1989]
Contestant of the Second National Independent Film contest, 1971.
Description:
"A successful man living in a great metropolis is increasing awareness of the unjust social reality that lives in the absurdity. This immerses him in a uneasiness that sinks into alcoholism and depression. In his wandering through the streets viewer gets to be the unfortunate suicide of another victim of the meaninglessness of life, which will produce a series of dreamlike hallucinations bordering on the madness. In a stroke of consciousness of his misfortune, he does run aimlessly without course. Devastated, to the dawn, with the light of the dawn he sees to be reborn the hope personified in an innocent girl who stretches the hand donating bread" Internet Archive.
Resources:
Vázquez Mantecón, Álvaro. El Cine Super 8 en México 1970-1989 . Filmoteca UNAM, 2012. Find this book in Filmoteca UNAM Docs

Find out more about Las calles negras in Archive / Las Calles Negras
Subjects:
Genre:
Tags:
Video Link:
---