---
Date produced: 1954
Filmmaker(s):
Description:
"Item is a film of a trip to Spain taken by Dr. Willinsky, his wife, Sadie, and some of their friends. Despite its title, the film does not contain footage of France. In the form of a travelogue, footage of landmarks, the local population, and the Willinsky's activities are accompanied by music and Dr. Willinsky's commentary. Footage includes shots of the Square of Spain, Sadie walking along the streets of a shopping district, churches and monasteries, a boat cruise from Palma to Figuera, a spring festival procession and dancing in Majorca. Most of the scenes were taken in Palma and Majorca." Ontario Jewish Archives.
---
Date produced: 1956
Filmmaker(s):
Description:
"Item is an audio-visual production of Dr. Willinsky's Hellenic cruise near Greece with his wife, Sadie. Production contains footage of the ancient ruins and other landmarks they visited, including sites in Mycenae, Pergamum, Athens, Troy and Gallipoli. In the form of a travelogue, music and Dr. Willinsky's commentary accompanies images for about the first 30 minutes. The remainder of the production is mute." Ontario Jewish Archives.
---
Date produced: 1951
Filmmaker(s):
Description:
"Item is an audio-visual production of Dr. Willinsky's trip to Israel. In the form of a travelogue, Willinsky accompanies footage of landmarks, ruins and the local population with audio commentary. The production includes a brief discussion of the formation of the state of Israel and features various cities, such as, Jerusalem and Tel-Aviv. Sadie [Willinsky] is occassionally spotted in the footage interacting with locals and visiting the homes of friends." Ontario Jewish Archives.
---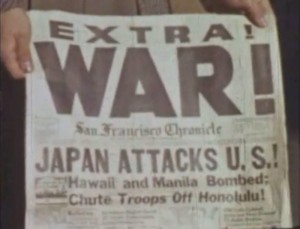 Date produced: 1945
Filmmaker(s):
Description:
"Amateur film footage shot by Dave M. Tatsuno while he was interned at the Topaz War Relocation Center, the Japanese-American internment camp located in Delta, Utah. The footage dates from 1942-1945, the years that Tatsuno was interned in the camp." Archives West.
---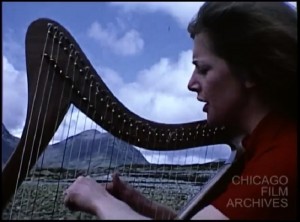 Date produced:
Filmmaker(s):
Description:
Travelogue exploring British islands. Includes footage of "harpist Catriona Maclean McKinnon playing along the shores of the Isle of Skye in the early 1970s" (Chicago Film Archives).
---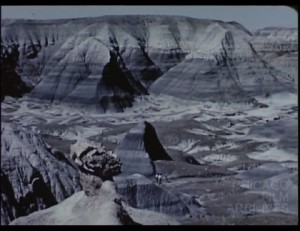 Date produced: 1960
Filmmaker(s):
Description:
"A two-part lecture travelogue film on the state of Arizona. The film would have been originally presented with live narration by the filmmaker, Robert Davis. Part one includes footage of desert landscapes, ranches, pre-historic artifacts, Native American art production & industry (wigs, textiles, etc), saloons, regional industry (logging, agricultural, and dams). Part two also includes footage of desert landscapes, cacti and dams as well as scenes from Phoenix and the surrounding area. Highlights from part two include a tour of a trailer park and footage of people skiing and sledding down a snowy hill." Chicago Film Archives.
---
Date produced: 1946
Filmmaker(s):
Description:
"Edited film of Greece by a Greek immigrant to the United States was specifically created to educate American audiences to the true qualities and nature of the Greek people. Footage includes Athens, Greek ruins, and country villages," via the Human Studies Film Archives, Smithsonian Museum.
---
Date produced: 1925
Filmmaker(s):
Description:
"Edited film shot during the Franco-American Expedition to Algeria which was sponsored jointly by the Logan Museum of Anthropology, Beloit College, and the Algerian government. Led by Alonzo Pond, Byron Khun de Prorok, and Maurice Reygasse, the expedition traveled from Biskra to Tamanrasset and back in three specially constructed Renault vehicles in October and November of 1925. The expedition excavated both prehistoric and ancient Sahara habitations and observed various Hoggar Tuaregs. Film features excavations on the ancient tombs near Tamanrasset (including the tomb of Queen Tin-Hinan, ancestral mother of the Tuaregs), French colonial outposts, encounters with Tuareg chiefs, and a wrestling match, a slave tent, and head shaving in a Tuareg camp," Human Studies Film Archives.
---
Date produced: 1965
Filmmaker(s):
Description:
"Edited film created by Frank L. Kreznar, an award winning amateur filmmaker, with assistance from his wife during a guided tour of the Soviet Union in 1965. Film consists of footage of Moscow and Leningrad mainly of public places with a special emphasis on historically important buildings. Throughout the footage Kreznar shows modern apartment buildings as they are being constructed, with his commentary discussing the Soviets' efforts to modernize the territories under their control and the recent population growth in these cities. Kreznar is also interested in the modes of public transportation in each city – such as street cars or the metro in Moscow. Kreznar notes that most automobile production in the Soviet Union focuses on trucks for work while cars are considered a rare luxury for private citizens. He also discusses the high volume of pedestrian traffic. Kreznar also takes an interest in religion in this footage, showing churches in disrepair or having been de-sanctified and converted into housing, museums, or other government administrated buildings. Kreznar notes that this is due to the Soviet government's anti-religious policy, but he also shows some churches under recently started restoration due to the government's realization of the touristic value of these sites. Film includes occasional shots of people working, mainly in outdoor produce markets. Women are shown doing road construction in Moscow as well as various public parks, swimming pools, and other public recreation areas, with a special emphasis on how the Soviet government has given children places to play," Human Studies Film Archives, Smithsonian Museum.
---
Date produced: 1935
Filmmaker(s):
Description:
"Edited film used by an amateur travel-lecturer documents travel in western and southwestern United States beginning at a rodeo in Phillipsburg, Kansas (trick riding, lassoing jack rabbits, roping calfs, wrestling steers, horse races, bucking broncos and bucking steers as well as scenes of an airplane flyover and of an airplane crashing which possibly was a stunt) and continuing to Black Hills, South Dakota (forest scenery and ca. 1927 construction of Mount Rushmore--blasting off cliff face, scaffolding, men working and completed monument). Shown are roadside scenery, railroad tracks, men cleaning railroad tracks with hose and tank on small train car on the way to an unidentified mountain fishing camp possibly in Colorado (canoeing, fishing in stream, and a smokehouse) and a mountain farm where colts are branded. Cog railway is taken up to Pike's Peak. Travels continue to to the Southwest (unidentified southwestern town possibly Santa Fe with adobe buildings and men and children in Mexican dress singing and playing guitar, American Indian dance performance indoors possibly Zuni, parade of American Indians in unidentified city perhaps Gallup and Navajo band. Scenes of the southwest continue with Navajo in Canyon de Chelly (hogans and herding sheep), prehistoric archaeological sites (Mesa Verde, Chaco Canyon another unidentified cliff dwelling possibly Montezuma's castle) and Taos Pueblo. Film records American Indian dances at a gathering of Indian tribes possibly at Gallup, intertribal horse races and women's tug-of-war. Hopi are shown dancing at Hopi. Also shown are Indian women (possibly Apache or Navajo) and children together and children in cradleboard and the Navajo reservation (hogans, women spinning and weaving under a ramada, herds of sheep and goats and "dipping sheep"). Natural wonders of Grand Canyon, Monument Valley and Rainbow Bridge National Monument are featured.Travel continues to Yellowstone National Park, California (scenery, black bears, hot springs and geysers) and onto the California coast possibly Monterey (seals on rocks). Also shown are an unidentified town with oil pumps and derricks and people waterskiing" via the Human Film Studies Archives, Smithsonian Museum.
---
Total Pages: 13