---
---
Date produced: 1928
Filmmaker(s):
Description:
"The principal award of $500 in the 16 millimeter division was awarded to B. V. Covert...for his remarkable study of a quail hunt and a number of beautiful pointers in action. Mr. Covert's photography was superb in this film and in two other contest contributions submitted for the consideration of the judges...His films revealed, besides brilliant photography, an unusual scenic sense. His films were no mere series of disjointed shots. In each case, Mr. Covert told a story—and an interesting one" Photoplay, June 1928, 67.
---
Date produced: 1927
Filmmaker(s):
Description:
"In describing her film, Miss Bodine says: "I did all the camera work myself, using a Filmo double speed Camera, although some of the picture was taken using single speed. Most of the picture was made with a Taylor-Hobson Cooke lens, a 3 3-4 telephoto, the film being the regular Kodak safety stock. All of the work was done on a tiny porch of a summer cottage in Maine" Miss Bodine used small bottles, filled with sweetened water, to attract the humming birds before her camera." Photoplay, June 1928, 137.
---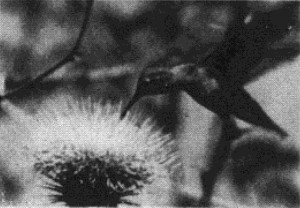 Date produced: 1960
Filmmaker(s):
Description:
"Wildflowers and desert life of some of the birds and small animals have called many but few have captured the beauty with such ease and grace. There is an intimacy with all the creatures as we watch them feed and play and the birds nest in the cactus, feeding and training the young. Those who live with and appreciate the desert will be delighted with this gem of a nature film" PSA Journal, Nov. 1960, 39.
---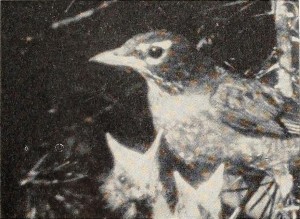 Date produced: 1952
Filmmaker(s):
Description:
"Trim, tightly knit and altogether engaging, Backyard Birding presents, with affectionate attention to detail, a nature-loving father and his small son searching out the common and uncommon birds of their New England neighborhood. The film's pleasant music and informed but unassuming narrative are in sympathetic harmony with the pictorial whole. In it, with apparent purpose, Herbert D. Shumway has employed a cloudy-bright lighting throughout. Thus, the countless closeups of his bird neighbors, as they build their nests and rear their young, are in soft, true and unshadowed color — as so befits the film's gentle theme. And, just in case you're wondering, these superb scenes (on 8mm. film, remember) are beautifully sharp, despite the wider lens apertures which must have been used." Movie Makers, Dec. 1952, 324, 337.
---
Date produced: 1953
Filmmaker(s):
Description:
"Bird colonies of Langara and Cox Islands in the Queen Charlotte Islands." (BC Archives)
---
Date produced: 1934
Filmmaker(s):
Description:
"In Birds of a Feather, Edmund Zacher, II, ACL, exhibits the patience and skill necessary to compile a complete story entirely with telephoto lenses. All the particular points which must needs be observed to make successful telephoto pictures — careful centering, sharp focusing and rigid camera support — are exhibited in this film, which is interesting withal, as it tells the story of a thrush family from the time the youngsters are hatched until the last laggard leaves the nest. Some scenes, which show the parent bird in closeup by means of telephoto magnification and in which the bird fills the entire frame, are truly remarkable. Good fortune gave Mr. Zacher the beautiful background of a flowering tree for this springtime idyll. A suitable musical background — compiled from discs — accompanies the film. Mr. Zacher made this picture entirely from a window in his home, and his patience and skill in capturing every needed shot are remarkable." Movie Makers, Dec. 1934, 534.
---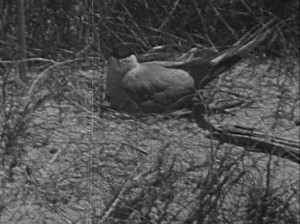 Date produced: 1935
Filmmaker(s):
Description:
"The film concentrates on the birds, particularly the common tern, the little tern and the oyster catcher" (EAFA Database).
---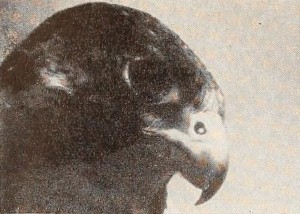 Date produced: 1952
Filmmaker(s):
Description:
"You wouldn't think that just one movie maker could shoot all this footage (2400) on birds — no matter how interested and informed he was on the subject. And if that was the way you felt, you would be dead right. For Birds of Washington is the joint work of two men, J. Don Sutherland and Ralph E. Lawrence, who, because they customarily screen their films together, chose to submit them as one contest entry. Both, in any case, are highly competent movie makers and soundly informed students of bird life. For example, they preface briefly each new subject grouping with a pictorial survey of the type of terrain in which the birds will be found. Makes the film that much more informative. Outstanding, in our recollections, are their sequences on the American bald eagle and on an owl — whose family tree we regret we cannot recall." Movie Makers, Dec. 1952, 340.
---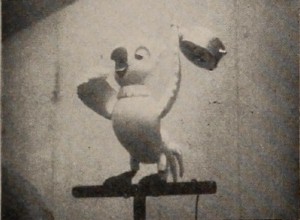 Date produced: 1947
Filmmaker(s):
Description:
"Animated figures have seldom been presented with such meticulous technique and in such clever situations as are executed by Clifford Bach in Breakfast in Bed. A perfectionist to the last twitch of an eyebrow, Mr. Bach has achieved exceptional realism in the movements of his small figures by painstaking frame by frame exposure and expressive camera viewpoints. His story follows the efforts of a cocky little cockatoo, Windy, to prepare breakfast for his master, Professor Whiffle. Windy's ingenuity overcomes all obstacles in a series of neatly motivated and genuinely amusing "gags." Mr. Bach's persistence and eye for design indicate a bright future in the field of animated movies." Movie Makers, Dec. 1947, 536.
---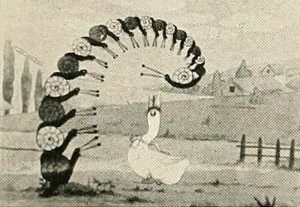 Date produced: 1937
Filmmaker(s):
Description:
"To the producer of Ducky 'n Busty must be given the palm of accomplishment for making the first 16mm. cartoon story in Kodachrome that has come to the attention of the League. Plenty of publicity has been given to the immense amount of detailed work that goes into making a theatrical screen cartoon. In Hollywood, this is done by a large staff, but Emile Gallet, producer of this unusual film, performed every bit of the work himself. This included the construction of a special apparatus for shooting color film, frame by frame, the arrangement of proper lighting and designing an alignment device for bringing each separate drawing into correct relationship with its predecessor. In addition, Mr. Gallet, who is an artist, planned the scenario and executed each separate drawing in color. The monumental effort thus involved may be deduced from the fact that there are forty frames to each foot of film and that Ducky 'n Busty runs to a length of 400 feet. The subject matter of this amusing cartoon is of the type familiar in theatrical productions, wherein the antics of birds and animals repeat the foibles of humankind. In imaginative color design, fine technical work and sheer achievement in this field, into which so few amateur workers have ventured, Mr. Gallet rates highest praise." Movie Makers, Dec. 1937, 629.
---
Total Pages: 5