---
---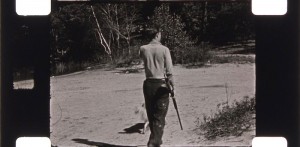 Date produced: 1937
Filmmaker(s):
Description:
"Hunting, cast of "Boy," played by Winthrop Rolfe, and "Dog," played by Teddy. Boy, walks with Dog through the forested mountainside, gazes at views over the alley, drinks water from a rushing stream, and kneels to shoot at birds." Notes by (NHF) Chris Reed and Chris Castiglia, June 2013
---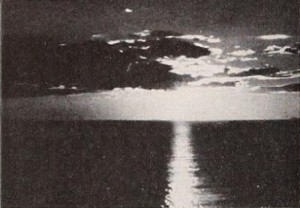 Date produced: 1942
Filmmaker(s):
Description:
"In the Beginning is a title that appears for the second time in these lists, for this film is a new version of a picture by the same name that was produced in 1935 by Fred C. Ells. The first picture was filmed in black and white when Mr. Ells was working in Japan, and the second picture was made in color in this country. In the Beginning tells, with extraordinary beauty, the story of Creation in the Book of Genesis, and it is climaxed by the creation of man and his works. It is a symphonic film of water, earth and of nature, graced by the cinematic skill and artistry familiar to all who have seen Mr. Ells's work. He has the gift of exquisite motion picture composition and distinctive choice of precise subject matter to which, in this picture, is added a unique control of color. Some of the scenes of birds forming moving patterns on the sand are astonishing, both in composition and in color effect. Back lighting, slow motion and the telephoto lens are tools that Mr. Ells uses frequently, but never for their obvious effect. They are but part of the magic by which he takes his audience back to the days of Creation." Movie Makers, Dec. 1942, 506.
---
Date produced: 1936
Filmmaker(s):
Description:
"In the educational class, E. N. Harrison's two reel subject, 'The Least Tern,' was excellent. For general showing the film unquestionably did have too much repetition, but for strictly educational use this would be an asset. More serious was the lack of necessary explanatory titles. The photographic technique was truly excellent, for virtually the entire film must obviously have been made with extremely long focus lenses, shooting from a blind, and the results on the screen were practically perfect." American Cinematographer, Feb. 1938, 76.
---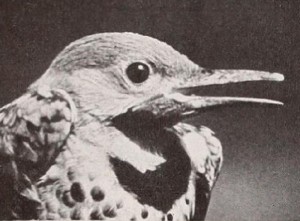 Date produced: 1943
Filmmaker(s):
Description:
"Henry E. Hird offers the framework of a timely continuity plan for a scientific record in A Letter. A naturalist father writes a film letter to his sailor son who shares the father's scientific interest in bird and insect life, as well as in floral beauty. We see the father writing and the son reading a letter, the information in which is brought to life in film. Mr. Hird is a very capable observer and movie maker, and the combination of these abilities has enabled him to offer, in this informal style, a wealth of information. Extraordinary sequences of nesting birds are included." Movie Makers, Dec. 1943, 477.
---
Date produced: 1977
Filmmaker(s):
Description:
"An award-­winning, detailed study of the life of this fascinating bird. Exciting sequences of their remarkable courage in defense of their young." Oldfilm.org
---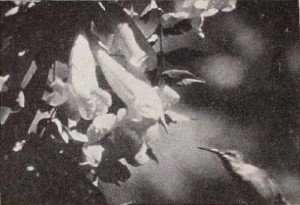 Date produced: 1941
Filmmaker(s):
Description:
"Birnam Wood has moved again, this time across the ocean from Dunsinane to Cleveland, where Mrs. Warner Seely dons evergreen branches to film Madame Hummer at Home. Thus concealed, Mrs. Seely has made a fascinating record of the life cycle of the hummingbird. Although a dual approach to a film is not generally advisable, she has managed to combine ornithological data with a great deal of human interest. While we are learning much about the habits of the hummingbird, we sense a spirit of friendliness and informality about the film which gives it a wide appeal. A charming introduction leads us from a bird book, out into the garden and finally to the well concealed nest of Madame Hummer. Reaction shots of two young girls discovering the nest and scenes of Mrs. Seely at work in her "elephant hideout," as she calls her camouflaged vantage point, add much to the interest. Verse titles, occasionally too ingenious to scan, contribute to the overall feeling of warmth in this nature picture." Movie Makers, Dec. 1941, 566.
---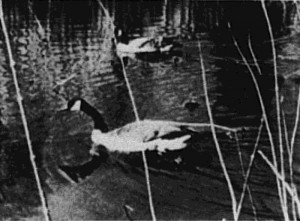 Date produced: 1957
Filmmaker(s):
Description:
"Marshland takes us into the Canadian (Alberta) breeding grounds of a large variety of waterfowl. There are many close-ups of ducks, geese and a variety of other birds which nest near the water. We see men fishing with bow and arrow. Air propeller boats are useful in shallow marshland with these one may follow the ducks as they fun ahead of us on the surface of the water, using both feet and wings. With the boat we can get to the nests for closeups. As the fall and hunting season arrives our cameraman flies north to intercept some of the birds as they come in to the feeding grounds along the flyway, where we may see impressive flight formations of ducks unlimited. Russell Jameson wrote and narrated the story of this picture and has recorded fitting background music and sound effects." PSA Journal, Nov. 1957, 32.
---
Date produced: 1935
Filmmaker(s):
Description:
"'Mystery in the Forest' came from Khoji Tsukamoto in Japan; a series of bird pictures of beauty and interest, with shots of heron chicks emerging from the shell outstanding" American Cinematographer, April, 1938, 173.

"Documentary. The flora and fauna in a forest in Japan. Winter landscapes and snow clearing (snow shovelled into large open baskets carried on the backs of women); swans flying over water; spring flowers with shots of Mount Fuji. A man using his fingers as a pan pipe to attract birds. The juichi (a kind of cuckoo), the nests with eggs of the grand thrush, greenfinch and the warbler. Chicks of the blue robin and snakes. A titmouse that has built her nest in a tomb. Greenhorn chicks; nests of night herons and the chicks; owls" (EAFA Database).
---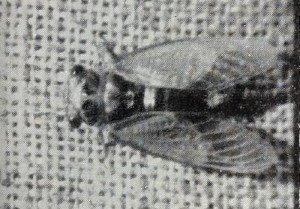 Date produced: 1951
Filmmaker(s):
Description:
"There is a lively and rewarding sense of participation about Nature Campers which, despite its threatening length, should give this picture wide appeal. In it, an eager-eyed group of young people and a few engagingly raffish naturalists pursue their studies of the outdoors with enthusiasm — and sound cinematics. Birds, butterflies, frogs and fish are among the creatures which come before Herbert Shumway's camera. But they come there, not just in the stiff ultracloseups of the studio, but as a natural part of the picture's development. The background musical selections are an enjoyable addition to an entertaining picture." Movie Makers, Dec. 1951, 412.
---
Date produced: 1956
Filmmaker(s):
Description:
"Making maple syrup in the Amish sections around Cleveland, Ohio. An owl and a raccoon symbolize nature and tie together the four seasons. The details of syrup making are integrated with life in the country throughout the year, especially the wildlife. Bird calls are synchronized." PSA Journal, Nov. 1956, 22.
---
Total Pages: 6