---
---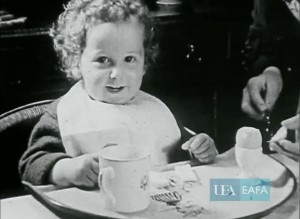 Date produced: 1934
Filmmaker(s):
Description:
"In the Home Movie field, Lawrenson submitted a fine document of a day with his little 2-year-old daughter. The main portion is given over to a day at the seashore. But he gives reasons for everything he does even to going home. He shows a storm coming up and after the family has arrived safely at home, the little looks out of the window while the raindrops patter on the windowpane." American Cinematographer, Jan. 1936, 24.
---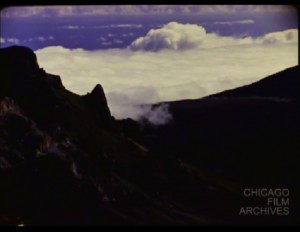 Date produced: 1941
Filmmaker(s):
Description:
"2 part travelogue film of Hawaii capturing the scenery, resources and people of the islands. Part 1 visits to a lava flow and other natural wonders such as Haleakala Creater and a black sand beach as well as numerous shores and valleys along the way. Stop motion animation of a toy car or ship tracks a change in location. Part 2 features footage of tropical flowers, picking coconuts, family picnic, farming and factory processing pineapple, Hula dance performances, surfing and canoeing competitions, and sunsets."
---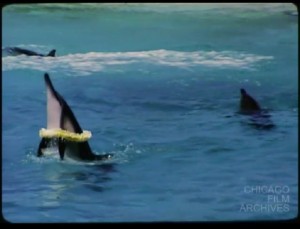 Date produced: 1966
Filmmaker(s):
Description:
"2 part edited travel footage taken in numerous Hawaiian locations. Focuses on events and people as well as the natural scenery. Includes traditional dancing, a festival and a visit to an aquarium as well as religious locations." Chicago Film Archives.
---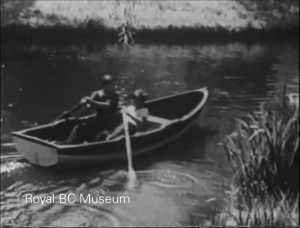 Date produced: 1950
Filmmaker(s):
Description:
"An impressionistic portrait of city life during a day off in the summertime, with poetic narration set opposite some very observant and intimate views of Vancouver and its inhabitants. These include numerous street scenes; departure of the passenger ferry 'Hollyburn'; shots of and from Interurban railway and streetcars; sequences on Chinatown, Kitsilano Beach, Stanley Park, Victory Square, and the downtown waterfront; and a glimpse inside a typical beer parlour. The film received honourable mention in the amateur category at the 1950 Canadian Film Awards." (BC Archives)

Opening credit reads: "The Vancouver Branch of the National Film Society presents..."

Additional credits (on 1986 restored version): "Restored 1986 by Dennis J. Duffy for National Film Week '86 in co-operation with Canadian Filmmakers Distribution West and the Provincial Archives of British Columbia. Restoration funded by BC Heritage Trust."
---
Date produced: 1935
Filmmaker(s):
Description:
"Film footage moderately edited with added intertitles, shot in Ceylon, Egypt, and Italy by oil explorer and geologist Walter Link during his personal vacation, records various tourist destinations. Landmarks include: the beach and harbor at Colombo, Sri Lanka (Ceylon); the Sphinx, pyramids, Mosque of Mohamed Ali and Egyptian Museum in and around Cairo, Egypt; Villa San Michele in Capri, Italy; and St. Peters and the Coliseum in Rome, Italy. Footage consists mainly of sights and structures, and features little interaction with local inhabitants," Human Studies Film Archives, Smithsonian Museum.
---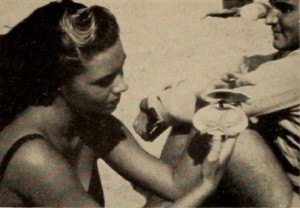 Date produced: 1949
Filmmaker(s):
Description:
"By a facile blending of warm hearted humor and a keen perception of human interest values, George Mesaros has created a film study of a famous beach in New York's metropolitan area that is replete with interest, information and entertainment. His technical skill and knowledge of what makes a motion picture move prevent this from being the dull collection of random shots all too frequently characteristic of this genre subject. Employing himself as a frenzied and frustrated shutterbug and a filming friend as plain Joe Doakes at the beach with his wife, a lunch and box camera, Mr. Mesaros proceeds to examine with interest and obvious affection the thousand and one attractions of the Long Island resort. An excellent musical score and a brief commentary help to integrate the compact 700 feet of the film's lively length." Movie Makers, Dec. 1949, 454.
---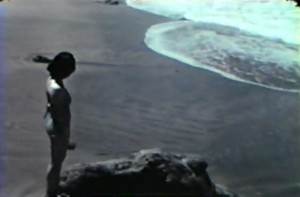 Date produced: 1938
Filmmaker(s):
Description:
"This picture, telling a dramatic story of a mysterious curse hovering over a stretch of lonely beach, was produced in Kodachrome and runs 400 feet." Movie Makers, Dec. 1939, 614.
---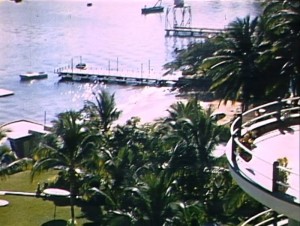 Date produced: 1970
Filmmaker(s):
Description:
"General scenes around Acapulco; Bay, ships, beach, poolside, city scenes, landscape, cliff diving, traditional dance and crafts." UC San Diego Library.
---
Date produced: 1950
Filmmaker(s):
Description:
"Seashore plant and animal life (e.g., crustaceans, anemones, worms, octopus, jellyfish, etc.)" (BC Archives)

Also exists in a shorter version called Sea Creatures, which was probably edited from the original film for classroom use in 1969..
---
Date produced: 1960
Filmmaker(s):
Description:
"Edited film by Floyd Henry Wells, a retired salesman and a member of the Wally Byam Caravan Club of Airstream trailers, chronicling travel through New Zealand including scenic views, urban scenes, beaches, Puhoi Hotel, Lyltelton and Diamond Harbors, marina, fishing, Wairakei Geyser Valley, geysers, Tehokowhitu-atu archway, Maori Reserve and indigenous peoples, and motor camping (Rainbow Springs Motor Camp)," Human Studies Film Archives, Smithsonian Museum.
---
Total Pages: 4