---
---
Date produced: 1934
Filmmaker(s):
Description:
"Honorable mention was also extended to J. Sherlock of Sydney, Australia, for his 'Surf, Sand and Sunshine,' a scenario picture of a day on the surf with a shark scare and a love theme welded into an interesting pictorial portrayal." American Cinematographer, Feb. 1936, 73.
---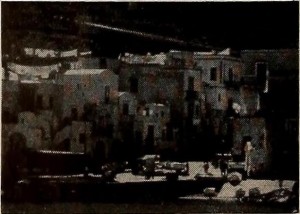 Date produced: 1953
Filmmaker(s):
Description:
"From the Island of Capri, Helen Welsh has brought home a charming, sunny vignette in Where the Sirens Sang. It is the sort of film any traveler would like to have as a memento of a pleasant sojourn. Miss Welsh's seeing lens has captured the spirit of the countryside, its people, its luxurious beaches, its typical transportation. For this reviewer, Where the Sirens Sang plays a beckoning tune indeed." Movie Makers, Dec. 1953, 334-335.
---
Date produced: 1955
Filmmaker(s):
Description:
"Views from ground of Salt Lake City skyline, Antelope Island, the train causeway, a passenger train, the salt flats, salt crystallization on rocks, brine shrimp, auto racing on the salt flats, seagulls (with sound), sail boating, swimmers at Saltair, Sunset Beach, the marina, water skiers, boat painting, and the Utah State Capitol building." University of Utah Marriott Library.
---
Total Pages: 4