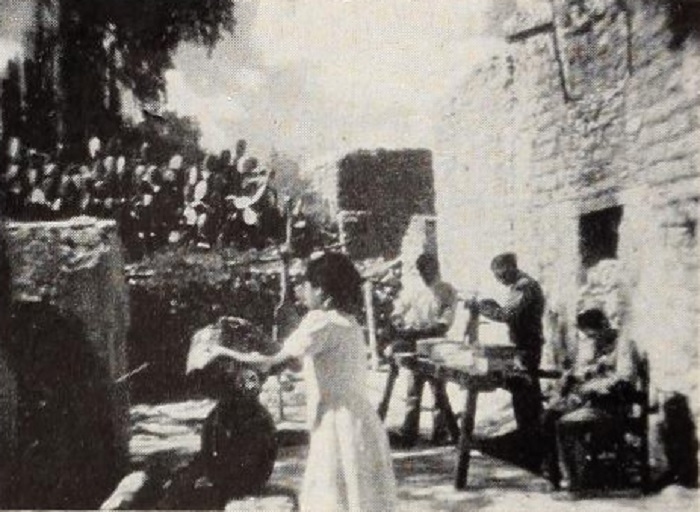 Date produced: 1946
Filmmaker(s):
Languages:
English
Length:
1400 ft
Format:
16mm
Colour:
Kodachrome
Sound Notes:
Silent
Awards/Recognition:
ACL Ten Best 1946 - General Class
Hiram Percy Maxim Memorial Award 1946
Home Movies' 1946 Annual Amateur Contest - First Award, Documentary Class
Home Movies' 1946 Annual Amateur Contest - Achievement Award in Photography
Description:
"The vivid pageantry and somnolent landscapes of Mexico assume a new grandeur as filmed by Ralph E. Gray, a cinematographer who has long been recognized as one of the most accomplished amateurs on the continent. The land of contrasts and contradictions is beautifully presented in Typical Times in the Tropics, for here is one of the few travel films that ignore the tourist penchant for flashy trivia, to reveal the spirit of a people and the pictorial splendor in terms of lasting values. Mr. Gray has lived in Mexico long enough to recognize what is really significant; consequently, his film — for all its 1400 feet — seems to be a distillation of the unique charm which continues to attract Americans on vacation. The Mexican's strange blend of religious sincerity and garish ceremony is evidenced in a ritual filmed in Cholula, in which the local livestock — besmeared with gaudy paints and dyes — are presented for the blessing of the village priest — to insure the animals' fertility. The bouganvillea and hibiscus that frame the vistas of sleepy Fortin are contrasted with a boisterous Cuernavaca carnival and the hard riding charros of Mexico City. The latter scenes give Mr. Gray an opportunity to display his technical prowess at its best, for his handling of exposure problems in filming sombrero shadowed faces, his revealing closeups of spectators and skillful following of the wild horses and steer roping are proof of his stature as one of our finest amateur filmers. One of Mr. Gray's most valuable assets is a keen eye for detail, whether it be in the embroidery of a shawl or the weird sculpture left in the path of a lava flow. Intelligent use of a polarizing filter heightens the tawny stuccos of the cathedrals and intensifies the architectural detail of the facades and bell towers; and a fine feeling for human interest gives his shots of a Tehuantepec celebration, the Tirada de Frutas, an added opulence. The cliff divers of Acapulco staged some hairbreadth scenes for Mr. Gray, and he has made the sequence even more breathtaking by cutting in shots of the rocky hazards which had to be cleared by these young daredevils. Saving his trump for a fiery finale, this second time Maxim Award winner winds up with a series of frames of Paricutin, smouldering under her own gray vapors. Sustaining interest throughout 1400 feet of film is no mean task, even when abetted by the natural resources of Mexico; but Mr. Gray has met his challenge with a maximum of taste, discrimination and a completely craftsmanlike approach to a subject that has seldom been presented with such polish and vitality." Movie Makers, Dec. 1946, 470-471.
Resources:
Discussed by Gray in "Twice Winner of the Maxim Award" (Movie Makers, Jan. 1947, 14-15, 29). In the article, Gray reflects on being the first filmmaker to win the Hiram Percy Maxim Memorial Award twice, and briefly describes the production of Typical Times in the Tropics. Film stills are shown.
Locations:
Cholula, Mexico (Filming)
Mexico City, Mexico (Filming)
Acapulco, Mexico (Filming)
Subjects:
Genre:
Form:
Tags:
Screenings:
Screened at the American Club in Mexico City in 1946: Mexico City, Mexico
Screened by the Hartford Cinema Club in 1946: Hartford, CT
Screened by the Dayton Amateur Movie Makers Club in 1947: Dayton, OH
Screened by the Washington Society of Amateur Cinematographers in 1947: Washington, D.C.
Screened by the Brooklyn Amateur Cine Club in 1947: Brooklyn, N.Y.
Screened by the Philadelphia Cinema Club in 1947: Philadelphia, PA
Screened by the Amateur Motion Picture Club of St. Louis in 1947: St. Louis, MO
Screened by the Indianapolis Amateur Movie Club in 1947: Indianapolis, IN
Screened at the Cincinnati Country Club in 1948: Cincinnati, OH
---
Do you know where this film is? Get in touch with us at amdb@ucalgary.ca.