---
---
Date produced: 1936
Filmmaker(s):
Description:
"Frances Christeson and Harry Merrick have shown in their film, Architecture and Fine Arts, what can be done with the motion picture camera by sensitive, yet systematic, movie makers. Produced under the supervision of A. C. Weatherland, dean of the College of Architecture and Fine Arts at the University of Southern California, the picture shows students at work and gives glimpses of class room technique in teaching most of the fine arts. Although no section of the film is long or detailed enough to serve the purpose of teaching, the film, as a whole, gives a very clear and concise picture of the scope of the work of the architecture and fine arts college of the University of Southern California. Technically and cinematically, this record is superb; beautiful compositions, carefully selected and composed scenes, combined with titles of distinction, make it a truly outstanding production. Included in the picture, that is for the most part in black and white, are color sequences of stained glass windows." Movie Makers, Dec. 1936, 542.
---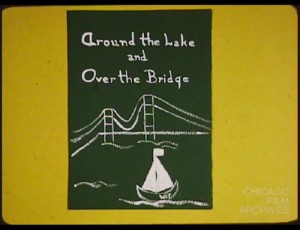 Date produced: 1965
Filmmaker(s):
Description:
"Travelogue of cities, towns, and outdoor activities found around Lake Michigan. There is a wide variety of footage, including sand dunes, beaches, parades, many shots of flowers, ships, industrial ports scenes, attractions of historic horse-and-buggy town Mackinaw City, a mansion on fire, Grand Hotel: World's Largest Summer Hotel, camping, rafting, farmers harvesting crops, and the Prudential Building in Chicago." Chicago Film Archives.
---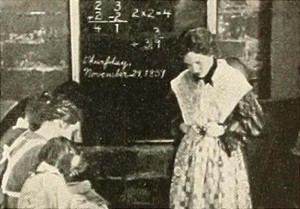 Date produced: 1937
Filmmaker(s):
Description:
"The Birth of St. Mary's, by Robert F. Gowen. is a deeply moving and well nigh incredible accomplishment in amateur film production. Described as a chronicle in retrospect by the church that it pictures, the film moves bravely into the treacherous domain of costume drama and emerges triumphant. To recreate the gracious life of another day, to catch the feeling of its clothes and the flavor of its customs, to stage all of this against settings not only dramatically sound but full of beauty as well — such were but part of the problems of the producer. Perhaps greatest of all was the task of carrying on each step of this work with the willing, but often wilting, help of an entire community, the accomplishment, through infinite patience, of holding this group together for an entire year. Mr. Gowen has done it all superbly well. To this triumph of teamwork he has added sensitive direction, finished acting by his players and genuinely first rank color photography of largely interior setting. A double turntable musical score, carefully selected for historical accuracy, accompanies the production. The Birth of St. Mary's is a loving and lovely testimony, destined to increase steadily in stature as it becomes itself a part of the past." Movie Makers, Dec. 1937, 602-603.
---
Date produced: 1928
Filmmaker(s):
Description:
"Detailed coverage of the massive structure and complex mechanism of a railway lifting bridge." (EAFA Database)
---
Date produced: 1960
Filmmaker(s):
Description:
"Color film featuring historic buildings in central and southern Utah. Most of the film is about Brigham Young's house in St. George, Utah. Film shows inside and outside features of the house." Church History Library.
---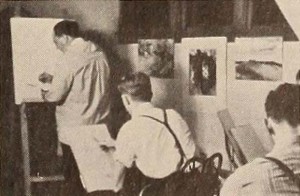 Date produced: 1938
Filmmaker(s):
Description:
"Builders of Tomorrow, produced by the Cinema Laboratory of Western Reserve University and filmed by Dr. James E. Bliss, takes one into the Cleveland School of Architecture at Western Reserve and shows the embryonic architects at work. The students are pictured studying the principles of design, drafting and in art classes. Architectural models are expertly filmed and with lighting and treatment that, in several cases, make them indistinguishable from actual structures and streets. The entire picture is interior color and the lighting is ably handled throughout." Movie Makers, Dec. 1938, 621.
---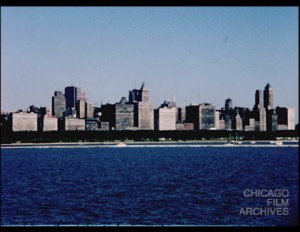 Date produced: 1983
Filmmaker(s):
Description:
"This film is 'a love letter to the city' from Chicago native and filmmaker Warren E. Thompson. It is a continuing effort to record some of the events, characteristics, problems and glories of Chicago. Footage includes architecture, sculpture, housing, Lake Michigan, Chinatown, parades, Maxwell Street Market, and the people of Chicago. Thompson captures life and culture from the most affluent to the poverty stricken." Chicago Film Archives.
---
Date produced: 1953
Filmmaker(s):
Description:
"Item is a film of Dr. Willinsky's trip to the Canary Islands with his wife, Sadie. In the form of a travelogue, music and Dr. Willinsky's commentary accompanies footage of the landscape, architecture, and local population. Included are shots of the local population carrying out their daily activities, children dressed in costume for Ash Wednesday festivities, markets, and traditional dances. Sadie is occassionally spotted sight-seeing and visiting with locals." Ontario Jewish Archives.
---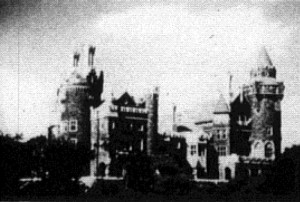 Date produced: 1961
Filmmaker(s):
Description:
"Casa Loma (house on a hill) was built by Sir Henry Pellat in Toronto. The design includes many of the things he admired in the castles of Europe. Much of the interior was imported. In this magnificence, Sir Henry lived until he could no longer afford the mounting city taxes. Out filmer takes us through this old castle that we may relive some of its greatness. The picture was made for the Kiwanis Club which was so active in reclaiming Casa Loma for Toronto" PSA Journal, Oct. 1961, 47-48.
---
Date produced: 1938
Filmmaker(s):
Description:
"Item is a documentary film about the rationale for, the construction of, and the opening ceremonies of the Holy Blossom Synagogue. Seen are shots of the crowded and dim classrooms within the old Bond St. Synagogue, its predecessor. Also seen are scenes of the official sod turning, the laying of the corner-stone, and some of the construction work on Holy Blossom at its new location at the corner of Bathurst Street and Ava Road. These are followed by various scenes of the new building's interior and exterior. The film ends with the May 16, 1937 official opening ceremonies of, and the transfer of the Torah scrolls to, the new facility. Identified in the footage is Edmund Scheuer." Ontario Jewish Archives.
---
Total Pages: 6