---
---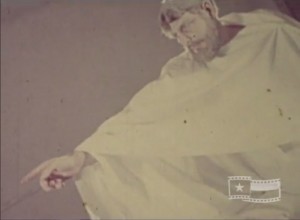 Date produced:
Filmmaker(s):
Description:
"This experimental film, made by Kenneth Anthony in the late 1960s, records the story of Adam and Eve. It opens with chimpanzees and recreates Michaelangelo's The Creation of Man. The production follows the traditional telling of the Biblical creation story. Eve accepts an apple, gives it to Adam, and God rebukes the two humans. The rest of the film is a collection of shots: a protest march, a swimsuit competition in a beauty pageant, a demolition derby, a Foreign Legion ceremony, indications of space exploration, and a photography exhibit, among others. These shots may not have been filmed by Anthony and may have been stock footage as they appear to include words in French. According to Anthony, the film was meant to be projected on multiple screens. It seems likely that the story of Adam and Eve would have been on a main screen with the shots from the latter half of the film projected onto accompanying screen or screens" Texas Archive of the Moving Image.
---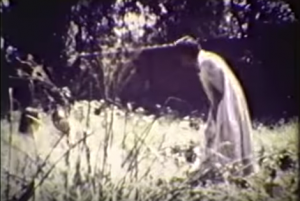 Date produced: 1973
Filmmaker(s):
Description:
" Ah, verda'? planteaba una extraña combinación entre la militancia política y la contracultural. Jugaba con el ataque a los símbolos del orden nacional y estatal (la bomba en el Monumento a la Revolución y en el PRI, los judiciales persecutores), la crítica a la sociedad de consumo representada por la huida de la pareja de jóvenes entre los espectaculares, la liberación sexual (la combi zarandeada porque dentro hacen el amor, o la urgente calentura de los monjes una vez que han probado el LSD y cruzado las puertas de la percepción), y la representación de la fantasía jipiteca de que el mundo sería más alivianado si todos probaran las drogas duras" (Vázquez Mantecón, 2012).

" Ah, verda' [Ah, right?] was a strange combination between political and countercultural militancy. It played with the attack to symbols of state and national order (a bomb in the Monument to the Revolution and in PRI offices [Revolutionary Institutional Party], the chasing police men), a critique to a consumer society represented by a young couple running away in between billboards, the sexual liberation (a truck shaken because someone is making love inside, the sex desire of monks once they have tried LSD and crossed the gates of perception), and the representation of the mexican hippies' fantasy in which the world would be cooler if everyone tried hard drugs" (Vázquez Mantecón, 2012).
---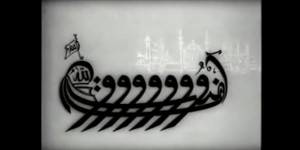 Date produced: 1969
Filmmaker(s):
Description:
"The question 'How was the mentü ship Steered' bears two meanings: as inference in the sense of 'faith,' as well as the relation between the notions of 'imagery, logos, and action.' The answer is 'divine love,' regardless of the form of the question: the Amentü ship is navigated by the love of God. " Zeynep Gemuhluoglu, tsa.org: https://www.tsa.org.tr/en/yazi/yazidetay/67/%EF%BF%BD%EF%BF%BDmentu-gemisi-nasil-yurudu (16 Oct 2019).
---
Date produced: 1939
---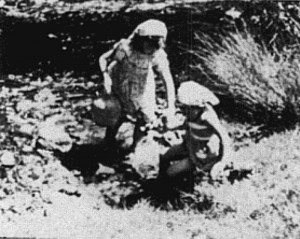 Date produced: 1957
Filmmaker(s):
Description:
"Antonio Cernuda has created a pictorial mood, a feeling of being there, and a desire to live it again. His choice of music has contributed a great deal to this delightful picture. It begins in the early fall and we move quickly to the gathering of apples, processing, and the bottling of cider. There are celebrations of the gathering of the harvest, girls and boys in native Spanish dress, with the frolic of the occasion and the solemnity of the religious spirit. The first snow of winter, as the leaves are about gone, and on into the heavier snows and ice of winder as the people go about their daily travels—afoot, by horse-drawn vehicle, and train. The transition to spring is so skillfully set forth with the melting snow and turbulent streams that we are hardly aware of the passing of winter. Soon there is a burst of spring everywhere and then summer with its crops, vacation activities, boating, fishing, tug-of-war, and outdoor Mass. The picture opens and closes with artistic views of the mountainous country. We might think of this as the four seasons. Asturias, with its deep canyons and mountains, with scars of its heroic history, that have the darkness of coal in its womb, the whiteness of snow on its head, and the pink of apple blossoms on its body. Asturias lets her men go out into the world with the certainty that the homesickness for her beauty will always make them return." PSA Journal, Nov. 1957, 31.
---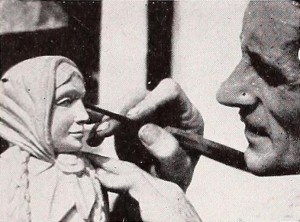 Date produced: 1943
Filmmaker(s):
Description:
"Nine times a place winner in seven years of Ten Best competition, Frank E. Gunnell has probably done his best work to date in Baie St. Paul. The film is a bright and sunny visit to the little French Canadian parish of that name, nestling in parochial contentment along the St. Lawrence. Central in this existence stands the baroque and inevitable church, while about it one finds the familiar family names of the village butcher and baker, doctor and dressmaker, recurrent along the cobbled highways. Here too is an intent, sharp featured little woodcarver, a housewife coolly competent about her embroidery and an aloof mademoiselle who presides with dazzling beauty over an ancient spinning wheel. Packed with this essential human interest, Baie St. Paul was filmed with the sparkling competence that one has for years expected from a Gunnell production. Its editing fits shrewdly into the pastoral mood of the subject matter, while its titles, both in their wording and execution, are colorful and in good taste. Baie St. Paul should take a high and honored place in the Gunnell catalog of fine films." Movie Makers, Dec. 1944, 477.
---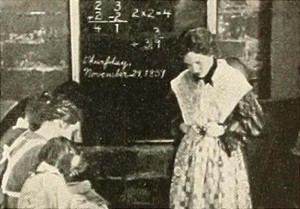 Date produced: 1937
Filmmaker(s):
Description:
"The Birth of St. Mary's, by Robert F. Gowen. is a deeply moving and well nigh incredible accomplishment in amateur film production. Described as a chronicle in retrospect by the church that it pictures, the film moves bravely into the treacherous domain of costume drama and emerges triumphant. To recreate the gracious life of another day, to catch the feeling of its clothes and the flavor of its customs, to stage all of this against settings not only dramatically sound but full of beauty as well — such were but part of the problems of the producer. Perhaps greatest of all was the task of carrying on each step of this work with the willing, but often wilting, help of an entire community, the accomplishment, through infinite patience, of holding this group together for an entire year. Mr. Gowen has done it all superbly well. To this triumph of teamwork he has added sensitive direction, finished acting by his players and genuinely first rank color photography of largely interior setting. A double turntable musical score, carefully selected for historical accuracy, accompanies the production. The Birth of St. Mary's is a loving and lovely testimony, destined to increase steadily in stature as it becomes itself a part of the past." Movie Makers, Dec. 1937, 602-603.
---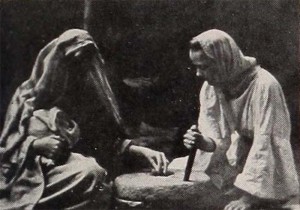 Date produced: 1939
Filmmaker(s):
Description:
"In the best tradition of filming technique, a movie should be an independent story telling medium. It should not require explanation or demonstration to make its meaning clear. Yet, there is no reason why this cardinal principle should not be violated, if the variation from accepted technique serves an artistic purpose. The Book of Ruth, by G. Manley DeBevoise, involves a new departure from tradition, for the film itself is an illustration in motion of the Biblical story, rather than a complete dramatization of the story. The tale is told by a narrator in synchronism with the appearance of the scenes on the screen, and, without the narration, the movie would be incomprehensible. Yet the two form a perfect unit which resents a fuller interpretation of the story of Ruth than would be possible by any other means. Costuming and selection of properties for this film are excellent and accurate. A church group worked for months in research to avoid anachronisms. The result is a splendid religious teaching film. The narration is given in person, and music is carefully scored by double turntable." Movie Makers, Dec. 1939, 636.
---
Date produced: 1960
Filmmaker(s):
Description:
"Color film featuring historic buildings in central and southern Utah. Most of the film is about Brigham Young's house in St. George, Utah. Film shows inside and outside features of the house." Church History Library.
---
Date produced: 1937
Filmmaker(s):
Description:
"Footage of a Jewish boys camp in Bridlington for boys from Manchester, Birmingham, Sheffield and Glasgow. The member parade around in uniform playing brass instruments, an officer take the salute and the boys do rifle drills. The cadets are then seen laying wreaths and parading. There are then scenes of the boys going down to the beach and playing in the sea." (NWFA Online Archive)
---
Total Pages: 7