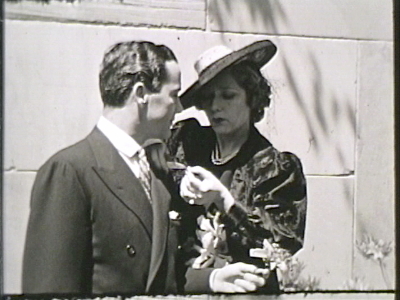 Identifier:
2463.0005 (Source: oldfilm.org)
Date produced: 1969
Filmmaker(s):
Length:
300 ft
Format:
8mm
Colour:
B&W
Sound Notes:
Silent
Awards/Recognition:
Northeast Historic Film list of titled amateur works
Description:
"Black-and-white home movie provides a tour of Rockefeller Center, including scenes of Mary Pickford and Buddy Rogers at a garden event." oldfilm.org
Resources:
Part of the Cyrus Pinkham Collection held by Northeast Historic Film
Discussed by Christopher Castiglia & Christopher Reed, "Not at Home Movies," in Martha J. McNamara and Karan Sheldon (eds.) Amateur Movie Making: Aesthetics of the Everyday in New England Film, 1915-1960, 2017. pp. 187-189
Locations:
Subjects:
Genre:
Form:
Tags:
Repository:
Cyrus Pinkham Collection, Northeast Historic Film
Viewing Notes:
Sign: "ROCKEFELLER CENTER MCMXXXII"
Title: "Photographed and edited by Cyrus Pinkham"
Intertitle: "Rockefeller Center is the largest building project ever undertaken by private capital, consisting of fourteen buildings." Various scenes of center buildings, public spaces, sculptures, from an array of vantages, interestingly framed. Intertitle: "Four thousand people a day take guided tours through this project." Scenes of group gathering for tour at information kiosk, being led by tour guide. Intertitle: "All the low roofs in the Center have been landscaped." Group on roof adjacent to cathedral. Intertitle: "The sports garden on the roof of the Music Hall Theater." Sign: "GARDENS OF THE NATIONS" Intertitle: "Thirteen gardens on the eleventh floor of the R.C.A. Building representing various foreign nations." Signs and gardens viewed in brief for England, Italy, Japan, Spain, International Rock Garden, France, Vegetable Garden. Empire State Building in view. Radio City Music Hall sign viewed in montage. Intertitle: "The world's largest indoor theater." Performances viewed from elevated vantage point and from stage level. Intertitle: "The Rockettes" Intertitle: "The observation roof, 850 feet high." Multiple views of New York as seen from the RCA Building and of the members of the tour group. Title: "THE END" -- Sign: "The Rockefeller Plaza Ice Skating Pond" Scenes of skaters on rink. Intertitle: "MARY PICKFORD and BUDDY ROGERS open Rockefeller Center gardens." Scenes of Mary Pickford and Buddy Rogers at garden event. Intertitle: "Rainbow Room on the 65th floor of RCA building" Shots of full dining room, piano player, and film crew shooting a scene. Intertitle: "Times Square at night"
---