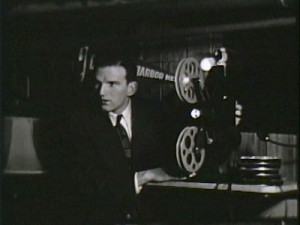 Cyrus Pinkham
Dates active:
1937-1940
Gender:
Male
Awards/Recognition:
Northeast Historic Film list of titled amateur works
Films:
---
Biographical Notes:
"Cyrus Pinkham was born in 1915 in Rockland, Maine. He died in 1989, at the age of 74. He went to high school in Catonsville, Maryland, where he was part of the Vagabond Players, the longest continuously running Little Theater group. There he was involved in stage productions and did make-up and lighting. He built a stage in his parents' basement, which gets referred to and used as a set in the films, and had a screen for showing his films there as well. He moved to New York in the late 1930s, where he held a number of jobs from personal assistant to the president of a cigar company, to Rockefeller Center tour guide, and finally with Dobbs Hats. Around this time, his sister Margaret started The Maine Bag Company, back in Maine. It became a quick success and so to help, Cyrus and his friend Bill Waters would regularly travel up to Maine on the weekends to assist Margaret. Eventually they both moved to Maine and worked for the company full-time. Cyrus did this until his death, having taken over the business after Margaret died young from cancer. The films in the Cyrus Pinkham Collection date from this transitional period between living at home, moving to New York and then leaving the city to relocate to Maine. He didn't make films again until the 1970s, when he bought another Bell and Howell camera and began to make films of his travels with his partner, Ned Reiner." oldfilm.org
Bibliographic Resources:
Further information on Cyrus Pinkham and his collection can be found at Northeast Historic Film
Cyrus Pinkham is discussed by Christopher Castiglia & Christopher Reed in "Not at Home Movies," Martha J. McNamara and Karan Sheldon (eds.), Amateur Movie Making: Aesthetics of the Everyday in New England Film, 1915-1960, 2017.