---
---
Date produced: 1947
Filmmaker(s):
Description:
"Item is a film of a trip to Hawaii taken by Dr. Willinsky and his wife, Sadie. In the form of a travelogue, footage of Hawaii's landscape, vegetation, landmarks and local population is interspersed with captions that were added in by Dr. Willinsky to provide information about the country's culture. Footage includes shots of sites around Honolulu and Waikiki, surfers, Hawaiian flowers, churches and temples, sugar cane farming and singers performing outside a hotel. Sadie is occassionally spotted exploring the sites and interacting with locals."
---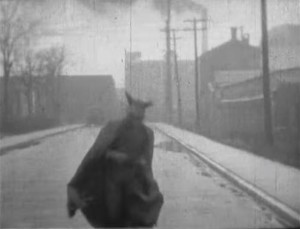 Date produced: 1933
Filmmaker(s):
Description:
Hell Bound Train "depicts the devil as the train's engineer both driving his locomotive toward hell and tempting the sinner-passengers that occupy various cars on the train. The film is divided into episodes each one representing a different kind of sin or sinner and set in a corresponding car of the train" Tepperman, 233-234.
---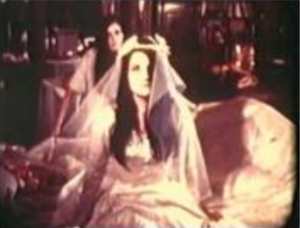 Date produced: 1971
Filmmaker(s):
Description:
"Celestinos filmó la cinta en una vieja casa de Chimalistac, al sur de la Ciudad de México. Según la historia en ella habitan dos hermanas que viven un encierro real y metafórico a causa de su sexualidad reprimida. Las primeras imágenes de la película muestran a una de ellas vestida de novia, mientras que otra lleva la cola del vestido. La escena da pie a un erotismo doloroso: una de ellas se acaricia para que la cámara muestre en close up sus lágrimas. Un flash back nos muestra la causa: el momento de su infancia en que una monja de visita en la casa le dio manotazos por haberle mostrado una imagen de una mujer desnuda que encontró por casualidad. El personaje busca liberación. (...) La otra hermana también busca salir de la casa (emblema del ámbito doméstico familiar), y encontrar su libertad sexual" (Vázquez Mantecón, 2012)

"Celestinos filmed the tape in an old house in Chimalistac, south of Mexico City. According to the story, the house is inhabited by two sisters that live in a real and metaphorical confinement because of their repressed sexuality. The first images of the film show one of them dressed as a bride, while the other carries the tail of the dress. The scene is followed by a painful erotism: one of the caresses herself to make the camera show her tears in close up. A flash back shows the cause: the moment of her childhood when a nun hits her hands because she showed her a picture of a naked woman that she found by chance. The character seeks liberation. (...) The other sister is also looking forward to leave the house (emblem of the familial domestic scope), and to find her sexual freedom" (Vázquez Mantecón, 2012)
---
Date produced: 1962
Filmmaker(s):
Description:
Edited film "chronicling an airstream caravan through Central America (Mexico, Guatemala, El Salvador, Panama, Costa Rica). Film includes many views of scenic landscapes, mountain roads, cities and villages, ruins (Kabah, Uxmal, Dzibichaltun, Chichen Itza) and historic landmarks and airstream trailers tavelling or in recreational vechicle parks. In Guatemala they visit the villages Solola and Panajachel near Lake Atitlan and and town of Antigua. Scenes also include marketplaces, churches and chuch-life, a woman weaving, local crafts, washing clothing at public fountains" Human Studies Film Archives, Smithsonian Museum.
---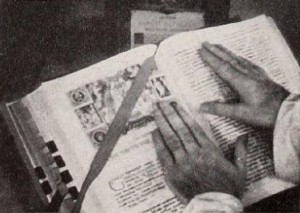 Date produced: 1943
Filmmaker(s):
Description:
"The Reverend Edward J. Hayes, assisted by his brother, Paul J. Hayes, has made an impressive film record in The Holy Sacrifice of the Mass. All the details of the rite are shown simply and directly. The film was made at close range, and it affords the audience the celebrant's view of the altar. The excellence of the color in this Kodachrome work stresses the beauty of the vestments and of the religious articles. The understanding and devotion behind this effort are evident in the spiritual quality achieved." Movie Makers, Dec. 1943, 477.
---
Date produced: 1967
Filmmaker(s):
Description:
"Hosanna is a semi-abstract film tied to a religious theme. Color, lighting, and unusual angles are responsible for its success" PSA Journal, Aug. 1967, 37.
---
Date produced: 1935
Filmmaker(s):
Description:
"In the Beginning, although far from being a perfect picture, is nevertheless one of the few truly great films thus far to come from a motion picture camera — either theatrical or amateur. Here, the magnificent beauty and awesome strangeness of the natural world have been seen in their fundamental and ultimate meanings. As an interpretation of the epic story of creation, In the Beginning follows directly in the noble tradition of Homer, Dante and Milton. One is left stilled and humble before the simple purity of imagination which conceived it. To this superb document of nature, F. C. Ells, ACL, the producer, has brought a technical skill and sensitive craftsmanship more than equal to the demands of his subject. Using as his titles direct quotations from the first chapter of Genesis, Mr. Ells has added a subtle undertone to the beautiful King James English by the use of primitive, geometrical symbols (indicative of fire, rain, infinity, etc.) for his title backgrounds. Somber and stunning scenes of the heaving waters, the new born earth and bursting streams in the first reel are followed, in the second, by flawlessly executed telephoto and macroscopic studies of the earth's myriad creatures. Integrating the entire production is a musical accompaniment of stately church music, recorded on disc by the Sistine Choir. Mr. Ells, who has looked upon the earth and found it good, has produced a sincere and beautiful film, great even as it falls short of perfection." Movie Makers, Dec. 1935, 550.
---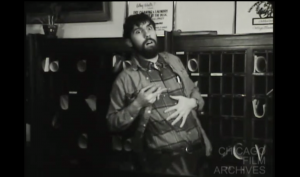 Date produced: 1971
Filmmaker(s):
Description:
"A University of Chicago student film production and "Young Chicago Filmmakers Festival" award winner in 1971, Holden Franz Aust's "In The Divine Plan" pits Nietzsche against Jesus in an ultimate ideological battle. Christian moralism meets Nihilism." Chicago Film Archives
---
Date produced: 1964
Filmmaker(s):
Description:
"It's about This Carpenter starts out with a bearded fellow carrying a huge cross across town. He goes into the subway, through crowded streets, and passes little colored girl who asks "Are you Jesus?" Finally he installs the cross on the wall behind the chancel of a church. All the whilst he is ignored, even by the lone organist. Finally, on his return trip after his mission has been accomplished, he again passes the little colored girl and she says, "Good-bye Jesus" PSA Journal, Sept. 1964, 51.
---
Date produced: 1936
Filmmaker(s):
Description:
"'Japan and Its People,' Dr. Roy Gerstenkorn's educational class winner, was a pictured visit to the homes and temples of Japan. Ignoring the cities in his search for the story of the Japan that is not known to the average visitor the doctor penetrated the towns and smaller communities. His picture was awarded a high rating on its photography as well as on his treatment of the subject. After the showing of this picture before the Los Angeles Motion Picture Forum last summer the local school authorities requested and received permission from the doctor to make a duplicate of it for school purposes." American Cinematographer, Jan. 1938, 27-28.
---
Total Pages: 7