---
---
Date produced: 1955
Filmmaker(s):
Description:
"Esther Cooke presents an outstanding motion picture. This colorful pageant, filmed against a background of majestic Austrian Alps satisfies in every respect. A masterful eye for beautifully composed scenes is evident throughout the film. The pageant is covered from such a variety of angles, one marvels at Esther Cooke's ability to record the vent single handed. The accompanying musical background and very informative narration are obviously the result of careful research and planning. Leo J. Heffernan narrates the film - truly a masterpiece among travelogues." PSA Journal, Dec. 1955, 34.
---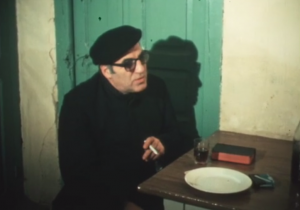 Date produced: 1975
Filmmaker(s):
Description:
Un cura preocupado de que una pareja viva en el mismo hogar sin estar casados, pide un milagro. Reza para que alguien en la pareja se enferme a fin de que valoren la vida y entiendan la necesidad de seguir los preceptos de su religión.

A priest concerned with a couple living together without being married, asks for a miracle. He prays for someone in the couple to become ill so that they will value life and the need to follow the precepts of religion.
---
Date produced: 1939
Filmmaker(s):
Description:
"On the challenge of social problems facing the nation's churches. Illustrates poverty, gambling, alcoholism, and drug abuse among teenagers and adults in New York City slum areas." National Archives.
---
Date produced: 1932
Filmmaker(s):
Description:
"Vincente Mills, of Manila, Philippines, for his entry in the American Cinematographer 1933 competition will make a religious picture built around the practice in his country which takes place during Holy Thursday and Good Friday each year. As this practice is fast disappearing, according to Mills, it will also act as a fine historic record." American Cinematographer, Sept. 1933, 191.
---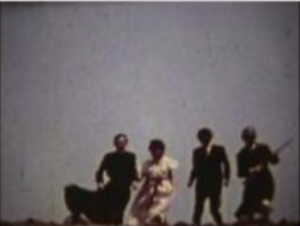 Date produced: 1970
Filmmaker(s):
Description:
"Una historia sobre el acoso sufrido por la juventud por parte del mundo de los adultos. La posición alternativa del grupo [de realizadores] se hacía explícita desde las primeras tomas, en donde los créditos aparecían escritos en las paredes de una casa en ruinas, omitiendo los apellidos y dejando solo los nombres de pila de quienes participaron" (Vázquez Mantecón, 2012).

"A story about the harassment suffered by the youth from the adult world. The alternative position of the group [of filmmakers] was made evident from the first shots, where credits appeared written on the walls of a house in ruins, omitting last names and leaving only the first names of the participants" (Vázquez Mantecón, 2012).
---
Date produced: 1933
Filmmaker(s):
---
Date produced: 1954
Filmmaker(s):
Description:
"Item is a film of a trip to Spain taken by Dr. Willinsky, his wife, Sadie, and some of their friends. Despite its title, the film does not contain footage of France. In the form of a travelogue, footage of landmarks, the local population, and the Willinsky's activities are accompanied by music and Dr. Willinsky's commentary. Footage includes shots of the Square of Spain, Sadie walking along the streets of a shopping district, churches and monasteries, a boat cruise from Palma to Figuera, a spring festival procession and dancing in Majorca. Most of the scenes were taken in Palma and Majorca." Ontario Jewish Archives.
---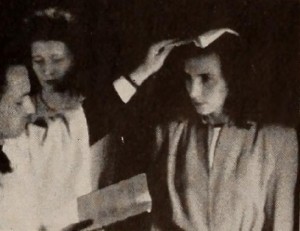 Date produced: 1947
Filmmaker(s):
Description:
"The pitfalls of sentimentality and bombast have both been avoided in Gateway to Faith, a simple, dignified teaching film of the Roman Catholic baptismal rites, produced by the Reverend Edward Hayes and the Reverend Paul Hayes. With a clarity reminiscent of Thomistic syllogisms, the two priests show precisely what happens during a baptism and explain, with equal precision, the symbolic meaning of each section of the ritual. The film was made for instructional purposes; it fulfills these purposes in a highly intelligent manner. Gateway to Faith was produced at Sacred Heart Church, in Newark, N. J., and received the official imprimatur from Archbishop Thomas J. Walsh. The priest in the film is played with restraint and dignity by the Reverend John Wightman." Movie Makers, Dec. 1947, 537.
---
Date produced: 1950
Filmmaker(s):
Description:
"In the Certificate Awards group, Ralph E. Gray, a consistent winner in national film competitions and recently honored with the title of Leading Amateur Movie Maker of the nation by the Movie Makers Club of Oklahoma and associated cine clubs, has turned in another of his superb filming jobs in 'Glamorous Guatemala.' A highlight is the excellent titling job, a department of movie making in which Gray excels. Gray opens his picture with scenes of modern day Guatemala, then gradually leads us into more remote areas of the country where he shows the native Guatemalan at work and at play, harvesting coffee, weaving, and trucking his wares to market, or indulging the religious ceremonials and market day festivities, which comprise his chief diversions. Gray filmed his picture using a Cine Special and Kodachrome film." American Cinematographer, April 1950, 134-135.
---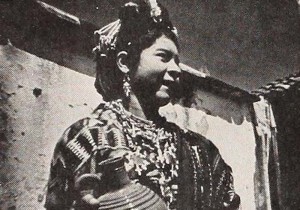 Date produced: 1939
Filmmaker(s):
Description:
"Ralph E. Gray's 1939 entry, Guatemala, the Glorious, is another of those studies of Central American lands for which this fine filmer is noted. No less an ethnologist than a movie maker, Mr. Gray has an insatiable curiosity which always runs to the unusual and striking folkways of the countries he records in Kodachrome. He has found these folkways in Guatemala, as he has found them before in Mexico, and he knows the trick of making them interesting, by a most intelligent interplay of distant, medium and close views. He has footage of the mysterious ceremony at Chichicastenango which has not been obtained before, as he filmed the interior of the church for the first time. Mr. Gray's editing and titling bear evidences of haste, without which his entry would have won higher rating, but, in spite of these, it maintains his high standard of fascinating subject matter expertly presented." Movie Makers, Dec. 1939, 634.
---
Total Pages: 7