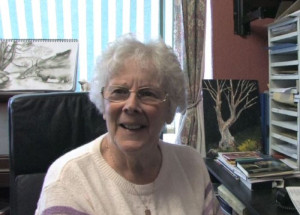 Valrie Ellis
Dates active:
c.1965-2017
Club Affiliation
Cheadle and Gatley Film Makers
Gender:
Female
Awards/Recognition:
For Genesis (1980): Movie Maker Ten Best Film Competition, Gold Star, 1980; Institute of Amateur Cinematographers International Film Competition, Highly Commended, 1981.
For Windmills – My Style (1982): Movie Maker Ten Best Film Competition, Three Stars, 1982; Institute of Amateur Cinematographers International Film Competition, Highly Commended, 1982.
Films:
---
Profession:
Teacher
Biographical Notes:
Val Ellis was a Manchester-based schoolteacher and prolific amateur filmmaker whose work spans a period of 50 years. She was a member of the clubs Humphrey Park and Cheadle and Gatley Film Makers, and became the first woman chairperson of the Institute of Amateur Cinematographers National Council (1999-2000) and their first woman president (2002-8). Ellis's work encompasses a range of styles and genres including animation, drama, comedy, and travelogues, made on film, video and digital formats.
Ellis often worked alongside close friend Celia, shooting under the name Cavalier Films – Cavalier being an amalgamation of Val and Celia. One of their early films, Return of the Cavalier (c.1960s), depicts a boating holiday through Shropshire with accompanying narration provided by Val. After joining Humphrey Park Cine Club, both Val and Celia became part of a team making three or four films a year (Andrew 2018).
Throughout her career in amateur filmmaking, Val received awards at various amateur film competitions including a Gold Star in the Movie Maker Ten Best Film Competition for Genesis (1980), a short animation depicting the first encounter between Adam and Eve in the Garden of Eden. Her proficiency in animation meant that Val soon became a guru to many film clubs (Andrew 2018), leading to a series of in-person demonstrations and pre-recorded tutorials which toured the country (B.B. 1987, 19).
Shorts Variation (1979) and Windmills – My Style (1982) are representative of more experimental and abstract approaches to her animations which also took inspiration from an interest in art history and fascination with Escher's single-frame demonstrations of animal movement (Andrew 2018). Impressions (1997), an homage to Monet, features images of the artist's key works accompanied by a voice-over provided by Val. The film G (1998), of a trip to the Guggenheim in Bilbao, illustrates Val's continued development as a filmmaker, utilising a variety of post-production visual effects and video editing techniques. This is also evidenced in Keep Taking the Tablets (2014), an 'experimental film created with iPads, iPhones and Androids,' in which Val worked with fellow amateurs, including former IAC President Gerald Mee.
Many of Val's films are held at the North-West Film Archive (NWFA) with a small selection included in the IAC collection held at the East Anglian Film Archive (EAFA).
Bibliographic Resources:
Andrew, David (2018), 'Val Ellis Eulogy.' [Unpublished eulogy notes delivered by the author at the funeral of Val Ellis, Feb 2018].
B.B. (1987), 'Ambulance Boat Drama on Film', Southport Visiter, 13 March, p. 19.
EAFA (2022). 'Genesis.' Accessed 27 October, 2022. https://eafa.org.uk/work/?id=1025711
LongstoneLHGroup (2019) A Moving Picture Tribute to Val Ellis [Video]. YouTube. https://www.youtube.com/watch?v=7yDWkqNs_38&t=8s
Motrescu-Mayes, Annamaria and Heather Norris Nicholson (2018), British Women Amateur Filmmakers: National Memories and Global Identities, Edinburgh: Edinburgh University Press.
University of East Anglia (2023). 'Valrie Bristow Ellis.' Accessed 24 January 2023. https://www.uea.ac.uk/web/groups-and-centres/projects/women-in-focus