---
---
Date produced:
Filmmaker(s):
Description:
"Un-staged documentary footage shot and edited by Sallie Wagner. Sallie's description of the film: 'Shorty Boys, Little Shorty building a hogan, Crip Chee and his hogan, grandson in doorway. Blackrock in front of hogan, Tchindi, Rose Martin doing laundry, cooking shelter at squaw dance, Hosteen Glish getting water, Bent Knee getting wood, Hosteen Glish making a canoe out of a log, Hosteen Glish's granddaughter weaving, digging yucca root for soap, Navajo washing her hair, Hosteen Glish making a cradle board'." New Mexico State Archives.
---
Date produced: 1933
Filmmaker(s):
Description:
"At the Sandpits is perhaps Crawley's first completed work, produced when he was a teenager; Crawley went on to make many award-winning amateur films before turning professional in the 1940s as a producer of industrial films. Employing rapid cutting, trick photography, and imaginative scenarios, At the Sandpits conveys a strong sense of dynamic action in a short film about a family picnic. The film begins by showing the preparation of sandwiches for a picnic; after showing the meal in a few deft shots, the adults are seen relaxing, while the kids and pets, shot from extreme low angle in slow motion, run toward the sandpits. The film continues with short but carefully constructed sequences of the kids pretending to be buried alive in the sand, having a baseball game, and then returning home, tired. Finally, the film concludes with a strange dream sequence, employing trick photography, in which three girls appear decapitated behind a sheet" Tepperman, 173.
---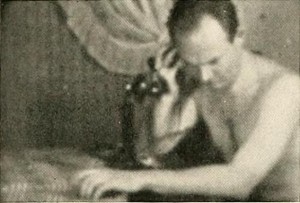 Date produced: 1937
Filmmaker(s):
Description:
"Beach Holiday, an 8mm. story in Kodachrome, deserves high praise because of its smooth and interesting treatment of material that is directly within the reach of every movie maker. Made by Raymond O'Connell, this subject is a fine example of natural continuity, done in a simple, straightforward manner. The interior shots, which show the family getting up in the morning, their planning and preparation for a day at the beach and, at the end of the film, their return home, afford excellent examples of good exposure and technical work on 8mm. interior scenes. Many of the transitions are well planned, notably a clever shot which shows the final packing of the picnic hamper at home. Its cover is raised in the kitchen, so that the hamper fills the entire frame. The cover is then lowered, revealing a beach scene in the background. The outdoor work gives an excellent exposition of a day at the beach, complete with swimming, sports and boardwalk amusements." Movie Makers, Dec. 1937, 628.
---
Date produced: 1970
Filmmaker(s):
Description:
"Film is about what happens when a two-minute power failure causes a blackout. Cameras caught before and after scenes in four houses, titled 'Daughter's Date,' 'The Ladder,' 'Cat and Dog,' and 'Women.' " Archives of Ontario.
---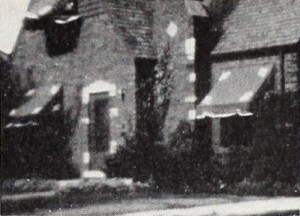 Date produced: 1950
Filmmaker(s):
Description:
"A brief film designed as a trailer for home use rarely possesses the quality of general audience appeal. Grace Lindner may be justly proud of having achieved this elusive element in Bless This House. The film is a hymn of love, an ode in praise of home, the family, mutual understanding and other ingredients of the good life. That the theme is an emotional one is admitted. That it might have become painfully saccharine is granted. That it did not is due to the sensitive and restrained manner in which the filmer has presented her familiar scenes. Fred Waring's recording of the title song furnished the theme and is used as an integral part of the film." Movie Makers, Dec. 1950, 466.
---
Date produced: 1944
Filmmaker(s):
Description:
"Take a dog, a daughter and a pair of delightful parents, mix them together in a movie, and see what you get! If you get anything within striking distance of The Boss Comes to Dinner, then you have discovered the same secret that stamps indelibly this production by Ryne Zimmerman. It is the secret of good family fun, warmly presented and glowingly filmed. Here, in this delightful comedy, is a charming little imp of a girl, her absurdly performing pet and — lest we forget — a magnificent black monarch of the kitchen, all mixed up in a series of uproarious capers, as the poor boss and his wife "come to dinner." Mr. Zimmerman's camera work strides well along with his ability to plan and point up his comic developments. Produced all indoors, the film's lighting seems to radiate that intimate rapport and affection which bind together its happy family. The few titles are harmonious in design and clean in their execution. The Boss Comes to Dinner is a frolic of good fun and innate good taste." Movie Makers, Dec. 1944, 494.
---
Date produced: 1950
Filmmaker(s):
Description:
"Home movie made by Charles Devenish Woodley, showing the beekeeping operation at his home." Library and Archives Canada.
---
Date produced: 1951
Filmmaker(s):
Description:
"Film about three little boys, played by Doug, Bill and Lorne Woodley, the sons of Charles Devenish Woodley, visiting the Canadian National Exhibition in Toronto on a sunny day." Library and Archives Canada.
---
Date produced: 1952
Filmmaker(s):
Description:
"Film about canoeing, featuring members of the Charles Devenish Woodley family." Library and Archives Canada.
---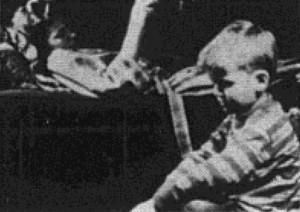 Date produced: 1960
Filmmaker(s):
Description:
"Mother is tired and catnaps while junior is at play. Soon junior takes his teddy bear and goes exploring the park, highway, and railroad. There are automobiles and trains to spark anxious moments. When Mother awakens, the young man has returned from his venture. A dream, perhaps" PSA Journal, Nov. 1960, 41.
---
Total Pages: 15