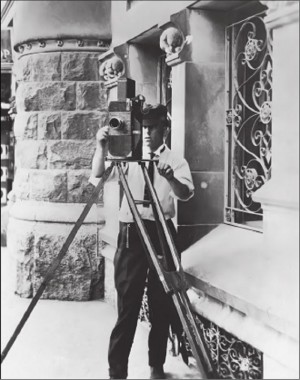 W. Hope Tilley
Dates active:
1910-1960s
Gender:
Male
Awards/Recognition:
Texas Archive of the Moving Image list of titled amateur films
Films:
---
Profession:
Filmmaker, Musician
Biographical Notes:
"Brothers Wesley Hope and Paul Tilley can be counted among Texas' pioneering filmmakers. Their movie work extends at least as far back as 1910. In addition to their short subjects (as for-hire filmmakers) and early documentary movies of Texas, the Austin-based Tilleys made cartoons, titles, slides, advertisements, newsreels, and comedy features. The brothers were also involved in the turn-of-the-century amusement business as carnival music producers and for-hire projectionists. The Tilley brothers are best known, however, for their three commercial narrative features: Mexican Conspiracy Outgeneralled, Their Lives By a Slender Thread and The Kentucky Feud. These films were produced in 1913 around central Texas (as well as Mexico) under the auspices of their Satex production company and film lab, one of the first of its kind in Texas. W. Hope Tilley eventually pursued his music-related activities full-time, remaining in Austin. Paul Tilley later worked with another fellow Texan in Hollywood, film director King Vidor" Texas Archive of the Moving Image.
Bibliographic Resources:
Rittereiser, Susan and Michael C. Miller. Historic Movie Houses of Austin. Arcadia Publishing, 2016.
"Wesley Hope and Paul Tilley." W.H. Tilley Collection, no. 1 - 1910s and 1920s, Texas Archive of the Moving Image.