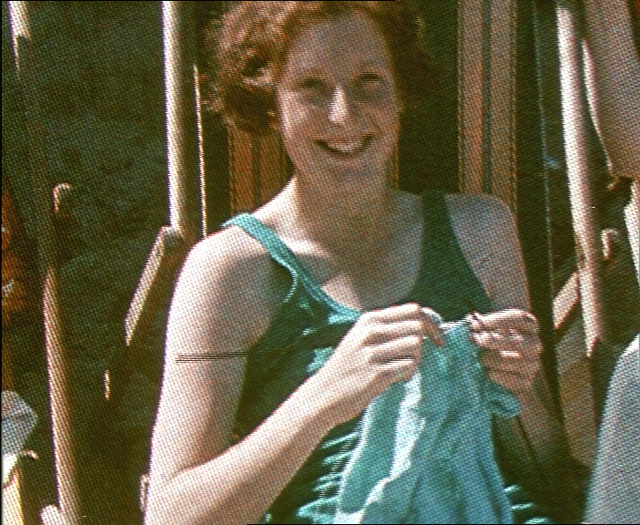 Identifier:
374 (Source: East Anglian Film Archive)
Date produced: 1934
Filmmaker(s):
Country of Production:
United Kingdom
Languages:
English
Duration:
00:08:12
Length:
200 ft
Format:
16mm
Colour:
Dufaycolor
Sound Notes:
Silent
Locations:
Cromer, Norfolk, UK (Filming)
East Runton, Norfolk, UK (Filming)
Horning, Norfolk, UK (Filming)
Subjects:
Genre:
Form:
Tags:
Repository:
East Anglian Film Archive
Viewing Notes:
"The film opens with shots of the beach and pier taken from the cliff and shots of the flower beds in the gardens on the sea front. A street scene shows the church. There follow shots of the beach. The lifeboat Harriet Dixon is on the beach. People relax on the beach and in the sea. A young girl knits in a deckchair under a sunshade. Another person is lying on a lilo. This sequence ends with further street scenes along the sea front and a shot of the hotel. The next sequence shows a trip to the Norfolk Broads. People board a pleasure cruiser and there are some shots taken from this. There are sailing scenes showing yachts, motor cruisers and other pleasure craft. There are shots of Horning taken from the river. There is a brief shot of a country house and a woman poses for the camera. There are shots of the family in the woods and in a garden before the scene returns to the beach. There is a long shot taken from the cliffs, brief shots of the promenade and then a view of the beach from the promenade shows bathing machines and fishing boats. A crab boat laden with passengers is launched from the beach and a bi-plane swoops low over the bathers. In the countryside near Cromer, there are shots of wheat fields with poppies growing. There is a windmill in the background. Shots of the family on the heath include close up shots of wildflowers. There are scenes of Cromer taken from Lighthouse Hill and then a close up of Henry Blogg, Coxswain of the Cromer Lifeboat. Children are filmed in the beach catching crabs. Views of a spectacular sunset, filmed over East Runton complete the film" (EAFA Database).
Video Link:
---