---
---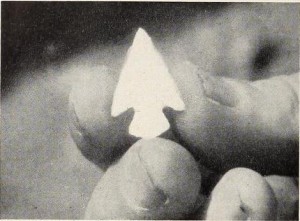 Date produced: 1947
Filmmaker(s):
Description:
"Adventure on the Colorado, by Al Morton, comprises 1,600 feet of film and (at twenty four frames a second) forty eight minutes of screen time. In it, six men in two boats travel down the Colorado River from Moab, in southeastern Utah, to Lee's Ferry, in northern Arizona. Taking fifteen days, the trip covered some 300 miles, forty of which were through cataracts already claiming twenty nine lives. These are the bare and simple facts of the case. But these facts cannot begin to tell the story of Mr. Mortons epic adventure. And mind you, we are not concerned here with the breath taking dangers of the trip itself — although these alone were awesome and challenging. We are concerned only with Mr. Morton's filming adventures and the bright, indomitable story of them as recorded so stirringly in his film. That story is one of inflexible resolve against all compromise, even in the face of well nigh impossible circumstance. At one point in the picture, Mr. Morton shows us a rugged and precipitous approach to the river known as "Hole in the Rock." It was through this narrow passage that, years ago, a little band of Mormons, sent to colonize the San Juan country, brought their wagons and their belongings. In laces where the chasm had narrowed so sharply as to block the cavalcade, they dismantled the wagons and packed them through on their backs. For they had set out to cross the river — and cross it they did. Mr. Morton's filming resolve must have been of that same high order — almost religious in its intensity. As the down-river journey grew ever more arduous, you waited with sympathetic understanding for those not quite perfect scenes which the incredible conditions must surely dictate. You were ready to make allowances, to accept the imperfect as relative perfection --under the circumstances. Not so with Mr. Morion. There was no compromise with quality in the Morton picture plan. He set out to film the river, and film it he did. Adventure on, the Colorado is a moving and splendid epic, recording both a gallant adventure and a glowing achievement." Movie Makers, Dec. 1947, 513.
---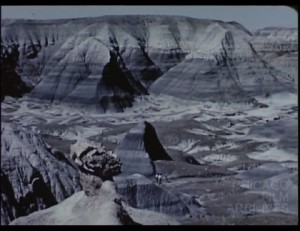 Date produced: 1960
Filmmaker(s):
Description:
"A two-part lecture travelogue film on the state of Arizona. The film would have been originally presented with live narration by the filmmaker, Robert Davis. Part one includes footage of desert landscapes, ranches, pre-historic artifacts, Native American art production & industry (wigs, textiles, etc), saloons, regional industry (logging, agricultural, and dams). Part two also includes footage of desert landscapes, cacti and dams as well as scenes from Phoenix and the surrounding area. Highlights from part two include a tour of a trailer park and footage of people skiing and sledding down a snowy hill." Chicago Film Archives.
---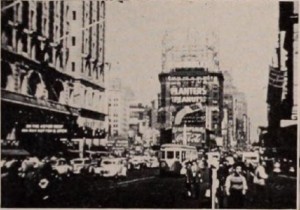 Date produced: 1940
Filmmaker(s):
Description:
"Harley H. Bixler, a technician, has been inspired with the might of America, and he has interpreted it according to his lights. In Cavalcade of America, taking our entire country as his canvas, he has painted in, with striking chromatic images, the physical and industrial high lights of our heritage. Here are the sinews of strength, awaiting only the activating force of human endeavor to turn them to the path of power. Here are the mills and the mines, the oil and the electricity, the farms and the factories without equal in our modern world. Mr. Bixler interprets his fine pictorial document with a narrative that is usually vivid but sometimes matter of fact and accompanies the whole with recorded music. Cavalcade of America is a striking study of a tremendous subject." Movie Makers, Dec. 1940, 602.
---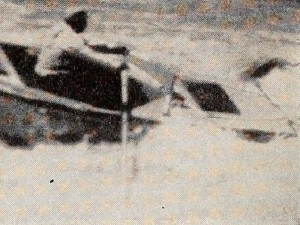 Date produced: 1952
Filmmaker(s):
Description:
"In Grand Adventure Louise Fetzner presents a lively record of a daring run through the wild rapids of the Colorado River, as it courses the Grand Canyon from Lee's Ferry to Lake Mead. While thrilling scenes of the intrepid boats and boatmen provide the film's drama, Mrs. Fetzner has not overlooked human interest sequences on the small daily activities of these hardy adventurers. Generally good in photography and editing, the film falls off in pace somewhat in its latter portions. And perhaps the frequent inserts of a title-map of the Colorado are more hindrance than help in what is essentially an action picture." Movie Makers, Dec. 1952, 340.
---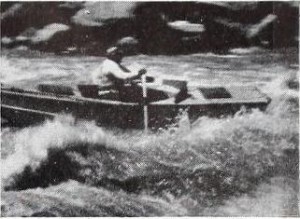 Date produced: 1951
Filmmaker(s):
Description:
"Grand Canyon Voyage is the record of how seven daring people in three tiny boats ran the Colorado River from Lee's Ferry in Arizona, through the awesome gorge of the Grand Canyon, to Lake Mead in Nevada. The trip itself was the exciting and gallant climax to four years of dedicated effort by Al Morton. Ideally, this film record of the trip should be infused with this same excitement, this same sense of gallant adventure. That it is not consistently so inspirited will be a source of sincere regret to all who know Mr. Morton. But perhaps no motion picture of this dangerous, demanding river run could recreate this spiritual overtone. The physical odds against filming were too great, too overwhelming, for controlled camera work and integrated continuity. Survival itself became more important than an image of it. Al Morton, we believe, has done a supremely difficult job far better than would the most of us. He has done it as well, surely, as any cameraman living." Movie Makers, Dec. 1951, 411.
---
Date produced:
Filmmaker(s):
Description:
"Un-staged documentary footage shot and edited by Sallie Wagner. Sallie's description of the film: 'Jimmy Hill flagging train at Chambers, Arizona, Post Office at Chambers, Bob Cassidy Postmaster, plane drop at Wide Ruins, Bill Cousins picking up package. Wide Ruins trading post exterior and interior, Bill and Sallie, Bill's office is original trading post of Day Brothers, Bill Cousins at front of airplane, crash of transcontinental racer on highway. Square dance, Eleanor Pratt in blue blouse near ladder, Jack Norton heavy set fellow, Phil Pratt extreme left, John Adair with back to screen, Dick Tryon [Tyron?] near rocks. Dwight Wagner - white shirt and tie near rose bush, Sallie in front of Spring house'." New Mexico State Archives.
---
Date produced: 1937
Filmmaker(s):
Description:
"A vacation to Cedar Breaks, Bryce, Zion, and Grand Canyon of the Colorado." American Cinematographer, June 1938, 257.
---
Date produced: 1952
Filmmaker(s):
Description:
"Edited film describes life on the Navajo Reservation. Scenes include women weaving, grinding corn and caring for children (baby is bound into cradle board) and men herding, hoeing corn, silversmithing, and washing and binding their hair. Also shows Navajo Rodeo (encampments, stinger and bronco riding, wild cow milking and horse racing), trading post at entrance to Monument Valley (exchanging rug for goods), Ganado Mission, workers in uranium mine and scenic views of Monument Valley and Canyon de Chelly. Efforts to deal with lack of water is discussed in narration," Human Studies Film Archives, Smithsonian Museum.
---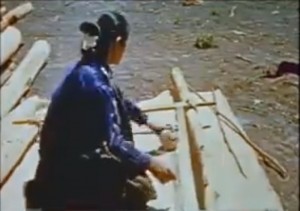 Date produced: 1941
Filmmaker(s):
Description:
"E. Tad Nichols, III, born in the West, has been in the saddle almost since he first toddled. Much of his time has been spent among the Western Indians, and he has an intimate knowledge of their ways. So skillfully has he planned and edited each sequence of Navajo Rug Weaving that the audience has the rare satisfaction which comes from seeing just the right amount of each step of this ancient art that has held one method and course for many centuries. The direction and filming are of such excellence that the viewer almost seems to be present for the carding, spinning, dyeing and actual weaving of the rugs. Here is the human record film at its best." Movie Makers, Dec. 1945, 495.
---
Date produced:
Filmmaker(s):
Description:
"Un-staged documentary footage shot and edited by Sallie Wagner. Sallie's description of the film: 'Wide Ruins and area, farming Navajos, Black Rock - Medicine Man, Cut Hair plowing, Joe Toddy following Cut Hair, planting, Patsy Martin standing on Cultivator, Jim House's wife husking corn, Paul Jones helping husk corn, sheep dipping at Ganado, Dwight Wagner viewing sheep dipping, wool shearing at Wide Ruins, loading sheep at Chambers, tall man in tan outfit Bill Cousins, Bent Knee sitting on fence, Crip Chee's grandson in closing scene'." New Mexico States Archives.
---
Total Pages: 2