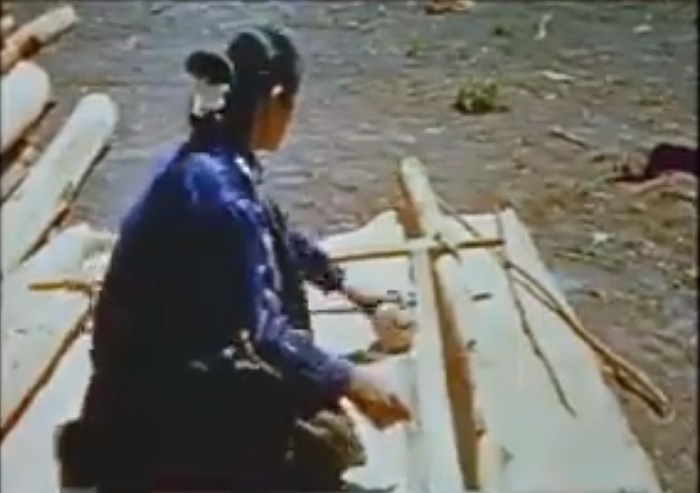 Identifier:
NAU.MI.99.3.1.11 (Source: Arizona Archives Online)
Date produced: 1941
Filmmaker(s):
Languages:
English
Duration:
00:16:00
Length:
350 ft
Format:
16mm
Colour:
Kodachrome
Sound Notes:
Silent
Awards/Recognition:
ACL Ten Best 1945 - Special Class
Description:
"E. Tad Nichols, III, born in the West, has been in the saddle almost since he first toddled. Much of his time has been spent among the Western Indians, and he has an intimate knowledge of their ways. So skillfully has he planned and edited each sequence of Navajo Rug Weaving that the audience has the rare satisfaction which comes from seeing just the right amount of each step of this ancient art that has held one method and course for many centuries. The direction and filming are of such excellence that the viewer almost seems to be present for the carding, spinning, dyeing and actual weaving of the rugs. Here is the human record film at its best." Movie Makers, Dec. 1945, 495.
Resources:
This film is a part of the Tad Nichols Collection held by Northern Arizona University Archives.

Discussed by Nichols in "Reality in Reels" (Movie Makers, Aug. 1947, 340, 354-355). The article describes the film's production.

The film is also discussed by Janna Jones in "Starring Sally Peshlakai: Rewriting the Script for Tad Nichols's 1939 Navajo Rug Weaving" in Amateur Filmmaking: The Home Movie, the Archive, the Web, Bloomsbury, 2014.
Locations:
Wupatki, Arizona (Filming)
Subjects:
Genre:
Form:
Tags:
Repository:
Tad Nichols Collection, 1931-2000, Northern Arizona University
Screenings:
Screened at the NAU Native American Cultural Center on June 25, 2013: Flagstaff, AZ
Viewing Notes:
"This silent 1941 Kodachrome amateur film by Tad Nichols entitled Navajo Rug Weaving (1938-1939) runs for 18 minutes (original format 16mm 7-inch reel). This film is a cohesive, well-shot, and edited work, which documents a Navajo weaver's (Sally Peshlakai) labor at the Peshlakai summer camp. Through this film, Nichols captures the entire process of weaving a Navajo rug. He shows Sally Peshlakai shearing sheep; carding, washing, dyeing, and spinning wool; building a loom; weaving the rug; and finally cutting it off the loom. Sally and Clyde Peshlakai--the stars of the film--are also main characters in Courtney Reeder Jones' book Letters from Wupatki; Jones herself appears in this film. The Amateur Cinema League named Navajo Rug Weaving one of the "Ten Best" films in 1945. Nichols showed and lectured about the film in various museum and educational venues during the first half of the 1940s—including the Field Museum in Chicago and the Heard Museum in Phoenix. Digitization and preservation funded by the National Film Preservation Foundation." Via Northern Arizona University.
Video Link:
---