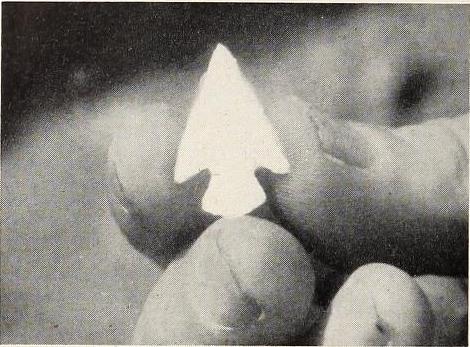 Identifier:
A0320 (Source: Alton Morton independent film collection, 1947-1968)
Date produced: 1947
Filmmaker(s):
Languages:
English
Duration:
00:37:00
Length:
1600 ft
Format:
16mm
Colour:
Kodachrome
Sound Notes:
Silent
Sound:
With music on disc and narrative.
Awards/Recognition:
Hiram Percy Maxim Memorial Award 1947, ACL Ten Best 1947 - General Class
Description:
"Adventure on the Colorado, by Al Morton, comprises 1,600 feet of film and (at twenty four frames a second) forty eight minutes of screen time. In it, six men in two boats travel down the Colorado River from Moab, in southeastern Utah, to Lee's Ferry, in northern Arizona. Taking fifteen days, the trip covered some 300 miles, forty of which were through cataracts already claiming twenty nine lives. These are the bare and simple facts of the case. But these facts cannot begin to tell the story of Mr. Mortons epic adventure. And mind you, we are not concerned here with the breath taking dangers of the trip itself — although these alone were awesome and challenging. We are concerned only with Mr. Morton's filming adventures and the bright, indomitable story of them as recorded so stirringly in his film. That story is one of inflexible resolve against all compromise, even in the face of well nigh impossible circumstance. At one point in the picture, Mr. Morton shows us a rugged and precipitous approach to the river known as "Hole in the Rock." It was through this narrow passage that, years ago, a little band of Mormons, sent to colonize the San Juan country, brought their wagons and their belongings. In laces where the chasm had narrowed so sharply as to block the cavalcade, they dismantled the wagons and packed them through on their backs. For they had set out to cross the river — and cross it they did. Mr. Morton's filming resolve must have been of that same high order — almost religious in its intensity. As the down-river journey grew ever more arduous, you waited with sympathetic understanding for those not quite perfect scenes which the incredible conditions must surely dictate. You were ready to make allowances, to accept the imperfect as relative perfection --under the circumstances. Not so with Mr. Morion. There was no compromise with quality in the Morton picture plan. He set out to film the river, and film it he did. Adventure on, the Colorado is a moving and splendid epic, recording both a gallant adventure and a glowing achievement." Movie Makers, Dec. 1947, 513.
Resources:
This film is a part of the Alton Morton independent film collection, 1947-1968, held by the J. Willard Marriott Library, University of Utah (via Archives West).

Discussed by Morton in "Pathway to Glory" (Movie Makers, Jan. 1948, 14-15, 40-42). The article describes the background and production of the film. Film and production stills are shown.

The film was recognized as the best travel film and best amateur film screened at a Smoky Mountain Movie Club salon in 1949 (Movie Makers, Dec. 1949, 474).
Locations:
Moab, Utah (Filming)
Coconino County, Arizona (Filming)
Colorado River; Utah, Arizona (Filming)
Subjects:
Genre:
Form:
Repository:
Alton Morton independent film collection, 1947-1968, J. Willard Marriott Library, University of Utah
Screenings:
May 1948 Metropolitan Motion Picture Club New York Gala. Movie Makers May. 1953, 216.: New York City, N.Y.
December 1947 Hartford Cinema Club. Movie Makers Jan. 1948, 34. : Hartford, CT.
April 1948 Utah Cine Arts Club. Movie Makers April. 1948, 170.: Salt Lake City, UT.
Screened by the Denver Cinema League in 1949: Denver, CO
Screened by the Smoky Mountain Movie Club in 1949: Asheville, NC
---