---
Date produced: 1960
Description:
"Edited film by Floyd Henry Wells, a retired salesman and a member of the Wally Byam Caravan Club of Airstream trailers, chronicles travel with a Wally Byam club down the Baja Peninsula. Film documents scenic landscapes, road signs and natural wonders along the Baja Pen and scenes of cities, town, churches and markets in Mexico. Film also captures local peoples including Mexican bands and dancers and a bakery with an outdoor stone oven. Some identified locations include Ensenada, Rancho Santa Ynez, El Presidente (motor lodges), Santa Rosalia, Tropic of Cancer, La Paz, Alamos, El Caracol and the Hotel los Portales. Film is narrated by his wife, Ruth Wells, who identifies many of the locations and events depicted with some historic comments or trivia. Wells also comments on various issues of importance to travelling by an Airstream trailer such as water sources and etiquette," Human Studies Film Archives, Smithsonian Museum.
---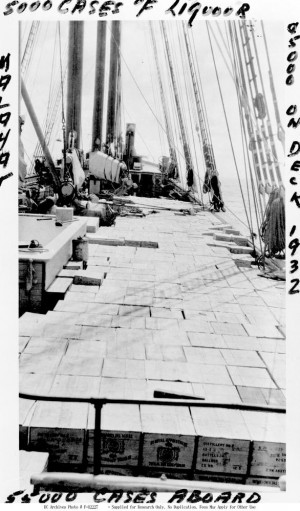 Date produced: 1933
Filmmaker(s):
Description:
"Depicts a rum-running expedition from Victoria to "Rum Row" off the California coast with the mother ship M.V. Malahat. The tender M.V. Hickey is shown transferring cases of liquor to American vessels and avoiding US Navy cutters. At San Martin Island, Mexico, the Hickey puts in for repairs." (BC Archives)

NOTE: The original reversal film was lost in the 1990s after being sent out for video transfer in Vancouver. Only the BC Archives analog video transfer is extant.
---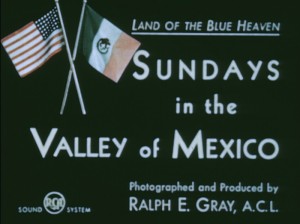 Date produced: 1942
Filmmaker(s):
Description:
"A colorful travelogue of modern, urban life in Mexico City. "Shows scenes typical of modern Mexico, such as the tall buildings and wide boulevards of Mexico City. The canal leading to Xochimilco, with its fruit- and flower-laden boats, is pictured. Then describes a festival held in honor of the Vice President of the United States, Henry Wallace, when he visited Mexico City. It includes a bullfight and a parade of Mexican beauties. Ends with a pageant of old and new Mexican dances" (War Films Bulletin of the Extension Division Indiana University, February, 1943, 19)" Indiana University Libraries Moving Image Archive.
---
Date produced: 1955
Filmmaker(s):
---
Date produced: 1959
Filmmaker(s):
Description:
"A scientific expedition to Mexico for a study of the animals, reptiles and birds. Our visit for the most part is in the rural or wilderness areas but we do get into the market place and we see some of the ancient ruins. A pictorial review of a great many of species of wild life which we rarely see as many of us are afraid to visit the habitat of those creatures. The close-up photography puts the small creatures almost on our noses" PSA Journal, Nov. 1959, 48.
---
Date produced: 1934
Filmmaker(s):
---
Date produced: 1951
Filmmaker(s):
Description:
"Harold Ramser's 'Acapulco—Mexican Riviera' is a beautiful Kodachrome documentary of the colorful Mexican resort city." American Cinematographer, May 1952, 224.
---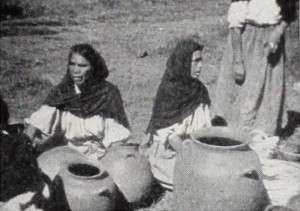 Date produced: 1950
Filmmaker(s):
Description:
"Ella Paul did not try to cover the whole of Mexico, as do so many who visit that fascinating country. In fact she chose to limit her study to one small locale — the town of Patzcuaro and the activities on its lake. This primitive yet industrious community is recorded in pleasing compositions and with sympathetic appreciation of its sunny warmth and charm. The familiar butterfly nets, dugout canoes and the heroic statue of Morelos are all there in Beneath Mexican Skies; but Mrs. Paul's camera gives them a fresh treatment." Movie Makers, Dec. 1950, 466.
---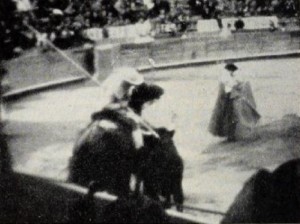 Date produced: 1950
Filmmaker(s):
Description:
"Although Mexico has become a recurring theme among American movie makers, its varicolored panoramas seem fresh and vital when viewed through the discerning eyes of so capable a film reporter as Esther S. Cooke. She has a fine talent for blending human interest with purely scenic passages, so that Nextdoor Neighbor presents an informative and entertaining pageant of the sights and scenes below the border. Not the least of this producer's potentials are her diligent research, able organization and skillful editing. The more familiar scenes of Mexican life are supplemented here by an admirably detailed coverage of the national sport, bullfighting. Looking at this spectacle as if through Latin eyes, Mrs. Cooke has been able to transmute onto film its stirring pageantry and ritualized passion. A happy choice of Mexican recordings provide a beautifully blended musical score, which reaches its apex in the, bullfight sequence with the haunting and classic La Virgen de la Macarena." Movie Makers, Dec. 1950, 465.
---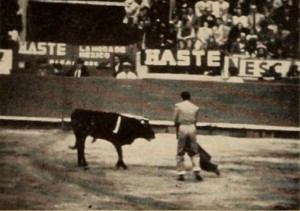 Date produced: 1949
Filmmaker(s):
Description:
"It takes Cal Duncan 1300 feet of 16mm. color film to tell a pair of politely uninterested guests how he caught a sailfish off Acapulco — but the effort, as exemplified in Mexican Malarkey, is decidedly worth it. Mr. Duncan's running gag, climaxed by a truly comic finish right out of the funny papers, is the flashback technique developed to a high and satisfying order. His Mexican footage itself is no less effective. The robust and hearty producer has an artist's eye for fresh viewpoints, a dramatist's instinct for revealing action. His sequence on Mexico's traditional Sunday bullfight, always a difficult assignment, is outstanding. Mexican Malarkey is a refreshing variation on an increasing wellworn theme." Movie Makers, Dec. 1949, 454.
---
Total Pages: 3