---
---
Date produced: 1928
Filmmaker(s):
Description:
"The chief 9 millimeter prize, of $500, was awarded to Clarence R. Underwood, of 3838 Kennerly Avenue, St. Louis, Mo. This was a well photographed and smoothly assembled study of the famous St. Louis Zoo" Photoplay, June 1928, 136.
---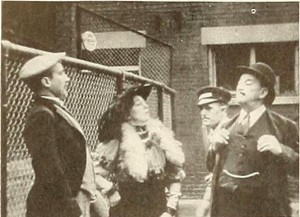 Date produced: 1940
Filmmaker(s):
Description:
"Devotees of the hilarious poem about the Lancashire couple and their son Albert would not fail to delight in Albert and the Lion, filmed by A. Scott Moorhouse. It portrays the misadventures of young Albert and his parents on their holiday at Blackpool, an English seaside resort. The story of how the objectionable young Albert, who carried a stick with a " 'orse's 'ead 'andle,'' was eaten by the lion is told in a highly satisfying manner. The scenes of the outlandishly costumed trio and their tribulations are timed to accompany a recitation of the poem. The characters are perfectly chosen and also outfitted to perfection. Although filmed at a Toronto zoo, the movie might well have been taken at the famous English resort of the poem. Mr. Moorhouse's handling of the players was masterly, and he made the best of his filming opportunities." Movie Makers, Dec. 1940, 601.
---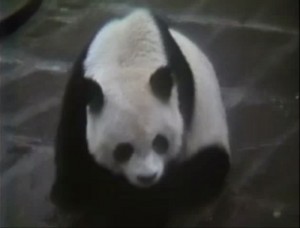 Date produced: 1985
Filmmaker(s):
Description:
"In September 1985, Robbins Barstow and his wife Meg, of Wethersfield, Connecticut, USA, went on a four-week tour of China. This personalized travelogue includes visits to Shanghai, Beijing, the Great Wall, Xian, Guilin, and a cruise down the Yangtze River." Archive.org
---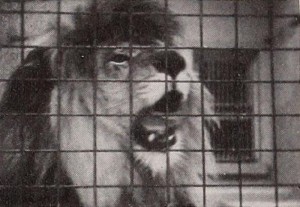 Date produced: 1943
Filmmaker(s):
Description:
"A Day at the Zoo is a lively and pleasing film of a family's visit to the New York Zoological Gardens. The youngsters of the family discover the Children's Zoo and make the acquaintance of farmyard animals. They feed the chickens and pet the lambs while Father and Mother look on. The larger and stranger beasts in the main part of the Zoological Gardens are next pictured; the children feed them, too, but at a safer distance. In this film, Walter Bergmann has produced the best type of informal zoo picture — a story with human interest, enlivened with a sense of humor." Movie Makers, Dec. 1943, 477.
---
Date produced: 1957
Filmmaker(s):
Description:
"Timothy Lawler and family have produced another family picture, this time a day at the zoo. We are permitted to relive the pleasures and problems of providing for a lively group of children who seem too anxious to get into some sort of mischief. And they do. Those of us who have seen his earlier pictures will very much appreciate another visit with the family. We suddenly realize that the children are getting larger and others have moved in to refill the younger spots. A delightful family picture for all to enjoy." PSA Journal, Nov. 1957, 32.
---
Date produced: 1934
Filmmaker(s):
Description:
"B. Fredric de Vriew of Rochester, N. Y., for his picture 'Hunting With a Camera Instead of a Gun.' This picture was made practically in its entirety at the zoo." American Cinematographer, Feb. 1936, 73.
---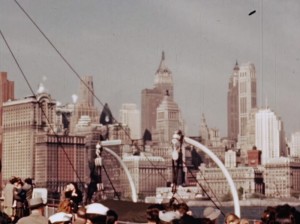 Date produced: 1942
Filmmaker(s):
Description:
"Most of the residents of New York City know that the world's metropolis is something more than a play place for sensation hunters. But, if one were to judge from many films of New York City, the conclusion would be inevitable that the urban settlement at the mouth of the Hudson River is chiefly devoted to night clubs and parades and is populated largely by those who frequent them. In New York Calling, made for the New York Central System, of which he is supervisor of the Motion Picture Bureau, Frederick G. Beach has presented the New York Central's eastern terminal city as a reasonable and understandable place, where sane people live and to which a man may bring or send his family for a holiday without wondering if they will survive the experience. Made for showing to families, Mr. Beach's excellent Kodachrome footage covers the best of New York City with an apparently effortless leisure, in spite of its brevity. Including many different phases of a great city, the picture has a generous amount of well made closeups. Things that will interest children are strikingly presented. If this reviewer did not already live in New York City, Mr. Beach's movie, with excellent narrative and music, would be the best possible argument for him to change his residence. It certainly will prove to be persuasive in the days when railroads can again urge us to travel for pleasure." Movie Makers, Dec. 1942, 508-509.
---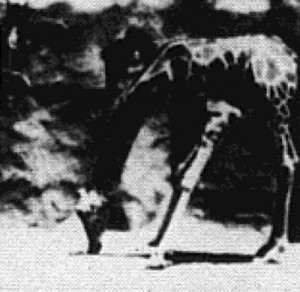 Date produced: 1963
Filmmaker(s):
Description:
"As part of the general program of heart research, studies are being made to determine how the body's blood pressure can compensate for sudden and extreme differences in elevation. At the San Diego Zoo, the long-necked animals - the giraffe, the horse and the llama - are used in this research project. By surgical procedure, devices are inserted in the animal's body which measure and record the external actions and the internal natural control mechanism of the heart. The information compiled from these studies will aid greatly in man's effort to understand the complexities of the body" PSA Journal, Oct. 1963, 41.
---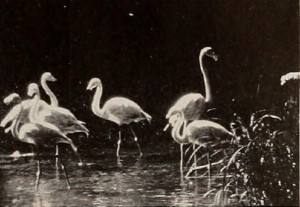 Date produced: 1946
Filmmaker(s):
Description:
"By a clever editorial feat, Charles H. Benjamin has transformed a series of animal scenes which he filmed at New York City's Bronx Zoo into a pseudo travelog of the African game belt. He achieved this effect by simply cutting shots of heavily wooded streams into footage of the uncaged animals in the famous zoo, and the illusion is pointed up by some striking title frames. Mr. Benjamin's camera work matches his editorial insight, for his exposures and composition are first rate. His use of back lighting gives his shots of flamingoes and drowsing lions a brilliance that puts them far above the usual run of animal pictures." Movie Makers, Dec. 1946, 488.
---
Date produced: 1949
Filmmaker(s):
Description:
Zoo footage was cleverly edited in with shots of children according to the December 1950 issue of Movie Makers.
---
Total Pages: 2