---
---
Date produced: 1932
Filmmaker(s):
---
Date produced: 1965
Filmmaker(s):
Description:
"The Last Ride concerns the dangers of driving while drinking and dramatizes what happened to one man who lost control of himself when he lost his job. The photography is well done and some unusual angles help gives emphasis to the story" PSA Journal, Sept. 1965, 50.
---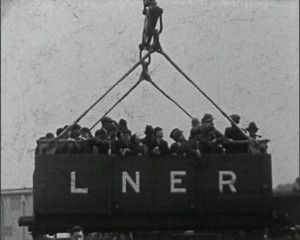 Date produced: 1939
Filmmaker(s):
Description:
"A variety of steam engines and carriages are seen around the yard at Thorpe Station, as well as dignitaries making speeches at the exhibition's opening" (EAFA Database).
---
Date produced: 1934
Filmmaker(s):
Description:
"Exciting times at Southport, as racing cars hurtle around a course laid out on the sands, in this short reel by filmmaker George Jesse Turner. The town has an impressive history of motor racing - before the famous Brooklands circuit opened in 1907, cars raced each other through Southport streets, though this proved too disruptive, and the sport was wisely relocated to the town's sandy beaches." (BFI Player)
---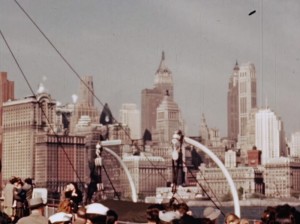 Date produced: 1942
Filmmaker(s):
Description:
"Most of the residents of New York City know that the world's metropolis is something more than a play place for sensation hunters. But, if one were to judge from many films of New York City, the conclusion would be inevitable that the urban settlement at the mouth of the Hudson River is chiefly devoted to night clubs and parades and is populated largely by those who frequent them. In New York Calling, made for the New York Central System, of which he is supervisor of the Motion Picture Bureau, Frederick G. Beach has presented the New York Central's eastern terminal city as a reasonable and understandable place, where sane people live and to which a man may bring or send his family for a holiday without wondering if they will survive the experience. Made for showing to families, Mr. Beach's excellent Kodachrome footage covers the best of New York City with an apparently effortless leisure, in spite of its brevity. Including many different phases of a great city, the picture has a generous amount of well made closeups. Things that will interest children are strikingly presented. If this reviewer did not already live in New York City, Mr. Beach's movie, with excellent narrative and music, would be the best possible argument for him to change his residence. It certainly will prove to be persuasive in the days when railroads can again urge us to travel for pleasure." Movie Makers, Dec. 1942, 508-509.
---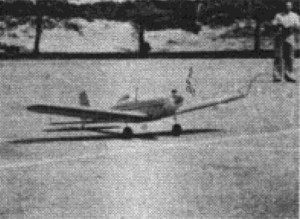 Date produced: 1960
Filmmaker(s):
Description:
"One must enjoy a great deal of fun in building and flying the midget airplanes. Not the rubber-band motors, but the real one-cylinder petrol engine with radio control. We witness the construction and flying of the miniature craft" PSA Journal, Nov. 1960, 42.
---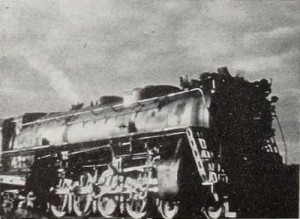 Date produced: 1942
Filmmaker(s):
Description:
"Railroads Speed the Freights, filmed by T. W. Willard, is a compact industrial picture that presents its story with the maximum of effectiveness. The technique of operating our country's vast railway freight system is clearly summarized; the audience learns the methods employed in sorting, loading and routing freight cars and, in the process, sees some especially handsome movies of railroading. Particularly impressive are the dissolves from the shot of one moving freight train to another. Mr. Willard carefully studied the relationship of motion in the successive scenes and produced a sequence of dissolves, unmatched in cinematic effect. The series is climaxed by a scene of one train passing through the picture, which dissolves to a shot of another train racing almost head on toward the audience. The outstanding quality of this picture is its completeness and suavity, achieved with a minimum of footage and the smallest practical unit print charge." Movie Makers, Dec. 1942, 507.
---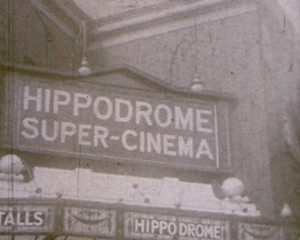 Date produced: 1932
Filmmaker(s):
Description:
"Amateur filmmaker, cinema historian and railway engineer H.A.V. Bulleid pays tribute to his dual loves of cinema and rail in an experimental short film. Bulleid uses 'metric editing' - the first of Russian director Sergei Eisenstein's 'methods of montage' - in which cuts are dictated by the number and sequence of frames, not what occurs on screen. First, Bulleid pays tribute to cinema, featuring the facades of picturehouses around Derby in static shots, which build to a dazzling crescendo of short shots. The section on trains features longer views of the railyards in operation, with trains shunting and coming into the station, before a final section focuses on trams, following electric streetcars as they move down urban streets" (EAFA Database).
---
Date produced: 1949
Filmmaker(s):
Description:
"A new illustrated lecture filmed on an amusing trip by bicycle through the isolated, unspoiled southwestern corner of Colorado." Pacific Union Recorder, Dec. 12, 1949, 4.
---
Date produced: 1970
Filmmaker(s):
Description:
"Color film celebrating Turner's love for classic automobiles. Turner discovers an old road named Callao and becomes interested in exploring the dirt road with his classic Dodge. Film shares the history of the pony express in Utah." Church History Library.
---
Total Pages: 7