---
---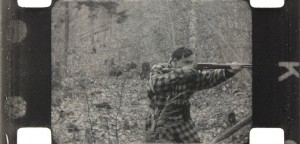 Date produced: 1926
Filmmaker(s):
Thomas Archibald (Archie) Stewart
Description:
"Structured around a hunting trip to Maine made by Archie Stewart and Howard Kendall. The two men travel to Perry, Maine, from New York state by train, then drive a car to a lake where they transfer their luggage to a motor boat on Grand Lake Stream and ride through heavy fog on rough water to West Grand Lake. They then carry a canoe to Lower Sysladobsis Lake, load the canoe with their rifles and supplies, and paddle off. After reaching their camp along the lake's shore, they check their rifles and eat before hunting." oldfilm.org
---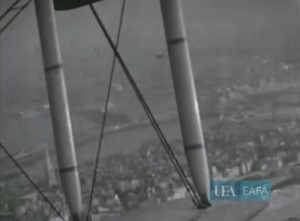 Date produced: 1932
Filmmaker(s):
Description:
"Film record of a journey to Egypt and a four day holiday in Cairo. The film begins at Croydon Airport, recording the activities of the ground crew and the arrival and departure of two Imperial Airways planes, the Heracles and the Hengist. The film records a stopover in Crete on the journey to Cairo where the plane is moored close to a yacht. The final section of the film records street scenes in Cairo and an excursion to the Great Pyramid and Sphinx, returning to the city by Marg and Old Heliopolis." East Anglian Film Archive.

"Ruth Stuart's Travel picture 'Egypt and Back With Imperial Airways,' was not only a fine example of consistent photography, but also showed a keen knowledge of editing and cutting that let the pictue breeze along in an entertaining fashion." American Cinematographer, Dec. 1933, 321.
---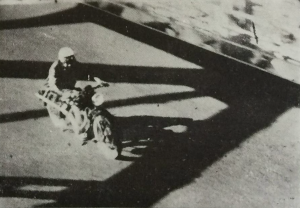 Date produced: 1935
Filmmaker(s):
Description:
"a soggetto breve"/ short fiction

"EVA E LA MACCHINA
Eva e la Macchina soggetto e regla di Leone Viola, fotografia e montaggio di Fernando De Marzi, interpreti Parisina Poggi, Carlomaria Der­mal, Guido Cerato, svolge come tema il contrasto e nello stesso tempo il rapporto tra il maschio in possesso della femmina e il motociclista nel pos­sesso della sua macchina. L'ambiente e per una parte primitivo e naturale, per l'altra invece si svolge presso un ponte di ferro e un passaggio a livello. I due motivi corrono parallelamente sino alla fine, allorché il Viola persegue il motivo del­la macchina sola, sino al finale gocciolare dell'o­lio, il cui parallelo rimane soltanto presunto. Eva e la Macchina si avvale di un ottimo ritmo di montaggio, dove al crescendo assai bene ottenuto della parte centrale succede il finale altrettanto realizzato nella sua calma compostezza."

"EVA AND THE CAR Eva e la macchina (Eva and the Machine), screenplay and direction by Leone Viola, photography and editing by Fernando De Marzi, starring Parisina Poggi, Carlomaria Dermal, Guido Cerato, develops as its theme the contrast and simultaneous relationship between the male in possession of the female and the motorcyclist in possession of his machine. The environment is on the one hand primitive and natural, and on the other, the film takes place near an iron bridge and a level crossing. The two motifs run parallel until the end, when Viola pursues the motif of the machine alone, until the final drip of oil, whose parallel remains only presumed. Eva and the Machine avails itself of an excellent rhythm of montage, where the very successful crescendo of the central part is followed by the finale equally successful in its calm composure."
— Il ventuno 24 (Review of the G.U.F. of Venice) January 1935, p. 15
---
Date produced: 1960
Description:
"The Port Authority's port promotion film, "The Fabulous Decade," which demonstrates the growth and vitality of the New York-New Jersey Port during the past ten years, was shown at meetings before 50,000 people engaged in international trade. The film is available in French, German, Spanish, Italian and Portuguese language versions for overseas effectiveness. In April, the film received the Blue Ribbon Award of the 1960 American Film Festival as the best film in its category. The film also placed first in its class in the 1960 Photographic Society of America International Film Competition" via the 1960 Annual Report, by the Port Authority of New York, 40.
---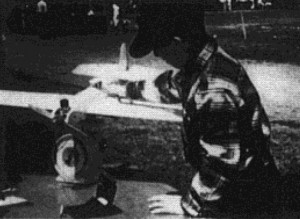 Date produced: 1960
Filmmaker(s):
Description:
"Mother gives Junior a model airplane kit and immediately, he sets about the task of assembly while Dad works on the opposite side of the table editing motion pictures. During the night, Junior goes into a dream sequence of flying his airplane. Later he flies his toy in a local contest and wins the big prize. A likely event in the life of a boy" PSA Journal, Oct. 1961, 48.
---
Date produced: 1927
Filmmaker(s):
Description:
"Romantic narrative by Rochester homemaker Marion Gleason that was used by Kodak to introduce home-moviemaking to the public." filmpreservation.org
---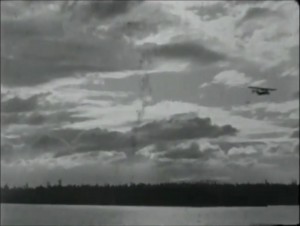 Date produced: 1933
Filmmaker(s):
Description:
"Members of the BC Mountaineering Club fly from Jericho Beach, Vancouver, in a Sikorsky S-38 amphibian (Canadian Airways, registration CF-ASO), and land on Garibaldi Lake. Most of the footage depicts the members climbing Mount Garibaldi and resting at the summit. Returning to the lake, they board the amphibian and fly back to Jericho Beach" British Columbia Archives.
---
Date produced: 1944
Filmmaker(s):
Description:
"Sept. 1944 - 489 miles by Bicycle over the Rockies." UCLA Film and Television Archive.
---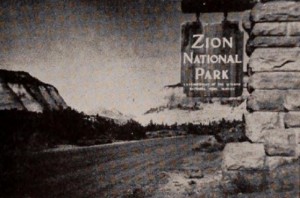 Date produced: 1946
Filmmaker(s):
Description:
"Mr. Midgley's production is a gay and picaresque saga of a 350 mile jaunt by bicycle along the highways of Bryce and Zion National Parks and Cedar Breaks National Monument. Distinguished camera work, pleasing compositions and imaginative treatment contribute to the film's success. Outstanding in the picture, however, are its crisp pace and lighthearted laughter at the cyclist's own wry adventures. Brightly executed titles and a restrained use of a fine "running gag" round out this altogether engaging travel study." Movie Makers, Jan. 1947, 49.
---
Date produced: 1967
Filmmaker(s):
Description:
"From Touchdown to Takeoff is a student made film showing the inspections and preparations a big airliner must undergo from the time it lands at an airport until it can take off again on the next flight" PSA Journal, Aug. 1967, 37.
---
Total Pages: 7