---
---
Date produced: 1937
Filmmaker(s):
---
Date produced: 1935
Filmmaker(s):
Description:
"Springtime in California, by F. B. Judson, ACL, is an example of what every Kodachrome filmer would be proud to have made, because it studies Nature in her most extensively colorful manifestations, with complete freedom of camera viewpoint, offering closeups, medium shots and long views, all of them richly hued. This film indicates a delicate appreciation of color on the part of its maker, who. having a highly chromatic subject to his hand, did not let it run away with him. but kept it well under control, with the result that he delights with his management of pastel shades, where another might have omitted these and substituted garish footage so easily available in the highly colored California landscape. Mr. Judson is awarded Honorable Mention because he has done a typical thing — a Kodachrome landscape study — with restraint and liveliness, combining two qualities not always found together." Movie Makers, Dec. 1935, 553.
---
Date produced: 1959
Filmmaker(s):
Description:
"In the fall of the year, the late flowers are blooming, the evergreens have about completed their year's growth in preparation for the heavy winter, the deciduous have donned their golden mantles soon to become their winter blanket. All part of the thanksgiving for a bountiful season. The tall golden hillside trees set in a great panorama, interspersed with the dark grenes, the paths carpeted with golden leaves of varying hues of yellow, orange and red. It is here we visit the Mortons with their trailer in the pines" PSA Journal, Nov. 1959, 49.
---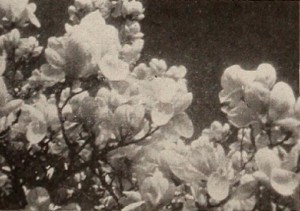 Date produced: 1946
Filmmaker(s):
Description:
"It is spring in Brooklyn, and Leo J. Heffernan has found a multitude of trees there. He opens the film with a sombre shot of New York's waterfront and skyline, to indicate the tense activity of a large city. A title suggests that those who live in the midst of this turmoil can find solace not far away. The film proceeds to the bounteous display of flowering trees in a large public park. Glowing shots of heavily laden branches against blue sky are interspersed with scenes of Sunday strollers wandering through shaded walks and falling petals. Mr. Heffernan has used to good effect his fine technical skill, and his color transitions between scenes are smoothly accomplished. Trees That Grow in Brooklyn is accompanied by a rhymed narrative written especially for the film by Mr. Heffernan." Movie Makers, Dec. 1946, 489.
---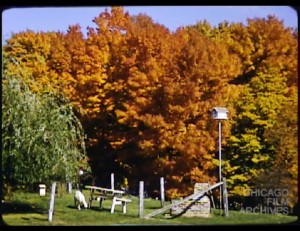 Date produced: 1965
Filmmaker(s):
Description:
"A journey from bustling Chicago to the fall foliage and winter landscape of rural Wisconsin." Chicago Film Archives.
---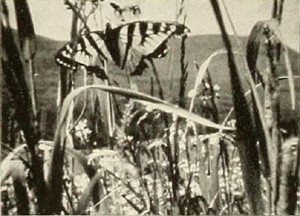 Date produced: 1940
Filmmaker(s):
Description:
"Robert P. Kehoe, who won Honorable Mention last year with Chromatic Rhapsody, has "done it again" — only more so. In Wildflowers, with his own inimitable magic, he has gathered into light and color all the lazy loveliness of high summer. Here, as if he talked their secret language, bees drone and butterflies dance before his lens. Daisies and buttercups, the wild geranium and "butter and eggs" — a dozen flowers you do know and a score you have forgotten — nod in the warm sun with simple and unassuming beauty. Often, six blades of grass and a single bloom will comprise a moment of ineffable gaiety and song. The rough wood of a slanting black post gives accent to a field of daisies, or the delicate tracery of a "four o'clock" is a breath taking frame for a summer sunset. In Wildflowers, Mr. Kehoe has written once again a lyric testament to nature's incomparable loveliness." Movie Makers, Dec. 1940, 600.
---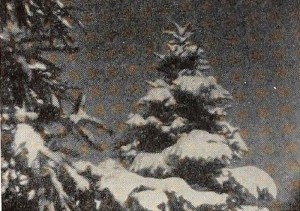 Date produced: 1950
Filmmaker(s):
Description:
"With a sensitive feeling for nature's changing patterns, even in her least productive season, Herman E. Dow has captured the flavor and beauty of New England's quiet countryside in Woods and Waters of Winterland. Closeups of streams trickling through icebound banks and selective compositions of snow-laden boughs and bleak branches contribute to the overall theme of a pleasant scenic study. A musical accompaniment for the film is well chosen and recorded." Movie Makers, Dec. 1952, 341.
---
Date produced: 1963
Filmmaker(s):
Description:
"With the melting of the winter's ice and snow, waterfowl, animals, insects and flowers begin to awaken. Through migration, nesting, family rearing and training, the seasons pass. As the last of the fall colors are gradually covered with ice and snow, the migration reverses, it is winter again, and the cycle closes as it began. This film was awarded the Dick Bird Nature Trophy" PSA Journal, Oct. 1963, 42.
---
Date produced: 1975
Filmmaker(s):
Description:
The film follows a blind young man in Lorestan who spends his summer alone in his village while everyone else has moved under the mountain away from the heat. He waits for cars next to the road in hopes that they will give him money. While trying to find a car that passed him one day he finds a water stream by accident and the calmness of its environment makes him seek refuge there every day. But the seasons change and after the first rain, the small stream turns into a big body of water and the young man is left with nowhere to bring him happiness every day.
---
Total Pages: 5