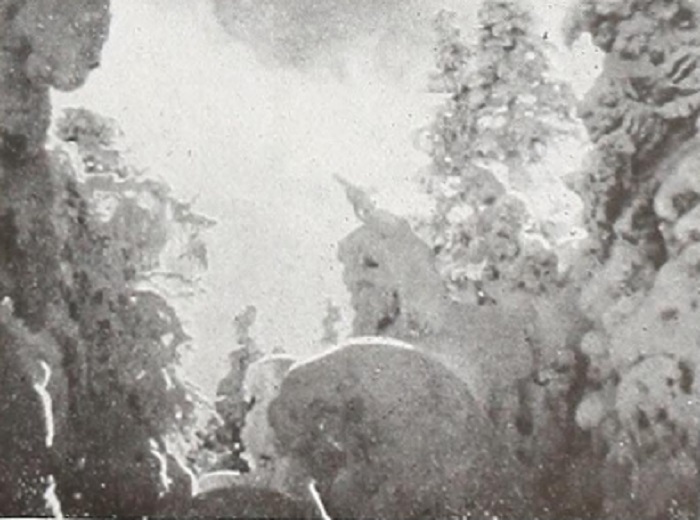 Date produced: 1944
Filmmaker(s):
Languages:
English
Length:
215 ft
Format:
16mm
Colour:
Kodachrome
Sound Notes:
Silent
Sound:
With music on disc.
Awards/Recognition:
ACL Ten Best 1944 - General Class
Description:
"Robert P. Kehoe accepted a strong challenge and secured a fine result in filming Snow on the Mountains. Filming so static a subject as snow forms, iced trees and wind storms on a mountain presents a real task of vitalizing the material. Mr. Kehoe has brought weird and beautiful life to the screen. This film, excellently scored to present the musical message suggested by the snow scenes, builds from the pleasantness of subdued ice and snow forms, through the almost animate figures created by winter on trees and bushes, to a breath taking climax of a snow storm on the mountain. Culminating the beautifully edited and intelligently filmed footage is an inspiring sequence of flaming powdered snow, reflecting the full crimson of the sunset. So remarkable is this action that the impression imparted is almost one of a cascade of liquid fire flowing across the screen. In order to secure many of the scenes, Mr. Kehoe stood so long in the snow that it was necessary actually to lift him into a motor car and to remove the cine equipment from his chilled hands at the end of his task." Movie Makers, Dec. 1944, 494.
Resources:
Discussed by Kehoe in "It's All Snow" (Movie Makers, Jan. 1945, 17, 32). The article describes how a "new cine world appears" during winter, and lists several New York-area mountains to film at. Film stills are also shown.
Subjects:
Genre:
Form:
Tags:
Screenings:
Screened by the Bell Laboratories Motion Picture Club in 1944: New York City, N.Y.
Screened for the New York Ski Council at the Henry Hudson Hotel in 1945: New York City, N.Y.
Screened by the Metropolitan Motion Picture Club in 1945: New York City, N.Y.
Screened by the Hartford Cinema Club in 1945: Hartford, CT
Screened by the Winnipeg Cine Club, October 1948.: Winnipeg, Manitoba
---
Do you know where this film is? Get in touch with us at amdb@ucalgary.ca.