---
---
Date produced: 1940
Filmmaker(s):
Description:
"Below Zero, as its name implies, was filmed entirely at temperatures which varied between —5° and —32°. The film was made, at Chapeau de Paille, over the Lincoln's Birthday week-end of 1940, and during one of the nights that the producer spent there, the mercury dropped to —42°. Chapeau de Paille is the 'Headquarters Depot' of one of the largest logging-operations in Northern Quebec, in the 'Haute Mauricie'. This short bit, in color, gives some slight idea of another, longer, film (in black and white) entitled, 'Life in the Northern Bush', which follows the activities of the Lumber-jack, through the seasons, from the first cutting in the fall until the next summer, when the logs are delivered at the mills" ("Program Notes," 1940).
---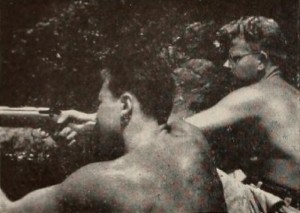 Date produced: 1947
Filmmaker(s):
Description:
"It takes a true craftsman to catch all the intimate and informal scenes that make a first rate vacation film, particularly when his exposure problems are complicated by the sunlight and shadows of a thickly wooded lake shore. But George Mesaros has succeeded in producing the sort of vacation record that most filmers only dream about. Mr. Mesaros has mastered his technical problems with an expert's hand and has turned out a stunning, vital movie of a summer outing in the Saranac Lake region. Faced with non-cooperative fellow campers, he had to be prepared to set up his tripod at a moment's notice; but the candid air of the proceedings on the screen is ample recompense for his vigilance. Bluff Island Idyll is a vivid testament to the importance of human interest and to the appeal of simple, everyday activities when they are properly sequenced and edited." Movie Makers, Dec. 1947, 513.
---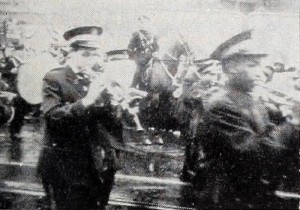 Date produced: 1951
Filmmaker(s):
Description:
"Donald Volkman's film, A Breath of Spring, is a montage study of the vernal season in a city — in this case, Boston. But shots of the blowing skirt of a girl, the wind-whipped awning of a department store and the clothesline ballet of the Monday wash are universal. Mr. Volkman has truly brought imagination to his pictorial progression of spring, from melting snows in a churchyard to the full flowering of the sun-warmed earth and its people. His choice of musical accompaniment is especially notable, particularly with shots of running water in gutters and the Boston Pop's rendition of The Wearing of the Green with the sequence of a St. Patrick's Day parade. A Breath of Spring was created as a thesis in a course on motion pictures at Boston University, where Mr. Volkman is a student." Movie Makers, Dec. 1951, 411.
---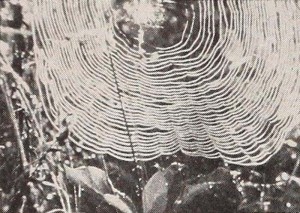 Date produced: 1939
Filmmaker(s):
Description:
"Combining the sensitivity of an artist and a camera skill that theoretically only professional experts could acquire, Robert P. Kehoe has produced, in Chromatic Rhapsody, a film that would command the amazed admiration of any movie club in the country. This beautiful picture can only be described as a scenic — a scenic held together rather tenuously by editing to create a symphonic arrangement of color and to associate scenes with the seasons. It is in the sheer beauty of color cinematography that Chromatic Rhapsody excels. This reviewer has never seen, in any medium, more gorgeous color photographs of autumnal foliage and winter landscapes. One is so impressed with the flawless color that he is inclined to suspect that nature puts on a special show for Mr. Kehoe. The truth is probably that Mr. Kehoe has a special understanding of nature and an intuitional sensitivity to light and color. For the rest, as Mr. Kehoe would say, he simply follows exposure instructions. The film is marred somewhat by lack of complete camera steadiness, the only flaw in an otherwise superb cinematic accomplishment. A charming musical score, arranged by double turntable, accompanies the movie's presentation." Movie Makers, Dec. 1939, 634.
---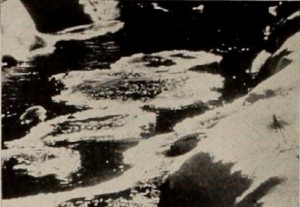 Date produced: 1946
Filmmaker(s):
Description:
"Joseph J. Harley, filmer of nature in her many moods and an understanding lover of great music, brings a subtle and beautiful study of ice, snow and wintry waters, which is presented with the recorded music of On the Shores of Sorrento, by Richard Strauss. Here was a problem of finding music that would meet the mood of the footage and of then so editing the latter that the climaxes, both musical and pictorial, would integrate. Although, of course, Sorrento lacks the ice and snow of Mr. Harley's film, yet Strauss's tone poem coalesces amazingly with the sparkling Kodachrome of winter which has been joined to it. Mr. Harley has elected to do something that, had it been done a quarter century ago, would have made cinematic history. In doing it, he has matched the best of the past and has added a new brilliance from his own abundant creative imagination." Movie Makers, Dec. 1946, 488.
---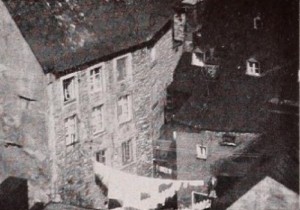 Date produced: 1948
Filmmaker(s):
Description:
"A schoolboy in need of material for a geography theme launches Five Days From Home, as Dad gets out the movie projector and shows Son the cine harvest of his summer holiday. Among the points covered in a whirlwind auto trip from New York to Canada are Quebec City, Montmorency Falls, a Canadian pulpwood mill and Ausable Chasm, in New York State. Mannie Lovitch's handling of these subjects is always competent, occasionally excellent. His inquiring camera found many scenes of quaint charm in the old St. Lawrence city, and his full scale visual treatment of the pulp mill is sustained in interest by a superb bit of scoring with modern music by Virgil Thompson. Of especial note is Mr. Lovitch's mobile cross-cutting of the three to four themes which make up his coverage of the usually difficult Ausable Chasm." Movie Makers, Dec. 1948, 493.
---
Date produced: 1933
Filmmaker(s):
---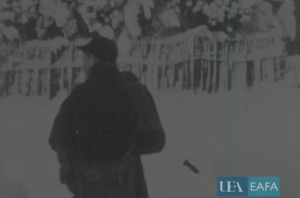 Date produced: 1958
Filmmaker(s):
Description:
'Scenes of Frinton covered in snow and ice. A man plays with a dog and people dig paths through the snow. People attempt to walk through the snow; some out to enjoy themselves, others seeking to carry out a normal routine of shopping and other daily business. A man tries to unlock his frozen car. In the town centre there is a shop with a 'sale' sign in the window. The area is practically deserted. Hammonds' filling station is covered in snow and deserted. A lorry attempts to drive through the snow, but is having to rely on a push. One vehicle that does manage to take to the road is a Land Rover. Finally, a snow-covered St. Mary's Church and frozen power cables brought down by the severe conditions' (EAFA).
---
Date produced: 1954
Filmmaker(s):
Description:
"Het is Lente in Holland!, by Esther Cooke, may well be one of the most beautiful and perceptive travel studies of this (or any) contest year. For here is no banal tourist mish-mash of the usual wooden shoes, windmills and cheese markets; we find in their stead a literate and respectful account of a small country with its old and cherished travel conditions. Technically sparkling and esthetically pleasing, It is Spring in Holland is so deceptively simple that each viewer is likely to assume that he could easily do likewise. But the skill which Mrs. Cooke has lavished on each succeeding scene should not be taken lightly. Her exposures are exact, creating color which seems magically luminescent; her viewpoints are knowingly selected to create fresh and revealing compositions, and her editing has blended the whole into a travel study of exceptional poise and beauty" PSA Journal, Jan. 1955, 48-49.
---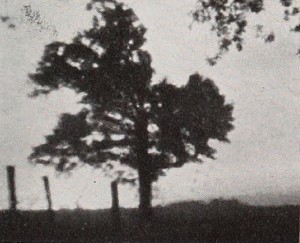 Date produced: 1943
Filmmaker(s):
Description:
"Holiday with the Heavers is one of those rare films that display sincere artistic sensitivity that is manifestly not the product of technical skill nor the "slick" application of the rules of composition and film planning. It is a picture that promises that its maker — Dr. W. Lynwood Heaver — with more cinematic experience, might produce the finest type of amateur motion picture. Holiday with the Heavers is not a record of a family jaunt, as its title would imply. Rather, it is a scenic study of fall, enlivened by the presence of a three year old who investigates a park and explores the autumn leaves. Included in the film are beautiful and eerie shots of the late fall, effective silhouettes and charming closeups of the small actor." Movie Makers, Dec. 1943, 478.
---
Total Pages: 5