---
---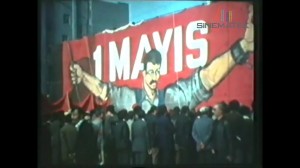 Date produced: 1977
Filmmaker(s):
Description:
"Kaya Tanyeri 1 Mayıs 1977 mitingine elinde 8 mm kamerası ile katıldı. Kızı Çağla Tanyeri de ses kayıtlarını alıyor ve babasına yardım ediyordu. Kaya Tanyeri miting öncesi Beşiktaş'taki coşkuyu ve Taksim'e yürüyüşü kaydetti. Taksim meydanına geldiğinde ve "malum" katliam başladığında ne yazık ki çekimi yapamadı. Öncesinde çektikleri ile sonradan yaşanan katliamın fotoğraflarını kullanarak ve "Görevimiz Tehlike" filmine gönderme yaparak kurguladı. Hiç gösterimi yapılmadı. Bu film yıllarca Kaya Tanyeri'nin kişisel arşivinde kaldı. Ta ki bize erişinceye kadar. Biz bu filmi ve Güneşli Bataklık filminin kamera arkası belgeseli olan 'Güneşe Dönük Kamera' isimli 8mm filmlerini dijitalleştirdik. ve işte sizlerle paylaşıyoruz." Sinematek.tv: http://sinematek.tv/1-mayis-77-1977/ (1 November 2019).
"Kaya Tanyeri attended the meeting, 1 May 1977, with an 8mm camera in his hands. Her daughter, Çağla Tanyeri, was assisting the recording as well. Before the meeting, Kaya Tanyeri made a record of the "enthusiasm" in Beşiktaş and the march on Taksim. When they came to Taksim, the infamous massacre was just starting and he could not continue to record everything. Using the former shootings and the photographs of the massacre, he edited the multiple audiovisual resources in reference to the Mission: Impossible. The film has never been screened before and it was stored in Kaya Tanyeri's archive until Çağla Tanyeri found the original material. The original 8 mm film was digitized to share with a larger audience by Sinematek." Sinematek.tv: http://sinematek.tv/1-mayis-77-1977/ (1 November 2019).
---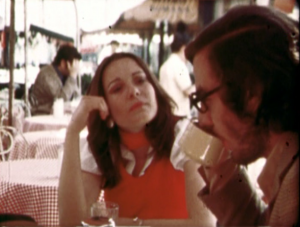 Date produced: 1974
Filmmaker(s):
Description:
"Una cinta cargada de referencias a Jean-Luc Godard (Los Carabineros, 1963) pero sobre todo concentrada en la crítica mordaz al radicalismo de izquierda. Una vez más Marco Antonio Madrid hace el papel de protagonista, un joven de pelo largo, pantalón de mezclilla y saco, que se dedica a ligar en los cafés de la Zona Rosa adoctrinando a las mujeres. Lee a Marx después de hacer el amor, y se junta con sus amigos para brindar por "la muerte de la intelectualidad burguesa". Montero utiliza intertítulos como recurso irónico, una suerte de narrador externo que interpela la historia: "¿Qué es la intelectualidad burguesa?". La lucha revolucionaria del joven y sus amigos está teñida de sentido del humor. En una secuencia que recuerda mucho a Los Carabineros, suben al techo de una fábrica para iniciar la lucha armada (...) Por último un cartel proporciona una última burla: "Y si el sol es burgués detendremos al sol" " (Vázquez Mantecón, 2012).

"A film loaded with references to Jean-Luc Godard (The Carabineers, 1963), but above all focused on biting criticism to the radical left. Once again Marco Antonio Madrid plays the role of the lead character, a young man with long hair, jeans and coat, that dedicates his time to hook up in the coffee shops of the Zona Rosa indoctrinating women. He reads Marx after making love and he gets together with his friends to toast for the "death of the bourgeois intellectuality". Montero uses intertitles as a resource for irony, a sort of outside narrator that interpellates the story: "What is bourgeois intellectuality?". The revolutionary fight of the young man and his friends is filled with a sense of humor. In a sequence that reminds us of The Carabineers, they go to the rooftop of a factory to begin the armed fight. (...) Finally a sign shows one last derision "And if the sun is bourgeois, we will stop the sun" " (Vázquez Mantecón, 2012).
---
Date produced: 1946
Filmmaker(s):
Description:
"In spite of the almost insurmountable difficulties in using feet to portray much of the action and most of the emotion in a movie, E. H. Sparks has managed to make Doghouse Blues completely comprehensible. A delightful farce of a bibulous fisherman, the story makes judicious use of the angler's big toe to denote thirst, hunger and any other emotion which might master a man on a solo weekend. Colorful scenes of inlets and bays, as well as attractive sequences of fishing craft, imbue the film with a flavor of authenticity. In satiric repetition, his indignant wife trails the tippling angler to the secluded spot where his boat rides at anchor, there to find him "taking the long count." A rude awakening for the errant husband and an eminently suitable final scene close the picture." Movie Makers, Dec. 1946, 471.
---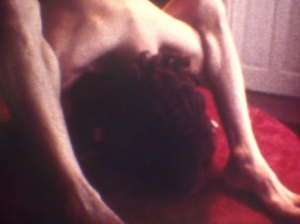 Date produced: 1974
Filmmaker(s):
Description:
"Primer súper 8 de Nicolás Echevarría, quien ya había realizado un trabajo experimental en 16 milímetros y veía en los superocheros una suerte de "comunidad de marginados" con la que se sentía a gusto, mostraba sobre el fondo de una pieza de Ravel las poses de un contorsionista que buscaba la autosatisfacción en un decorado que asocia la noción burguesa de confort al erotismo" (Vázquez Mantecón 2012)

"First super 8 film of Nicolás Echevarría, who had already filmed and experimental piece in 16 mm and saw in the supereighters a sort of "outcasts' community" that he identified himself with, it showed with the background of a Ravel musical piece the poses of a male contortionist looking for self-satisfaction in a setting that associates the notion of the bourgeoisie to the comfort of eroticism"
---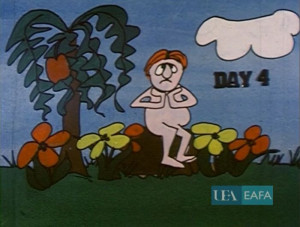 Date produced: 1980
Filmmaker(s):
Description:
Cartoon set in the Garden of Eden. Adam is soon bored in his new surroundings, so God creates Eve for him. Over the next three days God finds Adam regularly bored, so God suggests activities for Adam with Eve, explaining each time what he means. The suggestions for days 2, 3 and 4 respectively are: giving Eve a hug; kissing Eve; making love to Eve. On the fourth day, Adam returns and asks God to explain what a headache is. (EAFA)
---
Date produced: 1931
Filmmaker(s):
Description:
"Hearts Of The Golden West, 1200 ft., 16mm., filmed and directed by Theodore Huff and enacted entirely by youngsters under thirteen, is a delightful and whimsical burlesque of the Griffith melodrama of the days when titles were long and plots of villainy and intrigue laid in the great open places swept grandly to a moral conclusion in which "true hearts were united." In those days, producers did not hesitate to use a cyclorama or to place painted canvas scenery on an outdoor location. Mr. Huff revives all of the old technique, even to the dance hall set, with its inevitable balcony, and the fight to the finish at the edge of the cliff. Under his direction, the children act their parts with complete seriousness and, in some cases, with mimetic ability that would have given their prototypes pause." Movie Makers, Dec. 1931, 658.
---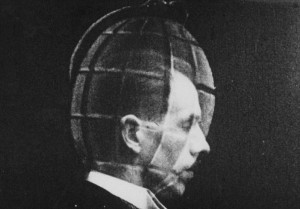 Date produced: 1936
Filmmaker(s):
Description:
"Norman McLaren and Helen Biggar's urgent work of animated agit-prop utilises a mixture of film forms (from found footage to title cards and staged action) stitched together with rapid editing to create an incisive and disorienting polemic against government armament spending. Made in 1936 as fascism was on the rise throughout Europe, the film was the result of collaboration between animator McLaren and sculptor Biggar, made during their tenure at the Glasgow School of Art. The idea was to use a rapid succession of violent images to jolt the viewer into demonstrative action against a new war, decades before such Brechtian techniques were employed by artists like Jean-Luc Godard. The result is one of the most striking and memorable of all animated political films" British Film Institute.
---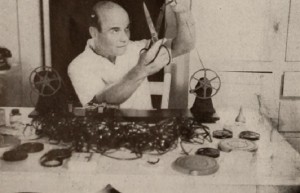 Date produced: 1941
Filmmaker(s):
Description:
" 'Oh, would some power the giftie gie us, to see ourselves as others see us.' In a sophisticated, fast moving satire, Fred Evans has struck at some of the blights of amateur movie making and screening. Turning his opening guns on tyros who ignore the instruction book which accompanies a new camera, Mr. Evans proceeds in a light, witty manner to poke cine fun at those movie makers who insist on learning the hard way. The picture continues on its farcical path, pausing now to watch invitations being telephoned for a screening of an as yet on-existent film and again to sympathize at the scene of frantic last minute editing. Home Movies has as its climax, of course, the fiasco of the screening, which should not be "tipped off" by a verbal preview. Compact and restrained, this movie offers meaningful as well as light entertainment." Movie Makers, Dec. 1946, 471.
---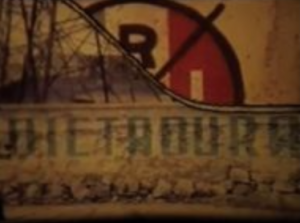 Date produced: 1970
Filmmaker(s):
Description:
"La película realizaba un montaje lúdico al yuxtaponer los mensajes políticos oficiales escritos en las bardas de la ciudad con imágenes o textos que los ironizaban o alteraban su sentido. El título viene de un juego de palabras con el fraseo de las sílabas "Mé-xi-co" / jí-ca-ma", que solían usarse entonces como porra en los partidos de fútbol de la selección nacional" (Vázquez Mantecón, 2012).

"The movie had a playful montage by juxtaposing official political messages written in walls around the city with images or text that ironized them or altered their meaning. The title comes from a word game that played with the phrasing of the syllables "Me-xi-co / ji-ca-ma", a popular chant during the national team soccer games of the time" (Vázquez Mantecón, 2012).
---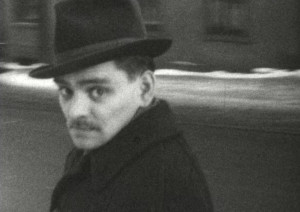 Date produced: 1938
Filmmaker(s):
Description:
C'est à l'automne 1937, au retour de l'exposition universelle de Paris, qu'Omer Parent entreprend la réalisation de l'œuvre expérimentale La vie d'Émile Lazo. En réaction directe à la « loi du cadenas » émise par le gouvernement Duplessis, le titre de ce court-métrage réfère au tout premier film visé par cette nouvelle motion censurogène, imposée aux médias : The life of Emile Zola de William Dieterle (1937).
S'il s'agit là du premier film expérimental achevé par Parent, l'œuvre est également issue d'une collaboration amicale au sein de professeurs de l'École des beaux-arts de Québec qui se prêtent au jeu de l'acteur : la sculptrice Sylvia d'Aoust (1902-2004), la dessinatrice Arline Généreux (1897-1987), la graveuse Simone Hudon (1905-1984), le couple Madeleine Des Rosiers (1904-1994) et son mari Jean Paul Lemieux (1904-1990), tous les deux peintres. À cette petite bande — qui fréquente l'éphémère atelier du « Nordet » où le tournage a lieu —, s'ajoute Robert Lapalme (1908-1997), caricaturiste et illustrateur de talent au style immédiatement reconnaissable, seule figure à ne pas occuper alors un poste de professeur. Sorte d'électron libre, Lapalme, en plus de rédiger le scénario du film en écho à sa propre existence, y incarne le rôle d'Émile Lazo. Terminé au printemps 1938, ce film « amateur » porte sur la condition de l'artiste « moderne » vis-à-vis de l'académisme dont il cherche à se libérer.
Peu après sa création, La vie d'Émile Lazo a été projetée à quelques reprises lors de présentations publiques et particulières dont une visait, en 1941, à célébrer l'installation d'Alfred Pellan — meilleur ami de Parent — dans son nouvel atelier. Depuis cette époque, ce film, dont il n'existe que deux copies sur pellicule, est demeuré pour ainsi dire inédit, connu seulement par quelques amateurs et spécialistes. Zoom-out est fier de présenter cette satire, rare et burlesque.
In the autumn of 1937, upon his return from the Paris Universal Exhibition, Omer Parent undertakes the creation of the experimental work "The Life of Emile Lazo". In direct reaction to the "Padlock Law" issued by the Duplessis government, the title of this short movie refers to the very first film targeted by this new censorship motion imposed on the media: William Dieterle's "The Life of Emile Zola" (1937). Completed in the spring of 1938, this "amateur" movie deals with the condition of the "modern" artist in relation to academicism from which he seeks to free himself.
While this is Parent's first experimental work, it is also the result of a friendly collaboration among professors at the École des beaux-arts de Québec who lend themselves to the role of actors: sculptor Sylvia d'Aoust (1902-2004), draughtswoman Arline Généreux (1897-1987), engraver Simone Hudon (1905-1984), the couple Madeleine Des Rosiers (1904-1994) and her husband Jean Paul Lemieux (1904-1990), both painters. A little appart in this small group of artists and professors — who frequents the ephemeral "Nordet" studio where filming takes place— Robert Lapalme (1908-1997), a talented caricaturist and illustrator with a immediately recognizable style, is added. Lapalme, in addition to writing the film's screenplay in echo with his own existence, also plays the role of Émile Lazo.
Shortly after its creation, "The Life of Émile Lazo" was screened a few times during public and private presentations, one of which aimed, in 1941, to celebrate the installation of Alfred Pellan—Parent's best friend—in his new studio. Since then, this rare and burlesque satire, of which only two copies on film exist, has remained virtually unpublished, known only to a few enthusiasts and specialists until fall of 2022 where it was realeased online.
---
Total Pages: 2