---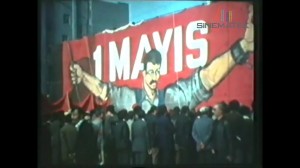 Date produced: 1977
Filmmaker(s):
Description:
"Kaya Tanyeri 1 Mayıs 1977 mitingine elinde 8 mm kamerası ile katıldı. Kızı Çağla Tanyeri de ses kayıtlarını alıyor ve babasına yardım ediyordu. Kaya Tanyeri miting öncesi Beşiktaş'taki coşkuyu ve Taksim'e yürüyüşü kaydetti. Taksim meydanına geldiğinde ve "malum" katliam başladığında ne yazık ki çekimi yapamadı. Öncesinde çektikleri ile sonradan yaşanan katliamın fotoğraflarını kullanarak ve "Görevimiz Tehlike" filmine gönderme yaparak kurguladı. Hiç gösterimi yapılmadı. Bu film yıllarca Kaya Tanyeri'nin kişisel arşivinde kaldı. Ta ki bize erişinceye kadar. Biz bu filmi ve Güneşli Bataklık filminin kamera arkası belgeseli olan 'Güneşe Dönük Kamera' isimli 8mm filmlerini dijitalleştirdik. ve işte sizlerle paylaşıyoruz." Sinematek.tv: http://sinematek.tv/1-mayis-77-1977/ (1 November 2019).
"Kaya Tanyeri attended the meeting, 1 May 1977, with an 8mm camera in his hands. Her daughter, Çağla Tanyeri, was assisting the recording as well. Before the meeting, Kaya Tanyeri made a record of the "enthusiasm" in Beşiktaş and the march on Taksim. When they came to Taksim, the infamous massacre was just starting and he could not continue to record everything. Using the former shootings and the photographs of the massacre, he edited the multiple audiovisual resources in reference to the Mission: Impossible. The film has never been screened before and it was stored in Kaya Tanyeri's archive until Çağla Tanyeri found the original material. The original 8 mm film was digitized to share with a larger audience by Sinematek." Sinematek.tv: http://sinematek.tv/1-mayis-77-1977/ (1 November 2019).
---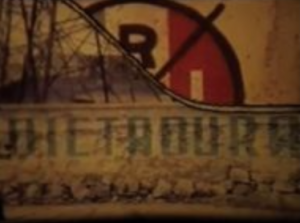 Date produced: 1970
Filmmaker(s):
Description:
"La película realizaba un montaje lúdico al yuxtaponer los mensajes políticos oficiales escritos en las bardas de la ciudad con imágenes o textos que los ironizaban o alteraban su sentido. El título viene de un juego de palabras con el fraseo de las sílabas "Mé-xi-co" / jí-ca-ma", que solían usarse entonces como porra en los partidos de fútbol de la selección nacional" (Vázquez Mantecón, 2012).

"The movie had a playful montage by juxtaposing official political messages written in walls around the city with images or text that ironized them or altered their meaning. The title comes from a word game that played with the phrasing of the syllables "Me-xi-co / ji-ca-ma", a popular chant during the national team soccer games of the time" (Vázquez Mantecón, 2012).
---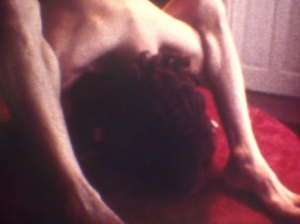 Date produced: 1974
Filmmaker(s):
Description:
"Primer súper 8 de Nicolás Echevarría, quien ya había realizado un trabajo experimental en 16 milímetros y veía en los superocheros una suerte de "comunidad de marginados" con la que se sentía a gusto, mostraba sobre el fondo de una pieza de Ravel las poses de un contorsionista que buscaba la autosatisfacción en un decorado que asocia la noción burguesa de confort al erotismo" (Vázquez Mantecón 2012)

"First super 8 film of Nicolás Echevarría, who had already filmed and experimental piece in 16 mm and saw in the supereighters a sort of "outcasts' community" that he identified himself with, it showed with the background of a Ravel musical piece the poses of a male contortionist looking for self-satisfaction in a setting that associates the notion of the bourgeoisie to the comfort of eroticism"
---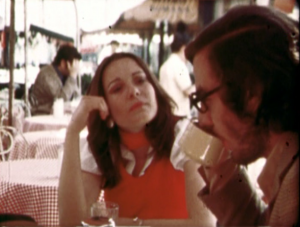 Date produced: 1974
Filmmaker(s):
Description:
"Una cinta cargada de referencias a Jean-Luc Godard (Los Carabineros, 1963) pero sobre todo concentrada en la crítica mordaz al radicalismo de izquierda. Una vez más Marco Antonio Madrid hace el papel de protagonista, un joven de pelo largo, pantalón de mezclilla y saco, que se dedica a ligar en los cafés de la Zona Rosa adoctrinando a las mujeres. Lee a Marx después de hacer el amor, y se junta con sus amigos para brindar por "la muerte de la intelectualidad burguesa". Montero utiliza intertítulos como recurso irónico, una suerte de narrador externo que interpela la historia: "¿Qué es la intelectualidad burguesa?". La lucha revolucionaria del joven y sus amigos está teñida de sentido del humor. En una secuencia que recuerda mucho a Los Carabineros, suben al techo de una fábrica para iniciar la lucha armada (...) Por último un cartel proporciona una última burla: "Y si el sol es burgués detendremos al sol" " (Vázquez Mantecón, 2012).

"A film loaded with references to Jean-Luc Godard (The Carabineers, 1963), but above all focused on biting criticism to the radical left. Once again Marco Antonio Madrid plays the role of the lead character, a young man with long hair, jeans and coat, that dedicates his time to hook up in the coffee shops of the Zona Rosa indoctrinating women. He reads Marx after making love and he gets together with his friends to toast for the "death of the bourgeois intellectuality". Montero uses intertitles as a resource for irony, a sort of outside narrator that interpellates the story: "What is bourgeois intellectuality?". The revolutionary fight of the young man and his friends is filled with a sense of humor. In a sequence that reminds us of The Carabineers, they go to the rooftop of a factory to begin the armed fight. (...) Finally a sign shows one last derision "And if the sun is bourgeois, we will stop the sun" " (Vázquez Mantecón, 2012).
---
Date produced: 1996
Filmmaker(s):
Description:
Experimental film showing Sid Laverents performing as a drunken stand-up comedian. The film includes a laugh track and footage inserts of comedy club audiences.
---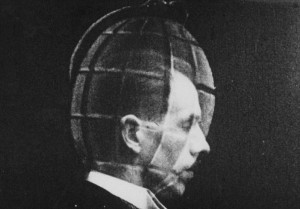 Date produced: 1936
Filmmaker(s):
Description:
"Norman McLaren and Helen Biggar's urgent work of animated agit-prop utilises a mixture of film forms (from found footage to title cards and staged action) stitched together with rapid editing to create an incisive and disorienting polemic against government armament spending. Made in 1936 as fascism was on the rise throughout Europe, the film was the result of collaboration between animator McLaren and sculptor Biggar, made during their tenure at the Glasgow School of Art. The idea was to use a rapid succession of violent images to jolt the viewer into demonstrative action against a new war, decades before such Brechtian techniques were employed by artists like Jean-Luc Godard. The result is one of the most striking and memorable of all animated political films" British Film Institute.
---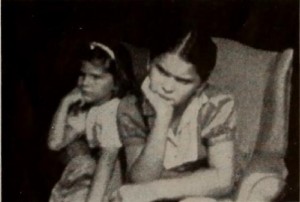 Date produced: 1953
Filmmaker(s):
Description:
"We had thought satire, especially in films, was a lamented art of the past. Thus it is a pleasure to report that it is back again with a vengeance in March of TV. Following both the visual and narrative patterns originated by the now-familiar March of Time series, Charles E. Coleman has created an uproarious satire on television and the inroads it has made into the American home. Both subtle and devastating by turns, the film leaves no aspect of this electronic marvel unscathed. On the technical side, all departments have been capably handled, with the crisp direction and portentous narration being, perhaps, the most notable. The acting is assured and natural, remaining always within the farcical framework of the satire. Whether you like, dislike or simply ignore the subject which this shortie so sparklingly derides, March of TV is unreservedly guaranteed to keep you in stitches." Movie Makers, Dec. 1953, 332.
---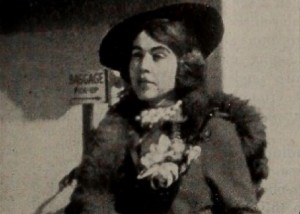 Date produced: 1953
Description:
"A high-pressure advertising agency, rivalry within the firm, a switch of entries in a beauty contest and the effects thereof — these are the story ingredients out of which the Los Angeles 8mm. Club has fashioned an outstanding club film. Competent in all phases of movie production, from the smart opening titles to the corny romantics at the end, A Switch in Time is a hilarious cine satire of the foibles of big-time advertising. Seldom does a film of this type demonstrate so capably — in story, photography, direction, acting, editing and sound — the combined abilities of a group of enthusiastic movie makers." Movie Makers, Dec. 1953, 319-320.
---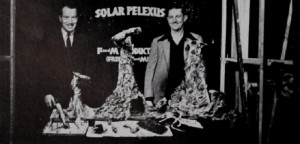 Date produced: 1936
Filmmaker(s):
Description:
"Mel Weslander and Harry French of San Francisco, with 'Solar Pelexus,' were winners of Agfa's contribution of six rolls of film. As the misspelling of the title indicates, the subject was a farce portraying the journey of two men to another planet in a rocket." American Cinematographer, Jan. 1938, 28.
---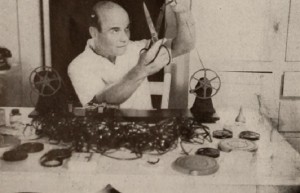 Date produced: 1941
Filmmaker(s):
Description:
" 'Oh, would some power the giftie gie us, to see ourselves as others see us.' In a sophisticated, fast moving satire, Fred Evans has struck at some of the blights of amateur movie making and screening. Turning his opening guns on tyros who ignore the instruction book which accompanies a new camera, Mr. Evans proceeds in a light, witty manner to poke cine fun at those movie makers who insist on learning the hard way. The picture continues on its farcical path, pausing now to watch invitations being telephoned for a screening of an as yet on-existent film and again to sympathize at the scene of frantic last minute editing. Home Movies has as its climax, of course, the fiasco of the screening, which should not be "tipped off" by a verbal preview. Compact and restrained, this movie offers meaningful as well as light entertainment." Movie Makers, Dec. 1946, 471.
---
Total Pages: 2