---
---
Date produced: 1967
Filmmaker(s):
Description:
"201-203 tells the simple story of man and woman, the alienated anti-heroes from two civilizations at the opposite ends of the spectrum, Asian and America. They try to make contact, through reality as well as fantasy, against a backdrop of technology and pop theology. Well acted and well photographed" PSA Journal, Aug. 1967, 36.
---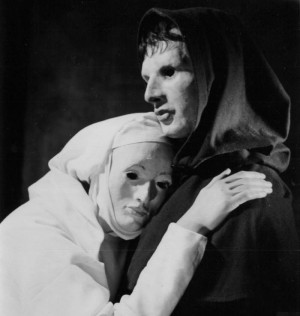 Date produced: 1949
Filmmaker(s):
Description:
"Unedited assembly of takes (some with slates) from Fox's unfinished film, intended as a symbolic rendition of the story of Abelard (d. 1142) and Heloise (d. 1164). Uses masked actors, expressionistic lighting and movement, and visual metaphors suggestive of various emotions." (British Columbia Archives)
---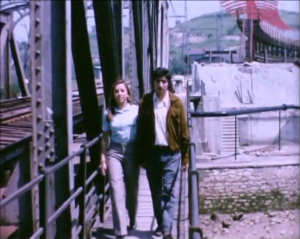 Date produced: 1970
Filmmaker(s):
Description:
Un joven evoca su pasado en el que pierde a su esposa en un accidente de automóvil. Lleno de dudas, decide reunirse con ella.

A young man remembers the loss of his wife due to a car accident. Filled with doubt, he decides to reunite with her.
---
Date produced: 1976
Filmmaker(s):
Description:
Película argumental en la que un adolescente enamorado de una artista descubre que está no merece sus desvelos y vuelve a su vida normal de joven estudiante.

Fiction film in which a teenager in love with an artist discovers she is not worth losing sleep over, and the goes back to his regular young student life.
---
Date produced: 1956
Filmmaker(s):
Description:
"A Hitchcock type film, the star's fear all being caused by an appointment with the dentist, but under the gas he dreams of meeting an attractive girl. But he wakes up just as it gets interesting." PSA Journal, Nov. 1956, 45.
---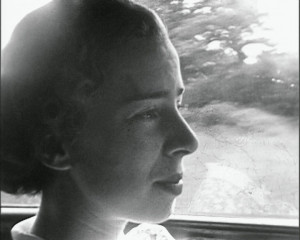 Date produced: 1938
Filmmaker(s):
Description:
"The tragic story of a young romance torn apart by an ill-fated trip to the seaside. A man grieves the loss of his wife, urged by a friend to 'try to live off the memories of her'. But all he can recall are the events leading up to her death, shown as vivid, point-of-view flashbacks. A weekend trip to Brighton and rural Sussex is full of love and laughter, until tragedy strikes on the return journey, leaving the man alone and struggling to cope" (EAFA Database).
---
Date produced: 1966
Filmmaker(s):
Description:
"The Bystander is a study of a young, apparently bashful fellow who studies other boys and girls having a good time and imagines just what they might do as they pair off and trundle out into the night. He, himself, cannot muster the courage to join them" PSA Journal, Sept. 1966, 35.
---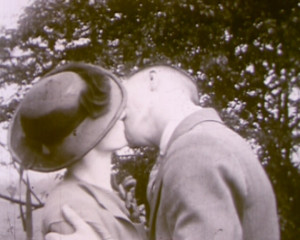 Date produced: 1936
Filmmaker(s):
Description:
"Amateur filmmaker and cinema historian H.A.V. Bulleid presents this story of young love blossoming in the city, only to be interrupted by a trip to the country. As love blossoms between a young couple, every moment apart thinking of each other. Finally meeting again for a trip to the cinema, they share a pleasant moonlit stroll, full of anticipation for the day ahead. Catching a bus the following morning, the pair disembark to find a secluded spot in the countryside. Moving over increasingly rocky terrain, they come to a small mountain lake. But in striving for a better vantage point, the man slips and hits his head on a rock. With his face covered in blood and struggling to see, he and the girl must find their way out of seclusion and back to the city" (EAFA Database).
---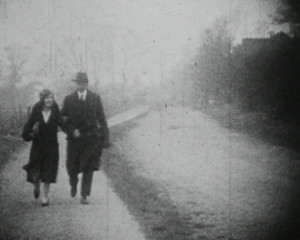 Date produced: 1931
Filmmaker(s):
Description:
"Elmer (Elmer Quane) is a hapless fool and a hopeless romantic, who has his heart set on Enid (Rita Lyons). But with Enid in the clutches of Arthur (Arthur Richardson), Elmer must go to extreme lengths to win her love. Left embarrassed by an encounter at the train station, and frustrated by his bullying boss, Elmer sits beside a secluded footpath. But when Enid's bag is snatched by a pair of thieves, and Arthur stands idly by, it is up to Elmer to save the day, apprehending the men and retrieving the bag. But has he won Enid's heart? Only his clumsiness, her ultimatum and a series of chocolate thefts will tell us" (EAFA Database).
---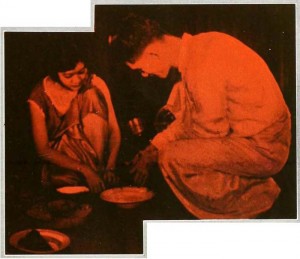 Date produced: 1930
Filmmaker(s):
Description:
"The feature length photoplay produced in Siam by Nai Bernard Juangbhanich is one of the best of the serious dramatic efforts produced by amateurs. The story deals with the profligacy of a young Siamese who has been educated in Europe. Feeling superior to an ordinary business career, the young man determines to write, with the consequent search for "experience and atmosphere." In the succession of romantic episodes that follow, the theme of the tale is developed with extraordinary skill and, in spite of the manifest satire in several of the sequences, the picture includes many sincere glimpses into the social life and customs of the upper classes of Siam. Completely blinded and embittered as the result of his folly, the protagonist finally comes to terms with himself and actually does succeed as an author. Although this plot follows a familiar outline, Mr. Juangbhanich again proves that it is not the essential plot but the treatment that counts. The picture includes flaws both in photography and continuity but they appear unimportant in view of the general photographic quality and the epic nature of the treatment. It was recently screened for the staff of the Academy of Motion Picture Arts and Sciences." Movie Makers, Dec. 1930, 759, 787.
---
Total Pages: 5