---
---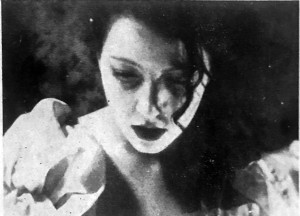 Date produced: 1936
Filmmaker(s):
Description:
"È la storia di una giovane donna di strada, Lilly. Uno scrittore Stefano Berg, attratto dal suo fascino, una sera la conduce a casa sua e se la tiene con se. In Lilly egli trova gli elementi del personaggio di un suo nuovo romanzo "Resurrectio". L'opera è iniziata, il giovane scrittore ha già creato nella sua fantasia la trasformazione del personaggio. Nella realtà, però, anche Lilly va trasformandosi; ella già sente di non essere la donna di un tempo: sente d'amare Stefano Berg, che preso intensamente dell'ardore del suo romanzo non si avvede di tale trasformazione e l'abbandona. La giovane donna ritorna quella che era. Un attimo di sgomento ed ecco il suicidio. Il romanzo intanto è già ultimato: la storia della vita di Lilly già passa per le mani di tuti segnando il successo per Stefano Berg."

"It is the story of a young streetwalker, Lilly. A writer Stefano Berg, attracted by her charm, takes her to his home one evening and keeps her with him. In Lilly, he finds the elements of the character for his new novel of his, ""Resurrectio."" The work has begun, the young writer has already fantasized the character's transformation. In reality, however, Lilly will transform herself; she already feels that she is not the woman she once was: she feels that she loves Stephen Berg, who, intensely caught up in the passion of his novel, does not notice this transformation and abandons her. The young woman returns to what she was. A moment of dismay and suddenly the suicide. In the meantime, the novel is already finished: the story of Lilly's life is already in everyone's hands, marking a success for Stefano Berg."
—Notizario delle sezioni cinematografiche dei gruppi universitari fascisti a cura del ministero della cultura popolare, September 1938 p. 9-10
---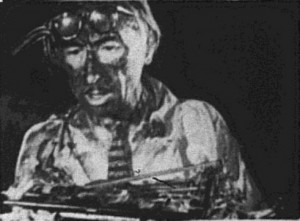 Date produced: 1954
Filmmaker(s):
Description:
"What happens when a modern gentleman of advancing years advertises for a mail-order bride and tries to answer the applicant of his choice? Der Brief, (The Letter), an excruciatingly funny farce by Dr. Oscar Wurmboeck, gives us one answer to this problem, as our shy but determined hero is confronted at every turn by confusion and frustration. Everything happens - the ink spills, the fountain pen leaks, the mechanical pencil won't hold leads, the wooden ones won't sharpen, and the typewriter refuses to type - to deter our man from his course. Competent camera work, incisive direction and crisp editing serve to point up the brilliant and appealing portrayal of the unfortunate lover by Rudy Rattinger, so that Der Brief builds quickly and smoothly from laughter to hysterics. Here is pure farce in the old tradition. It is nice to welcome it back to the filmic fold after too long an absence" PSA Journal, Jan. 1955, 50.
---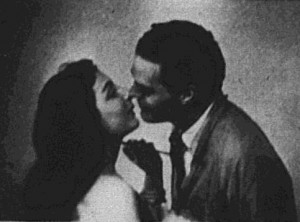 Date produced: 1954
Filmmaker(s):
Description:
"Strangely enough, although its producers may or may not have intended it, Entre dos Rosas (Between Two Roses) is essentially an old-fashioned morality play set forth in fairly modern filmic turns. For here is a handsome young artist as the protagonist of the action. Here, in the girl of a white rose, is the embodiment of virtue; while there, in the girl of the red rose, is the embodiment of evil. And, overlooking this eternal tug of war, is the figure of Fate or Destiny. Only at the end does Entre dos Rosas turn away from the classic formula, since, with a realistic and more modern psychology than that which stirred the medieval dramatist, it refuses to resolve the ultimate struggle. To the drawing of this age-old triangle, Carlos Barrios Baron has brought stimulating though deliberate direction, while Alfredo Rubio has interpreted his ideas in monochrome imagery which is both visually creative and dramatically compelling. Although Entre dos Rosas of leaves its classic central problem unsolved. It is a striking experimental film well worthy of study by less daring movie makers" PSA Journal, Jan. 1954, 50.
---
Date produced: 1967
Filmmaker(s):
Description:
"Eyes Talk is the only silent film to place in this year's Festival, but it needs no sound, for the yes of a man and a woman do all the talking that is necessary. A two-minute shorty that tells a complete story" PSA Journal, Aug. 1967, 37.
---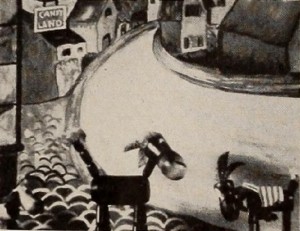 Date produced: 1947
Filmmaker(s):
Description:
"Using animated puppets and hand painted water color backgrounds, Charles H. Benjamin, in Fantasy in Toyland, takes a curious dog through the horrors usually reserved for white knights, to save a fabulous female canine in distress. The story is old but the treatment is new. The puppets were manipulated from below stage level and filmed frame by frame with a remotely controlled camera. The star of the piece meets cows, dragons and various beasts made of pine cones and other strange raw materials. The film ends on the accepted romantic note." Movie Makers, Dec. 1947, 536-537.
---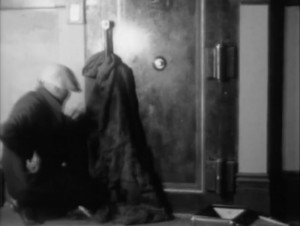 Date produced: 1930
Filmmaker(s):
Description:
"Mystery romance in which the police chief's daughter is courted by a crook." Library and Archives Canada.
---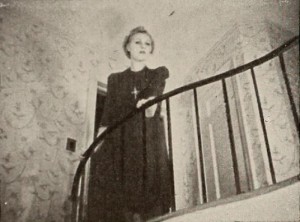 Date produced: 1940
Description:
"Boy meets girl and color meets a cine club in Footloose, the latest production of the Rockville Cinema Club; the result is an able and entertaining farce comedy. In moving from black and white to Kodachrome, the members of this veteran group have taken the hurdle in their stride. If anything, the chromatic medium may be said to have added sparkle and brilliance to their plot complications and to the angles, editing and cutting with which they interpret them. Definitely keyed to the Hollywood '"screwball" school of roughhouse comedy, Footloose opens with a dynamic and delightful introduction of the players and carries on to involve a boy and a girl, an artist, his model and assorted comedy and character actors, in random but romantic complications. The pace is fast, the color pleasing and the cutting crisp and well integrated with the action." Movie Makers, Dec. 1940, 602.
---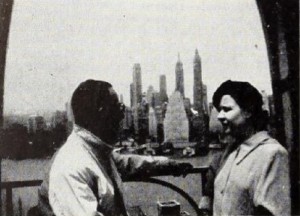 Date produced: 1950
Filmmaker(s):
Description:
"There have been in the past, and will be in the future, a number of fine amateur films portraying the great moment of marriage, the ecstatic happiness of the honeymoon. But these films have featured, by and large, the young in age those blythe favorites of the Gods of Love with whom no fervor can seem foolish, no endearment an awkward jest. Not so in From This Day Forward. The protagonists here are people of adult experience and mature mind. But though no longer young in years, they are superbly and inseparably young in spirit. This quality, as well as good taste and graciousness — which are overtones more often missing with the young — illumines each charming foot of From This Day Forward. Othon Goetz enhances this spirituality in every phase of his production. His impeccable camera work seems to glow — where another's would merely sparkle. His compositions are so inevitable as to seem effortless, while his editing adds pace to an already attractive picture." Movie Makers, Dec. 1951, 410.
---
Date produced: 1968
Filmmaker(s):
Description:
"Give Her My Love is a film in black-and-white made by a student of cinematography. It is a story of young love and the strange turn that young love can take. Jeff Blyth's handling of the story made the film a strong contender for the Scenario Award. A shy boy's life in an office and his second-hand love for a girl are well portrayed as a triangle develops and then becomes a zero" PSA Journal, Oct. 1968, 49.
---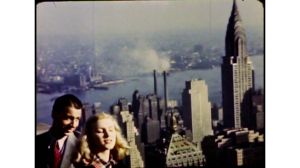 Date produced: 1949
Filmmaker(s):
Description:
"A blonde model and the sights of New York divide the honors in Othon Goetz's Her Heart's Desire, a pleasant story of the girl who came to the Big City to model and got married instead. Good city footage is quite rare; Mr. Goetz has succeeded in achieving some startling shots of New York's splendors as he follows the thin thread of his story. It is difficult to believe that this blonde would not have found a job — but she lends glamour to a film that otherwise might show considerable weakness." Movie Makers, Dec. 1949, 470.
---
Total Pages: 5