---
---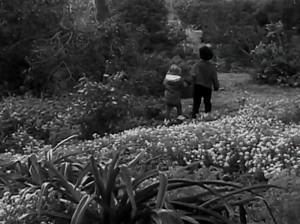 Date produced: 1962
Filmmaker(s):
Description:
"We open with a little boy standing on a box in a telephone booth; his little friend is too busy or not of a receptive mood for the boy friend. Hurt as he is, he goes into the park and laments his failure to lure the young lady. He is about to resolve a life without women when a young (very young) girl comes into his perspective. His agile mind responds and he sets about to make an impression using many approaches of demure and sophisticated charm. His success was not exactly complete. Finally she visits the "girls" room. Her long delay is too much for the young man, so he makes another telephone call and hurriedly leaves the scene. The commentary is enhanced by the sophisticated French voice. This will be included in the Package" PSA Journal, Oct. 1962, 34.
---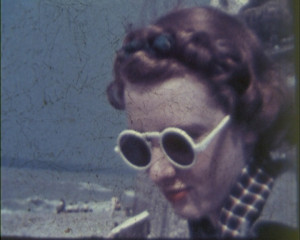 Date produced: 1938
Filmmaker(s):
Description:
"Amateur filmmaker, cinema historian and railway engineer H.A.V. Bulleid employs his flair for amateur production to spice up his home movies of a romantic trip to France. Acting in a moment of impulse, a man proposes to take his female friend to Paris. Leaving behind Dover's white cliffs, they arrive in Calais 'in less time than it takes to read the Bible'. Once their car - named 'Tilly' - has been unloaded, they set out to Paris via Le Tréport, Belleville, Rouen and Louviers. Arriving in the French capital they head straight to 'the film director's joy', the Avenue des Champs-Élysées and L'Arc de Triomphe, visit the Paris Bourse and tour the city's streets and boulevards. Pausing for a drink, they continue on to Place Saint-Augustin and Montmartre, dining at Moulin de la Galette - 'a tourist's paradise...pay double and eat half' - before catching a film at Studio 28. Tearing themselves away from the city of light with one last drink at Cafe George V, they drive through a gathering storm to Étaples and on to Le Touquet-Paris-Plage, 'haunt of motion picture stars', before a flurry of editing retraces their trip, marked out on a map" (EAFA Database).
---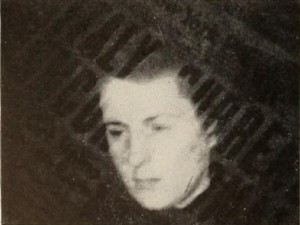 Date produced: 1945
Filmmaker(s):
Description:
"Return from Fire, as defined by its producer, Dr. W. Lynwood Heaver, is the "biography of a mental breakdown." In its opening we meet a boy and girl idyllically in love. But the clouds of war fall across their summer sunshine, the young man is called up and, in a short time, is announced as missing in combat. It is then that the fires of apprehension, misery and terror sear into the girl's mind. How modern psychiatry serves, at last, to recall her from this self inflicted limbo is the climactic denouement of Dr. Heaver's drama. The conception of Return from Fire is imaginative and exciting. The acting and its correlative direction are excellent throughout. A provocative musical score contributes markedly to the maintenance of dramatic tension. Dr. Heaver's camera work, rising occasionally to heights of cinematic imagination, is sound, satisfying and suggestive of still greater things to come. Put down his name as one to watch!" Movie Makers, Dec. 1945, 494.
---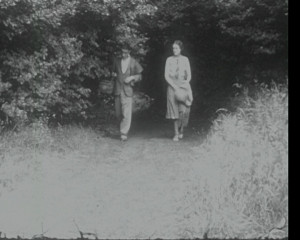 Date produced: 1931
Filmmaker(s):
Description:
"After alighting at Langport East railway station and following a long walk, a young man and his fiance check into the Anchor Inn at Little Langport, noted for its fishing. The man's fixation with angling, his fiance's slow mastery of the technique and the romantic threat of an attractive, ace woman angler are the obstacles in their relationship. Humorous intertitles typify the era's social manners" (EAFA Database).
---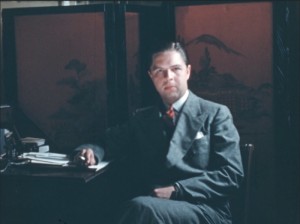 Date produced: 1940
Filmmaker(s):
Description:
A woman is tempted with thoughts of another man after her husband disappoints her on their anniversary. Will she follow through with the act, or will she remain faithful to her husband?
---
Date produced: 1982
Filmmaker(s):
Description:
"An eclipse of the moon – and a little animated love story." Oldfilm.org

"A time lapse study of the total lunar eclipse; July 5, 1982." UCLA Film & Television Archive.
---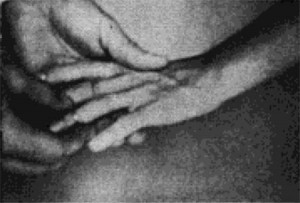 Date produced: 1958
Filmmaker(s):
Description:
"In a few short minutes Edward M. Crane has presented a cycle of life through the close-up of hands. Boy meets girl, repeated visits, flowers, embrace, ring, wedding, honeymoon, bills, a fast trip to the hospital, and then a little hand. It is short, smooth, and it tells the story" PSA Journal, Nov. 1958, 46.
---
Date produced: 1966
Filmmaker(s):
Description:
"Stillborn, also winner of the MPD Student Film award for the best film made by a student enrolled in a college course in cinematography, is an experimental film at times abstract in its execution. It tells the story of a boy and girl who meet out in the middle of nowhere. As he looks upon the young girl's face he imagines what life with her might be like. His imagination runs wild as he thinks of the blissful episodes such as marriage would bring, as well as the entrapment he could suffer. At film's end he makes his decision. Use of the negative image for one sequence is extremely effective" PSA Journal, Sept. 1966, 34.
---
Date produced: 1954
Filmmaker(s):
Description:
"Mathis Kverne returns to the winner's circle with another delightful and imaginative animated cartoon, Strokets Kavalerer—which has been translated for us "Main Street Romeos." This time we meet two boy paint brushes who try, with varying degrees of success, to win the hand of an attractive girl brush. One, a wordly boulevardier, plies her with costly presents, while the other, a real booby, offers her naive, if presumptuously intimate, gifts. When the lady has at last been won—by the booby, of course—we follow the happy couple through their marriage and the birth of their first born, a yellow brushlet of undetermined sex. Although this film may not captivate the viewers as completely as did Mr. Kverne's Muntre Streker (Ten Best 1952) that picture's promise is more than fulfilled. The animation here is smoother in all respects, the development of the story line more definite and the personalities of the individual characters more precisely realized. The result is a film of lighthearted charm which will enchant one and all. And puzzle them too, for the animated methods used by Kverne are still his own secret!" PSA Journal, Jan. 1954, 49.
---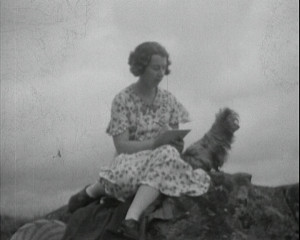 Date produced: 1934
Filmmaker(s):
Description:
"Amateur filmmaker and cinema historian H.A.V. Bulleid employs rapid montage and a sense of foreboding in this rural tragedy set in the Welsh countryside. On farmland in rural Wales, where crumbling farm buildings reflect the rural desolation, a young lady spends her holidays wandering the fells with her ever reliable dog. When she meets a young farmhand, a romance develops. But as the girl grows closer to the young man, she pays less attention to her dog. And when the dog is left at the farmhouse as the pair goes rock-climbing, tragedy ensues. Sensing a problem, the dog searches the fells as day turns to night. But will he find his master? And will the young lovers survive?" (EAFA Database)
---
Total Pages: 5