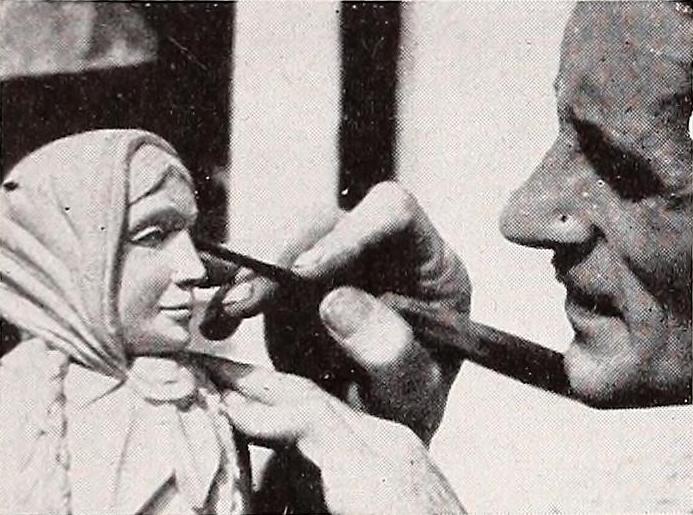 Identifier:
1946.0049 (Source: CESIF)
Date produced: 1943
Filmmaker(s):
Languages:
English, French
Duration:
00:21:00
Length:
800 ft
Format:
16mm
Colour:
Kodachrome
Sound Notes:
Silent
Sound:
With music on disc.
Awards/Recognition:
ACL Ten Best 1944 - General Class
National Film Board of Canada's "Come to Canada" Film Contest, 1943 - First Prize Winner
Description:
"Nine times a place winner in seven years of Ten Best competition, Frank E. Gunnell has probably done his best work to date in Baie St. Paul. The film is a bright and sunny visit to the little French Canadian parish of that name, nestling in parochial contentment along the St. Lawrence. Central in this existence stands the baroque and inevitable church, while about it one finds the familiar family names of the village butcher and baker, doctor and dressmaker, recurrent along the cobbled highways. Here too is an intent, sharp featured little woodcarver, a housewife coolly competent about her embroidery and an aloof mademoiselle who presides with dazzling beauty over an ancient spinning wheel. Packed with this essential human interest, Baie St. Paul was filmed with the sparkling competence that one has for years expected from a Gunnell production. Its editing fits shrewdly into the pastoral mood of the subject matter, while its titles, both in their wording and execution, are colorful and in good taste. Baie St. Paul should take a high and honored place in the Gunnell catalog of fine films." Movie Makers, Dec. 1944, 477.
Resources:
This film is a part of the Ministry of Culture and Communications fonds held by BAnQ. See the CESIF listing of this film for more information.

Discussed by Gunnell in "Selections Make Good Travelogs" (Movie Makers, Dec. 1945, 480, 509). The article describes the features of Baie St. Paul captured in the film.

The film was the first prize winner of the National Film Board of Canada's "Come to Canada" Film Contest in 1943. Gunnell's reward was $500.00 and a three week, all expenses paid tour of Quebec. The film was reportedly to be distributed by the NFB after World War II (Movie Makers, March 1943, 118). CESIF notes that the film was distributed by le Service de ciné-photographie de la province de Québec.

The film was available in the ACL's Club Film Library.
Locations:
Baie St. Paul, Quebec (Filming)
Subjects:
Genre:
Form:
Tags:
Repository:
Ministry of Culture and Communications fonds, Bibliothèque et Archives nationales du Québec
Screenings:
Screened by the Staten Island Cinema Club in 1943: Staten Island, N.Y.
Screened by the Metropolitan Motion Picture Club in 1943: New York City, N.Y.
Screened by the Hartford Cinema Club in 1943: Hartford, CT
Screened as part of the Northeast to French Canada program Gunnell arranged for Staten Island Day School in 1944: Staten Island, N.Y.
Screened by the Amateur Motion Picture Society of Albany in 1945: Albany, N.Y.
Screened by the Cine Group of the Schenectady Photographic Society in 1945: Schenectady, N.Y.
Screened by the Brooklyn Amateur Cine Club in 1945 and 1949: Brooklyn, N.Y.
Screened by the Berkshire Museum Amateur Movie Club in 1946: Pittsfield, MA
Screened by the Kenosha Movie Makers Club in 1946: Kenosha, WI
Screened by the Detroit Cinema Club in 1946: Detroit, MI
Screened by the Kansas City Amateur Movie Makers in 1946: Kansas City, MO
Screened by the Amateur Motion Picture Club of St. Louis in 1947: St. Louis, MO
Screened by the Cincinnati Movie Club in 1949: Cincinnati, OH
Screened by the La Casa Movie Club in 1951: Alhambra, CA
Screened by the Cinema 16 Club in 1952: Omaha, NB
Screened by the Richmond Movie Camera Club in 1953: Richmond, CA
Screened by the Christchurch Movie Club of New Zealand in 1953: Christchurch, NZ
---