---
---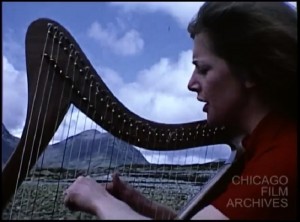 Date produced:
Filmmaker(s):
Description:
Travelogue exploring British islands. Includes footage of "harpist Catriona Maclean McKinnon playing along the shores of the Isle of Skye in the early 1970s" (Chicago Film Archives).
---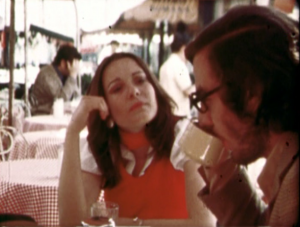 Date produced: 1974
Filmmaker(s):
Description:
"Una cinta cargada de referencias a Jean-Luc Godard (Los Carabineros, 1963) pero sobre todo concentrada en la crítica mordaz al radicalismo de izquierda. Una vez más Marco Antonio Madrid hace el papel de protagonista, un joven de pelo largo, pantalón de mezclilla y saco, que se dedica a ligar en los cafés de la Zona Rosa adoctrinando a las mujeres. Lee a Marx después de hacer el amor, y se junta con sus amigos para brindar por "la muerte de la intelectualidad burguesa". Montero utiliza intertítulos como recurso irónico, una suerte de narrador externo que interpela la historia: "¿Qué es la intelectualidad burguesa?". La lucha revolucionaria del joven y sus amigos está teñida de sentido del humor. En una secuencia que recuerda mucho a Los Carabineros, suben al techo de una fábrica para iniciar la lucha armada (...) Por último un cartel proporciona una última burla: "Y si el sol es burgués detendremos al sol" " (Vázquez Mantecón, 2012).

"A film loaded with references to Jean-Luc Godard (The Carabineers, 1963), but above all focused on biting criticism to the radical left. Once again Marco Antonio Madrid plays the role of the lead character, a young man with long hair, jeans and coat, that dedicates his time to hook up in the coffee shops of the Zona Rosa indoctrinating women. He reads Marx after making love and he gets together with his friends to toast for the "death of the bourgeois intellectuality". Montero uses intertitles as a resource for irony, a sort of outside narrator that interpellates the story: "What is bourgeois intellectuality?". The revolutionary fight of the young man and his friends is filled with a sense of humor. In a sequence that reminds us of The Carabineers, they go to the rooftop of a factory to begin the armed fight. (...) Finally a sign shows one last derision "And if the sun is bourgeois, we will stop the sun" " (Vázquez Mantecón, 2012).
---
Date produced: 1968
Filmmaker(s):
Description:
"Arlo Guthrie, accompanying himself on the guitar, sings his folksong, Goin' home, against a photographic background of trees in autumn, a running stream, evergreens in a winter storm, and a sunrise" via WorldCat.
---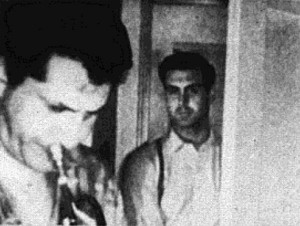 Date produced: 1954
Filmmaker(s):
Description:
"The Horn, which hepeats should not confuse with Dorothy Baker's epic Young Man With a Horn, is nevertheless a yarn about a jazz trumpeter—and, like Miss Baker's Rick Martin, one whose life ends in death after he loses his stuff. It is a swift, savage, tender and tragic tale which Dominic Mumolo (himself a professional musician) tells here. And to its telling he has brought with amazing proficiency every resource—imagery, acting, music, speech and pace—of high motion picture drama. Herb Willis plays the part of the manic and despairing trumpeter as if to the manner born. His miming makes this difficult and decisive role wholly believable, while his voice (used not as narration, but in a musing, stream-of-consciousness flashback) is by turns tender, pathetic, searing and passionate. Musical phrases, prepared especially for the picture by Frank Worth, add immeasurably to the film's power. The Horn is a stirring and trenchant study in human emotions. If you dislike having your heartbeat aroused, you'd better avoid it. But if not...then The Horn is a movie made for you" PSA Journal, Jan. 1955, 49.
---
Date produced: 1928
Filmmaker(s):
Description:
"Renowned Hungarian violinist Jelly D'Aranyi steals the scene, and brings a swirl of glamour to a cold Manchester day, as she entertains young Ruth Behrens in the family's garden. Jelly always stayed at Holly Royde, the Behrens' family home, when she performed with the Halle Orchestra. Look out for Ruth's sister Mary, confined to the house with a cold, and watching the fun through opera glasses." (BFI Player)
---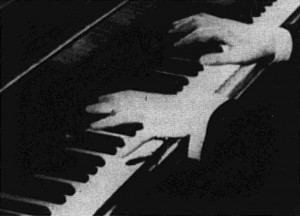 Date produced: 1959
Filmmaker(s):
Description:
"This is a short story about a musician, a pianist who has enjoyed the pleasure and popularity of concerts in many cities of Europe. And then came the war! Even in the thick of battle, when his fingers must play a different keyboard, music does not leave his mind. The picture closes with the last concert, simple, but forceful in its emotional impact" PSA Journal, Nov. 1959, 48.
---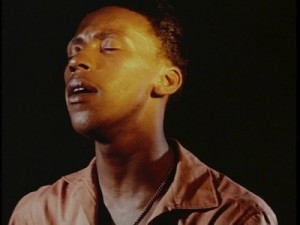 Date produced: 1965
Filmmaker(s):
Description:
"Nightsong is a dramatic story of a colored night club singer, Willie Wright, trying to make the big time and, most of all "to get people to like me." One evening while singing, his eyes rest on the face of a beautiful young white girl and his infatuation with her becomes unmistakable as the story unfolds. The film is 99% visual with a sound track that places great emphasis on the various moods of the young singer" PSA Journal, Sept. 1965, 50.
---
Date produced: 1964
Filmmaker(s):
Description:
"The One Man Band shows the filmer, Sid Laverents, playing about six instruments all at once, not to mention an old auto horn squeezed in between his knees that would compete well with Spike Jones, He explains what he is up to as a one man band, then plays two or three selections. A lively and entertaining film" PSA Journal, Sept. 1964, 51.
---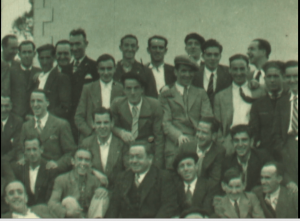 Date produced:
Filmmaker(s):
Description:
La historia del músico Alfredo Donnay y la inspiración que lo llevó a componer diferentes canciones a lo largo de su vida. El filme hace un recorrido por el territorio de Vitoria y sus alrededores mientras conocemos sus fuentes de inspiración para las letras y melodías.

The film tells the story of musician Alfredo Donnay and how he was inspired to compose several songs throughout his life. A tour of Vitoria and its surroundings is made as we get to know the sources of inspiration for his lyrics and music.
---
Date produced: 1963
Filmmaker(s):
Description:
"From the era of jazz to the big swing bands, show business has meant life and music. The voices of Sophie Tucker, Al Jolson and Bing Crosby bring nostalgic memories as they sing those grand old songs. Clever, pantomime, night scenes of New York, familiar faces, along with the arrangements of Benny Goodman, Glen Miller and others, make the audience chuckle as they tap their toes and swing their shoulders, being caught up in the rhythm and excitement of "Show Biz" PSA Journal, Oct. 1963, 42.
---
Total Pages: 2