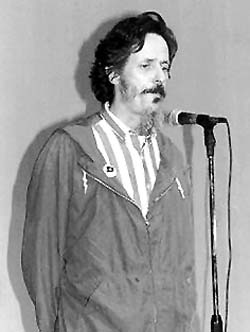 Gabriel Retes
Dates active:
1970-
Gender:
Male
Films:
Profession:
Filmmaker
Related Professional Works:
El infierno de todos tan temido [The Hell feared by everyone] 1981
El bulto [The package] 1992
Bienvenido-Welcome 1994
Un dulce olor a muerte [A sweet smell of death] 1999
Arresto domiciliario [House arrest] 2008
EnamorDados 2016.
Biographical Notes:
"Al ser estudiante de Letras Españolas en la Universidad Iberoamericana, decide formar un grupo de teatro universitario en su colegio. En 1978, formó la primera Cooperativa Cinematográfica Río Mixcoac, y a partir de ese momento se convirtió en un autor independiente y filma "Bandera Rota" (1978), película ganadora de la mención especial del Jurado en el Primer Festival Latinoamericano de La Habana, Cuba. Ha realizado durante su carrera alrededor de 19 largometrajes de ficción, siempre como productor y director, y en algunas de ellas también como actor. Sus cintas "El Bulto" (1991), "Bienvenidos Welcome" (1995) y "La Ciudad al Desnudo" (1989) se encuentran dentro de las cien mejores películas del cine mexicano" FilminLatino.

"When being a student of Spanish Literature in the Iberoamericana University, he decides to form a group of university theater in his school. In 1978, he formed the first Cinematographic Cooperative Río Mixcoac, and from then on he became an independent author that shot "Broken flag" (1978), a film awarded with a special mention by the Jury in the First Latin American Festival of La Habana, Cuba. He has filmed over 19 feature films, always as producer and director, and sometimes actor. His films "El bulto" [The encumbrance] (1991), "Bienvenidos-Welcome" (1995) and "La Ciudad al Desnudo" [Naked City], are amongst the 100 best films of Mexican cinema" FilminLatino.
Bibliographic Resources:
Vázquez Mantecón, Álvaro. El Cine Super 8 en México 1970-1989 . Filmoteca UNAM, 2012. Find this book in Filmoteca UNAM Docs

Ciuk, Perla. Diccionario de directores del cine mexicano. Consejo Nacional para la Cultura y las Artes (CONACULTA) and Cineteca Nacional, 2000.

Medrano Platas, Alejandro (1999). Quince directores del cine mexicano. Plaza y Valdés Editores, 1999.

Retes, Gabriel, María del Pozo y Gabriela Retes. Bienvenido-Welcome. Ediciones El Milagro/IMCINE, 1997.