---
---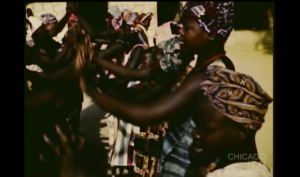 Date produced: 1947
Filmmaker(s):
Description:
"Silent film set in a small African village. The King takes his young son, the Prince, on a journey to teach him lessons on how to be a great leader by showing appreciation and care for the people they rule. The King guides the Prince to help care for the ill suffering from leprosy, learn skills like farming the land, making clothing and building shelter, and enrolls him in school to get an education and learn religion. The film shows many skills and medical processes of African villagers in detail from start to finish." Chicago Film Archives
---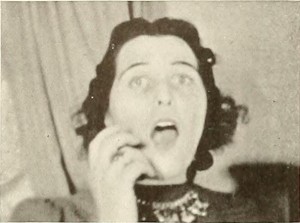 Date produced: 1940
Filmmaker(s):
Description:
"When Ernest Kremer wanted to make a film which would include his family and, at the same time, be entertaining to outsiders, he devised An Anaesthetic Fantasy, an ingenious tale of the nightmare of a dental patient under laughing gas. The patient imagines that he returns home, and there things begin to happen that confound him and the audience, too. Clever trick work, dissolves and stop motion are used to create this section of the film. Mr. Kremer has proved that the 8mm. worker need not bow to his 16mm. brothers when it comes to producing cine illusions. The film was presented with a delightfully appropriate selection of musical records played on a dual turntable outfit." Movie Makers, Dec. 1940, 601-602.
---
Date produced: 1956
Filmmaker(s):
Description:
"A Hitchcock type film, the star's fear all being caused by an appointment with the dentist, but under the gas he dreams of meeting an attractive girl. But he wakes up just as it gets interesting." PSA Journal, Nov. 1956, 45.
---
Date produced: 1969
Filmmaker(s):
---
Date produced: 1959
Filmmaker(s):
Description:
"Excellent documentary of the care and treatment of (cerebral palsy) spastic children. The very thought of the subject may bring us sharply to the realization of our good fortune. The picture handles the subject with fine touches of human interest and may cause us to feel thankful that there are those who will devote their time and energies to this work. It must be tremendously rewarding to see the children learn to walk and do things under their own power and control. A truly enlightening picture" PSA Journal, Nov. 1959, 48.
---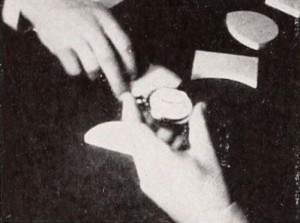 Date produced: 1944
Filmmaker(s):
Description:
"In order to acquaint medical students with actual mental types observed in basic years of study, Jon B. Goldsborough has made Clinical Types of Mental Deficiencies. The film is not planned as an exhaustive study of types, but rather as a way to direct attention to symptoms and expressions in mental cases by showing specific examples of the diseases studied. The picture proceeds in an intelligent, orderly fashion, by bringing each definite type to the screen preceded by a simplified case history and the name of the specific disease. The film is marked by precision, clarity and intelligent planning and editing. Mr. Goldsborough has accomplished admirably his purpose of making a direct teaching aid, to be used in conjunction with extended commentary and lecture in the field of psychology and psychiatry." Movie Makers, Dec. 1944, 495.
---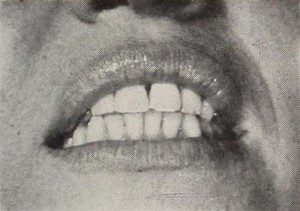 Date produced: 1939
Filmmaker(s):
Description:
"In A Complete Immediate Denture Technique for the General Practitioner, Dr. James E. Bliss offers a striking example of how skillfully motion picture technique may be adapted to a subject as highly specialized as dentistry. An intelligent and systematic scheme of varying camera positions serves to present detailed material in as effective a manner as possible. Unhampered by the conventional idea, that the camera should rarely be shifted from one viewpoint to another when making such a film, Dr. Bliss has approached the subject with a plan of shooting sequences just as if he were making a dramatic film. The whole scheme of shots is simply considerably closer than it would be in the case of an ordinary subject. The result gives a feeling of unity and assures one that he is not looking at a series of movie slides. The ultra closeups in color are among the finest that have ever been filmed and, because of excellent lighting and precise focus, they make an outstanding teaching film." Movie Makers, Dec. 1939, 636.
---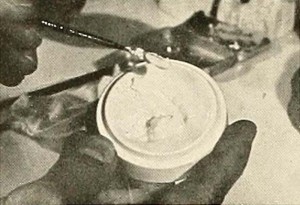 Date produced: 1937
Filmmaker(s):
Description:
"It is probably safe to say that nowhere in the world has been made a dental picture more perfect in detail than Complete Operative and Prosthetic Technic for Porcelain Jacket Crown Restorations. Dr. Milton Cohen has portrayed this highly intricate and skilled dental project in superb Kodachrome closeups. Not only do the ultra close shots of the work in the oral cavity achieve great fidelity as to color, but also the many operations in the dental laboratory are filmed with equal expertness. Certain steps in the procedure are portrayed by the use of heroic steed models, and these scenes were smoothly integrated with the scenes taken in the mouth of the living model. Although treating of a subject necessarily highly technical in nature, the titles were so well written that they made the film clear to a layman. The picture is distinguished by even exposure, sharp focus, good lighting and excellent camera angles. It is interesting to note that Dr. Cohen not only made the picture but also did all the work shown in it." Movie Makers, Dec. 1937, 603.
---
Date produced: 1949
Filmmaker(s):
---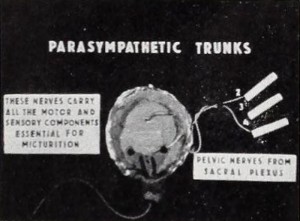 Date produced: 1940
Filmmaker(s):
Description:
"Dr. A. I. Willinsky has made an important contribution to medicine in his film Cystometrography. The initial part of the movie shows brilliant use of models in this amazing recording of bladder pressure. The second portion deals with the machines used in study technique and includes one developed by Dr. Willinsky himself. The picture culminates with a series of charts, showing the wide variety of clinical records kept. The film is a very intelligently planned, comprehensive statement of the method that Dr. Willinsky is presenting." Movie Makers, Dec. 1945, 496.
---
Total Pages: 5