---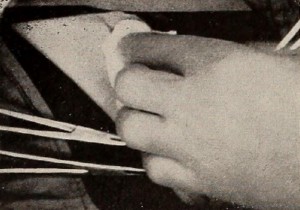 Date produced: 1946
Filmmaker(s):
Description:
"Extreme clarity and freedom from the shadows frequently encountered in medical films mark the technical details of the surgery shown in Dr. Vincent Vermooten's Repair of an Indirect Inguinal Hernia. Dr. Vermooten was, from the beginning, acutely conscious of the problems involved in bringing the proper light sources to bear upon a complex operation in which every bit of motion possesses great significance. To make certain of a steady and complete lighting scheme, he constructed a special platform above the operating table. Floodlights, closely bunched about the platform, left no possibility of inadequately lighted areas. The result is a record of an operation, masterfully pointed up by lighting, which should prove invaluable for instructional purposes." Movie Makers, Dec. 1946, 488.
---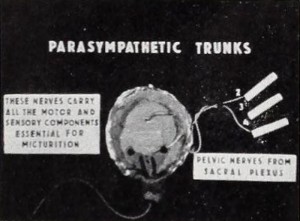 Date produced: 1940
Filmmaker(s):
Description:
"Dr. A. I. Willinsky has made an important contribution to medicine in his film Cystometrography. The initial part of the movie shows brilliant use of models in this amazing recording of bladder pressure. The second portion deals with the machines used in study technique and includes one developed by Dr. Willinsky himself. The picture culminates with a series of charts, showing the wide variety of clinical records kept. The film is a very intelligently planned, comprehensive statement of the method that Dr. Willinsky is presenting." Movie Makers, Dec. 1945, 496.
---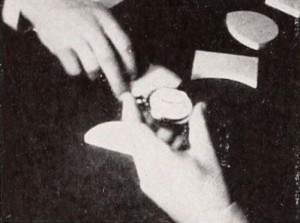 Date produced: 1944
Filmmaker(s):
Description:
"In order to acquaint medical students with actual mental types observed in basic years of study, Jon B. Goldsborough has made Clinical Types of Mental Deficiencies. The film is not planned as an exhaustive study of types, but rather as a way to direct attention to symptoms and expressions in mental cases by showing specific examples of the diseases studied. The picture proceeds in an intelligent, orderly fashion, by bringing each definite type to the screen preceded by a simplified case history and the name of the specific disease. The film is marked by precision, clarity and intelligent planning and editing. Mr. Goldsborough has accomplished admirably his purpose of making a direct teaching aid, to be used in conjunction with extended commentary and lecture in the field of psychology and psychiatry." Movie Makers, Dec. 1944, 495.
---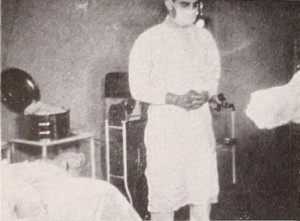 Date produced: 1943
Filmmaker(s):
Description:
"Dr. Robert Mallory, III, offers another of his brilliant surgical movies. This very able filmer, who has brought his hobby to the service of his profession, studies the course of a childbirth in which grave complications are found. The operation is recorded very intelligently, and to the enforced continuity that the event itself makes necessary are brought closeups and varying camera positions, wherever these are possible. The value of this type of cinematography to surgeons who work alone in small communities is incalculable. When it exists at all, it is highly serviceable; when it is as well done as Dr. Mallory has done it, it is a very direct contribution to the art of healing. Dr. Mallory, in this film, makes a very clarifying use of a model, to show the misplacement of the child and some of the delivery technique, thus giving information that the camera could not otherwise have presented." Movie Makers, Dec. 1943, 477.
---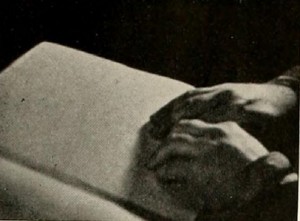 Date produced: 1940
Filmmaker(s):
Description:
"It is a striking gesture to employ the one medium which depends upon the sense of sight to aid the cause of the blind. This is what Jack L. Krapp has done in his comprehensive movie, Hands that Work in the Darkness, a thoroughgoing presentation of the unusual work being done for the sightless by the Cleveland Society for the Blind. The film is of generous length, yet, because of Mr. Krapp's special skill in maintaining interest through choice of viewpoint and because of the absorbing subject matter, it holds the attention throughout. Appropriate musical background, together with the delivery of a well composed spoken narrative, further enhances the presentation of the subject. Mr. Krapp's interior lighting work is very well done, and he seems to be able to take large or small interiors in his stride. A notable section of the film includes the recording of a play, performed by blind actors on a full sized stage. This is an excellent record film and a splendid achievement in its field." Movie Makers, Dec. 1940, 602.
---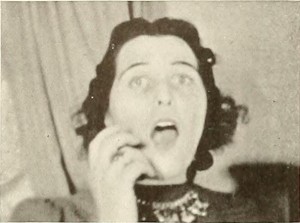 Date produced: 1940
Filmmaker(s):
Description:
"When Ernest Kremer wanted to make a film which would include his family and, at the same time, be entertaining to outsiders, he devised An Anaesthetic Fantasy, an ingenious tale of the nightmare of a dental patient under laughing gas. The patient imagines that he returns home, and there things begin to happen that confound him and the audience, too. Clever trick work, dissolves and stop motion are used to create this section of the film. Mr. Kremer has proved that the 8mm. worker need not bow to his 16mm. brothers when it comes to producing cine illusions. The film was presented with a delightfully appropriate selection of musical records played on a dual turntable outfit." Movie Makers, Dec. 1940, 601-602.
---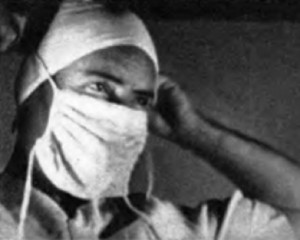 Date produced: 1940
Filmmaker(s):
Description:
"The Will and the Way is a simple story of '"little people" — but it looms large in its appeal to the human heart. There are, in its tender adventures, the laughter of sympathy and the tears of pathos. From these, as from any great expression of beauty, there comes the genuine and ennobling uplift of the spirit which is so rare in a workaday world. Chester Glassley has been equal to his task. His photography, both indoors and out, is as nearly flawless as skill and patience will permit. His camera treatment is marked by a wise concentration on close views, a dramatic selection of angles and a fine sense of matching and contrasting color values. Good cutting, paired with a brilliantly executed montage sequence, rounds out the technical achievements. But his greatest production triumph lies in the casting and direction of the two lead players, who bring to the amateur screen its most genuine and sensitive acting to date. A young wife is to have a baby. Because of a harsh experience with a rum sodden doctor, she turns blindly toward the thought of going only to a specialist, a great obstetrician, famed both for his fine care and his $1000 fees. Her young husband's reaction as he learns of this feeling is the simple theme of the entire story: "I don't know where we'll get the money, but if that's the doctor you want, then that's the doctor you're going to get!" From then on. life for the young couple is a race against time, punctuated for the husband by a frantic search for cash, which leads him through the indignities of a pie eating contest, the insults of '"amateur night" and the bruises and battering of a vastly unequal prize fight. But the baby wins in the end. The harried father collects only three hundred dollars of the specialist's fee, a sum he begs the great doctor to accept as a down payment. This the physician does, only to return the entire amount later — with a receipted bill — as his tribute to the boy's courage. The Will and the Way is a short, unassuming film, made technically with the simplest tools provided by the craft. But, in its unfailing imagination, its moving tenderness and. above all. in its deep understanding of the human heart, this film is a proud peer among its colleagues of the Hiram Percy Maxim Award." Movie Makers, Dec. 1940, 576-577.
---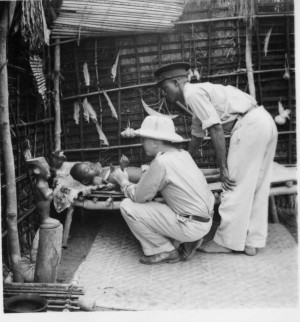 Date produced: 1939
Filmmaker(s):
Description:
"The Story of Bamba is a drama filmed in Africa by Ray L. Garner for the Harmon Foundation in New York. This reviewer calls the production a film drama advisedly, for, although it is made as a report of the medical work of a missionary group in Africa, the picture is, in itself, an entertaining photoplay. The boy, Bamba, is the nephew of the tribal witch doctor who cures sickness with his fetishes. Bamba is to become the medicine man's successor, but he falls ill with the fever and is deserted by the tribe when they hurriedly flee their village to rid themselves of a plague. Rescued and cured by the native representative of the missionary medical center, Bamba is sent to school so that he too, can cure in the white man's way. An adult, he returns to his own tribe, where he meets and finally overcomes the resistance of his uncle. Thus, the plot unfolds clearly and entertainingly, yet the story does not interfere with a complete exposition of the medical work of missionaries. Skillful handling of native actors is apparent in every scene, for there is scarcely an unconvincing piece of business in the whole film. Camera treatment is matter of fact but adequate." Movie Makers, Dec. 1939, 637.
---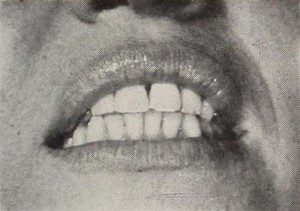 Date produced: 1939
Filmmaker(s):
Description:
"In A Complete Immediate Denture Technique for the General Practitioner, Dr. James E. Bliss offers a striking example of how skillfully motion picture technique may be adapted to a subject as highly specialized as dentistry. An intelligent and systematic scheme of varying camera positions serves to present detailed material in as effective a manner as possible. Unhampered by the conventional idea, that the camera should rarely be shifted from one viewpoint to another when making such a film, Dr. Bliss has approached the subject with a plan of shooting sequences just as if he were making a dramatic film. The whole scheme of shots is simply considerably closer than it would be in the case of an ordinary subject. The result gives a feeling of unity and assures one that he is not looking at a series of movie slides. The ultra closeups in color are among the finest that have ever been filmed and, because of excellent lighting and precise focus, they make an outstanding teaching film." Movie Makers, Dec. 1939, 636.
---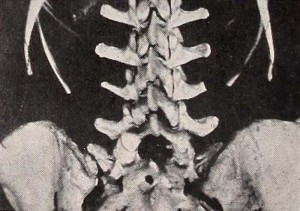 Date produced: 1939
Filmmaker(s):
Description:
"Imagine, if you can, a subject which would be harder to present in motion pictures than the effects of a spinal anaesthetic. This is the problem that Leslie P. Thatcher solved so ably in his Technique and Principles of Spinal Anaesthesia with Nupercaine. Because most of the action takes place within the body, it was necessary to do some real thinking before a suitable motion picture presentation could be worked out. For example, the action of the fluid as it floats in the spinal canal was shown dramatically and effectively by floating some of the drug in a solution in a slowly tilting glass phial. A considerable use of X-rays served to show clearly just how the hypodermic needle should be handled, while well photographed diagrams and models aid the film's clarity. Operative scenes represent the best technique, and the action clearly demonstrates the qualities of Nupercaine as an anaesthetic. The picture is a study in straightforward exposition and, as such, it should serve its sponsors admirably. It is to be noted that Mr. Thatcher showed admirable restraint in his brief shots of operations. While sufficient for the medical man, they are not too long or gruesome for a lay audience." Movie Makers, Dec. 1939, 633-634.
---
Total Pages: 4