---
---
Date produced: 1933
Filmmaker(s):
Description:
"Night Call, made by Elizabeth Sansom, ACL, and Kenneth V. Bloomer, ACL, is noteworthy for its attention to exact detail in the portrayal of an event in the daily (and nightly) routine in the lives of two physicians who receive a "hurry call" to perform an appendicitis operation. Miss Sansom, in the course of the story, films an operation sequence that seems letter perfect, both from the point of view of the operation itself and of the lighting, closeup and photographic technique employed." Movie Makers, Dec. 1933, 523.
---
Date produced: 1956
Description:
"About two people who read an article on cancer being caused by smoking, and who decides to give it up. Neither does, but their evasions make many humorous situations. They finally catch each other sniping butts and call the whole thing off." PSA Journal, Nov. 1956, 45.
---
Date produced: 1930
Filmmaker(s):
Description:
"Operation On The Brain, 300 ft., 16mm., made by Ernest Page and William Palmer, is a splendid record of a surgical operation. The film's most prominent quality is its fine definition. Correct exposure and careful lighting produced a clean cut and understandable scientific record. Closeups, made with a telephoto lens, were correctly interspersed with the longer shots to emphasize the important details. Variation in camera position is as important in films of operations as in other types of subject matter. Continuous closeups, often used in films of this nature, may be as unsatisfactory as would be continuous medium shots. Although not planned from the viewpoint of instruction, this picture is probably as satisfactory a surgical record as is possible to make under amateur conditions." Movie Makers, Dec. 1930, 759.
---
Date produced: 1971
Filmmaker(s):
---
Date produced: 1932
Filmmaker(s):
Description:
"Dr. McAfee presented technical subject in a manner that was interesting to the layman as well as the dentist. His photography was consistent and his continuity thorough." American Cinematographer, Dec. 1933, 342.
---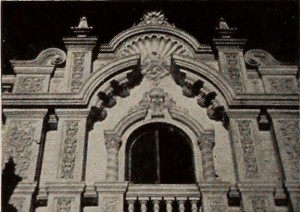 Date produced: 1946
Filmmaker(s):
Description:
"Item is a film production of Dr. and Mrs. Willinsky's trip to Lima, Peru to attend the 5th International Assembly of the International College of Surgeons. Footage of assembly delegates, landmarks and the local population are interspersed with captions added by Dr. Willinsky. Included are scenes of assembly delegates near Lima's Workman's Hospital, Sadie visiting the home of the assembly's chairman and entering the palace of Peru's president for a luncheon, sights along the streets of San Martin, cathedrals, shots taken from a moving train, and images of the Ricmac River from a nearby road." Ontario Jewish Archives.
---
Date produced: 1933
Filmmaker(s):
Description:
"This picture was made with indoor lighting and showed a very consistent photography." American Cinematographer, Dec. 1934, 377.
---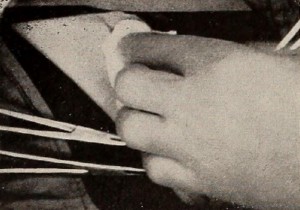 Date produced: 1946
Filmmaker(s):
Description:
"Extreme clarity and freedom from the shadows frequently encountered in medical films mark the technical details of the surgery shown in Dr. Vincent Vermooten's Repair of an Indirect Inguinal Hernia. Dr. Vermooten was, from the beginning, acutely conscious of the problems involved in bringing the proper light sources to bear upon a complex operation in which every bit of motion possesses great significance. To make certain of a steady and complete lighting scheme, he constructed a special platform above the operating table. Floodlights, closely bunched about the platform, left no possibility of inadequately lighted areas. The result is a record of an operation, masterfully pointed up by lighting, which should prove invaluable for instructional purposes." Movie Makers, Dec. 1946, 488.
---
Date produced: 1933
Filmmaker(s):
Description:
"In view of the increasing use of substandard motion pictures for practical purposes by scientific and professional men and women, it is to be expected that among the ten best would appear a surgical film. Philip A. O'Connor, of Rochester, N. Y., filmed A Reparative Operation for a Congenital Defect, which was performed by Dr. William L. Wolfson, of Brooklyn, N. Y., and this film is included by Movie Makers in this annual listing because of two chief reasons. This very delicate operation required a large degree of manipulation by the surgeon, without the use of instruments, which adds to the danger of the operator's obscuring the field of vision and, consequently, to the difficulty of securing a clear motion picture record of his work. In spite of this handicap, the admirable cooperative effort between surgeon and photographer enabled Mr. O'Connor to present an exceptionally visible study of Dr. Wolfson's technique. In the second place, the film gave a complete record of the entire operation, from start to finish, including the preliminary anesthesia. Whatever hazards may have existed photographically were so easily hurdled by Mr. O'Connor that the person viewing the film is almost unconscious of the fact that it is a film. Needless to say, the technical photographic details of exposure, focus and lighting were of the highest order." Movie Makers, Dec. 1933, 500.
---
Date produced: 1959
Description:
"The Valley 8mm Club of North Hollywood has turned toward drama for its newest scenario production. A touching story of a sick mother in rather meager circumstances and in need to medical care. The youthful daughter and the druggist carry out the leading roles with effective realism. There is a remarkable accomplishment of lip sync as needed in a few places through the use of strobe-tape. The dramatic ending completely detaches us from the mother's illness" PSA Journal, Nov. 1959, 47.
---
Total Pages: 4