---
---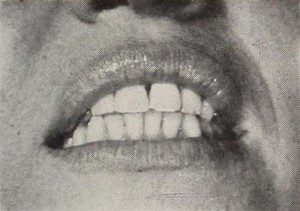 Date produced: 1939
Filmmaker(s):
Description:
"In A Complete Immediate Denture Technique for the General Practitioner, Dr. James E. Bliss offers a striking example of how skillfully motion picture technique may be adapted to a subject as highly specialized as dentistry. An intelligent and systematic scheme of varying camera positions serves to present detailed material in as effective a manner as possible. Unhampered by the conventional idea, that the camera should rarely be shifted from one viewpoint to another when making such a film, Dr. Bliss has approached the subject with a plan of shooting sequences just as if he were making a dramatic film. The whole scheme of shots is simply considerably closer than it would be in the case of an ordinary subject. The result gives a feeling of unity and assures one that he is not looking at a series of movie slides. The ultra closeups in color are among the finest that have ever been filmed and, because of excellent lighting and precise focus, they make an outstanding teaching film." Movie Makers, Dec. 1939, 636.
---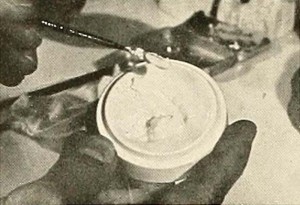 Date produced: 1937
Filmmaker(s):
Description:
"It is probably safe to say that nowhere in the world has been made a dental picture more perfect in detail than Complete Operative and Prosthetic Technic for Porcelain Jacket Crown Restorations. Dr. Milton Cohen has portrayed this highly intricate and skilled dental project in superb Kodachrome closeups. Not only do the ultra close shots of the work in the oral cavity achieve great fidelity as to color, but also the many operations in the dental laboratory are filmed with equal expertness. Certain steps in the procedure are portrayed by the use of heroic steed models, and these scenes were smoothly integrated with the scenes taken in the mouth of the living model. Although treating of a subject necessarily highly technical in nature, the titles were so well written that they made the film clear to a layman. The picture is distinguished by even exposure, sharp focus, good lighting and excellent camera angles. It is interesting to note that Dr. Cohen not only made the picture but also did all the work shown in it." Movie Makers, Dec. 1937, 603.
---
Date produced: 1949
Filmmaker(s):
---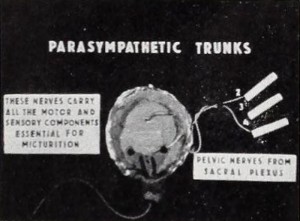 Date produced: 1940
Filmmaker(s):
Description:
"Dr. A. I. Willinsky has made an important contribution to medicine in his film Cystometrography. The initial part of the movie shows brilliant use of models in this amazing recording of bladder pressure. The second portion deals with the machines used in study technique and includes one developed by Dr. Willinsky himself. The picture culminates with a series of charts, showing the wide variety of clinical records kept. The film is a very intelligently planned, comprehensive statement of the method that Dr. Willinsky is presenting." Movie Makers, Dec. 1945, 496.
---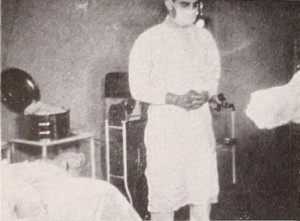 Date produced: 1943
Filmmaker(s):
Description:
"Dr. Robert Mallory, III, offers another of his brilliant surgical movies. This very able filmer, who has brought his hobby to the service of his profession, studies the course of a childbirth in which grave complications are found. The operation is recorded very intelligently, and to the enforced continuity that the event itself makes necessary are brought closeups and varying camera positions, wherever these are possible. The value of this type of cinematography to surgeons who work alone in small communities is incalculable. When it exists at all, it is highly serviceable; when it is as well done as Dr. Mallory has done it, it is a very direct contribution to the art of healing. Dr. Mallory, in this film, makes a very clarifying use of a model, to show the misplacement of the child and some of the delivery technique, thus giving information that the camera could not otherwise have presented." Movie Makers, Dec. 1943, 477.
---
Date produced: 1949
Description:
"Cincinnati Movie Club is producing a motion picture glamorizing the nursing profession. Had it been done for the hospitals by commercial professionals, the production would have cost more than $25,000. The film, 'Deed To Happiness,' is designed to promote interest in nursing among high school girls and alleviate the shortage of nurses in hospitals of Greater Cincinnati and Southwestern Ohio. Prints of the full color motion picture, with narration by Howard Chamberlain of VLW, are to be sold at cost to Cincinnati hospitals and screened in high schools." The Cincinnati Inquirer, May 22, 1949, 95.
---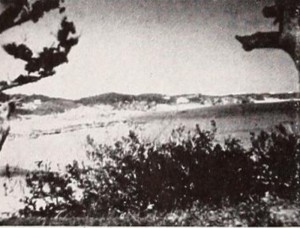 Date produced: 1944
Filmmaker(s):
Description:
"W. R. C. Corson, close friend of the late Hiram Percy Maxim, FACL, Founder of the Amateur Cinema League, and for several years an invalid, demonstrates his loyalty to the cause of personal filming and his determination to achieve in that field by a revision of travel footage made in a more active period. As its name might indicate. Elysium is a remembrance of happier days, containing sequences chosen for their beauty or evocation of delightful times, and haphazardly geographical. Scenes filmed from the air are interspersed with records of faraway places as Mr. and Mrs. Corson are seen wandering here and there. Here is the gallant and intrepid accomplishment of a pioneer movie maker who is still "in the game."" Movie Makers, Dec. 1944. 496.
---
Date produced: 1937
Description:
"doc. scientifico"/scientific documentary
---
Date produced: 1935
Filmmaker(s):
Description:
"doc. scientifico"/scientific documentary
---
Date produced: 1938
Filmmaker(s):
Description:
"doc. scientifico"/scientific documentary
---
Total Pages: 8