---
---
Date produced: 1937
Filmmaker(s):
Description:
"A story of an orange grower's everyday life, of his unending battle with pests." American Cinematographer, Nov. 1940, 498.
---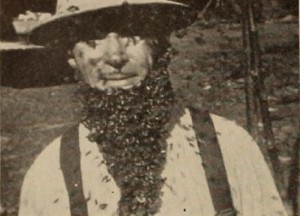 Date produced: 1949
Filmmaker(s):
Description:
"Out of his personal experience, C. H. Bacon has produced an intimately documented film study of honey bees, both from the viewpoint of the keeper and that of the bees. Included are some extraordinary detail shots of life within the hive — the birth, life and death of a queen bee, construction of a hive, protection against natural enemies and the production of honey. Happy touches of light humor balance the more serious aspects of the subject, while the bear sequence at the end provides an amusing climax. Exceptionally well lighted and capably photographed, the picture provides entertaining and instructive screen fare." Movie Makers, Dec. 1949, 469-470.
---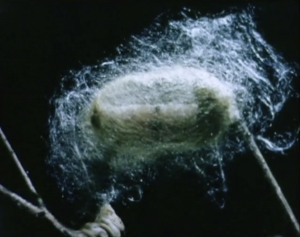 Date produced: 1972
Filmmaker(s):
Description:
Documental sobre la metamorfosis del gusano de seda desde su nacimiento hasta su muerte, pasando por todos los procesos morfológicos.

A documentary about the silk worm metamorphosis, from its birth to its death, showing al morphologic processes.
---
Date produced: 1944
Filmmaker(s):
Description:
"If you have never thought much about the communal effort that produces your breakfast honey, you will find a whole new world of careful organization set forth in William W. Vincent, jr.'s movie. If you have read about this world, you will realize the very great accomplishment of the filmer of Honey Harvest, as you see his picturization of the regimented and incredibly organized bee communities. By means of amazing closeups, Mr. Vincent identifies the various workers, shows them at their hard tasks and lets us see the queen bee, the drones, the nectar scouts, the farmers, the nurses and all the complex bee classes. Nectar is sipped and collected; it is used or stored until, finally, man takes the residual product for his own use. A breakfast sequence of great compositional charm begins and ends this highly unusual record." Movie Makers, Dec. 1945, 494.
---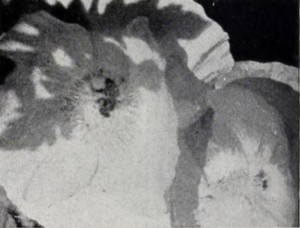 Date produced: 1945
Filmmaker(s):
Description:
"As an openly avowed disciple of Herman Bartel, one of the old masters of nature filming, Martin E. Drayson has been an ably and imaginative pupil. Seldom have individual scenes of such delicate beauty as his poured across the screen of personal movies. Interlude in Sunlight, like Mr. Bartel's work in Awakening or Pathetique, is essentially an effort to interpret, in cinematic imagery, compositions of music. As such, it is divided into three sections or movements, comprised pictorially of bees, flowing water and flowers. The musical scores which these interpret are Paganini's Moto Perpetuo, Massenet's Meditation from Thais, and Johann Strauss's Wiener Blut waltzes. Preceding these pieces (during the lead title assembly) and between the several sections, Mr. Drayson has elected the use of complete silence." Movie Makers, Dec. 1945, 496.
---
Date produced: 1964
Filmmaker(s):
Description:
"Some of the most beautiful insects of France. Coleoptera (beetles, beetles, longhorn beetles, etc.). Lepidoptera: eggs, caterpillars, pupae, accelerated birth (zygène), slow flights (papilio, zygène, sphinx, etc.). Parasitic and predatory insects: braconid, pentatomide, ammophile, mantis." rough english translation of a description provided by Canal-U.
---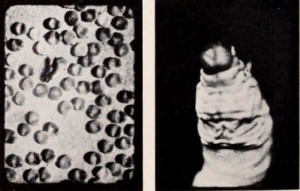 Date produced: 1932
Filmmaker(s):
Description:
"Arthur R. Powell of Asuza, California, decided to photograph the silkworm from the egg to its full growth. For some of us who are of a nervous temperament this may seem a tedious task to set for oneself, but Powell started it and determined to see it through to the bitter end." American Cinematographer, Oct. 1932, 28.
---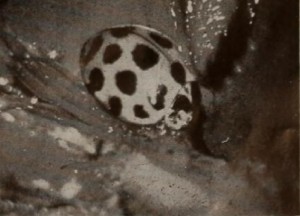 Date produced: 1953
Filmmaker(s):
Description:
"In The Ladybird, W. G. Nicholls has told the story of the life of the common ladybug — remember "Ladybug, ladybug, fly away home . . ."? — in a film that is entertainingly instructive as well as distinguished by excellent photography, composition and editing. Many of the extreme closeups of the tiny ladybird as it goes through the various stages of its insect life-cycle are indeed remarkable. Mr. Nicholls's skill in closeup cinematography is particularly well demonstrated in the series of scenes featuring the ladybird's value as a devourer of the aphids that so bother rose growers. A narrative that is educative and well written creates a feeling of respect for the ladybird as a friend to man in his constant struggle against destructive insects. Here is a nature study which is first class in every way." Movie Makers, Dec. 1953, 334.
---
Date produced: 1966
Description:
"Dr. Karl von Frisch performs some of the experiments which led to his discovery of the language of the bees. Explains the system by which bees communicate information about direction and distance. Emphasizes the importance of curiosity in scientific research." via WorldCat
---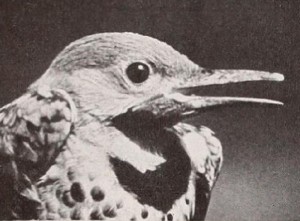 Date produced: 1943
Filmmaker(s):
Description:
"Henry E. Hird offers the framework of a timely continuity plan for a scientific record in A Letter. A naturalist father writes a film letter to his sailor son who shares the father's scientific interest in bird and insect life, as well as in floral beauty. We see the father writing and the son reading a letter, the information in which is brought to life in film. Mr. Hird is a very capable observer and movie maker, and the combination of these abilities has enabled him to offer, in this informal style, a wealth of information. Extraordinary sequences of nesting birds are included." Movie Makers, Dec. 1943, 477.
---
Total Pages: 5