---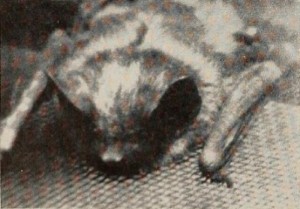 Date produced: 1947
Filmmaker(s):
Description:
"Francis M. Spoonogle apparently keeps a large family of snakes, bats, bugs, slugs and praying mantises in his backyard, to talk to in his idle moments. It is a fascinating collection, though most of us would probably be just as well satisfied with a couple of dogs and cats. At any rate, in Movie Menagerie Mr. Spoonogle exhibits his prizes in some of the finest ultra-closeup studies ever to reach the 8mm. screen. Although playing on a small stage, his creatures seem quite uninhibited during their brief periods of stardom. For instance, the favorite pastime of the female mantis seems to be eating all other types of small life (including her husbands) which might offer interesting digestive experiences. Many of Mr. Spoonogle's other characters are of a sweeter nature, however, and the film does not leave you feeling hopeless about nature by any means." Movie Makers, Dec. 1947, 534.
---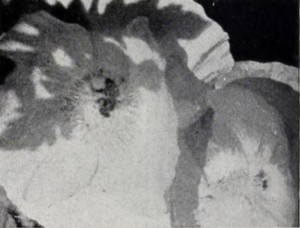 Date produced: 1945
Filmmaker(s):
Description:
"As an openly avowed disciple of Herman Bartel, one of the old masters of nature filming, Martin E. Drayson has been an ably and imaginative pupil. Seldom have individual scenes of such delicate beauty as his poured across the screen of personal movies. Interlude in Sunlight, like Mr. Bartel's work in Awakening or Pathetique, is essentially an effort to interpret, in cinematic imagery, compositions of music. As such, it is divided into three sections or movements, comprised pictorially of bees, flowing water and flowers. The musical scores which these interpret are Paganini's Moto Perpetuo, Massenet's Meditation from Thais, and Johann Strauss's Wiener Blut waltzes. Preceding these pieces (during the lead title assembly) and between the several sections, Mr. Drayson has elected the use of complete silence." Movie Makers, Dec. 1945, 496.
---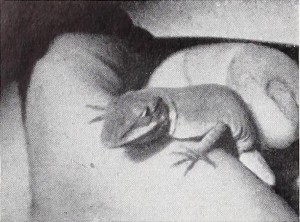 Date produced: 1945
Filmmaker(s):
Description:
"To film an insect well, when it is crawling, creeping or flying, is a real feat. Francis M. Spoonogle does this with great success. In his film, Backyard Zoo, he has taken completely undirectable creatures and has managed to capture them on film with such intimacy as to give one the feeling that he might be living for a while in the insect world. Unsuspected beauty is revealed in the coloring of caterpillars with normally unseen fur collars. So sharply has he focused on insect life in this beautiful 8mm. film that the "feathers," making up the coating of a butterfly's wings, are almost discernible." Movie Makers, Dec. 1945, 495-496.
---
Date produced: 1944
Filmmaker(s):
Description:
"If you have never thought much about the communal effort that produces your breakfast honey, you will find a whole new world of careful organization set forth in William W. Vincent, jr.'s movie. If you have read about this world, you will realize the very great accomplishment of the filmer of Honey Harvest, as you see his picturization of the regimented and incredibly organized bee communities. By means of amazing closeups, Mr. Vincent identifies the various workers, shows them at their hard tasks and lets us see the queen bee, the drones, the nectar scouts, the farmers, the nurses and all the complex bee classes. Nectar is sipped and collected; it is used or stored until, finally, man takes the residual product for his own use. A breakfast sequence of great compositional charm begins and ends this highly unusual record." Movie Makers, Dec. 1945, 494.
---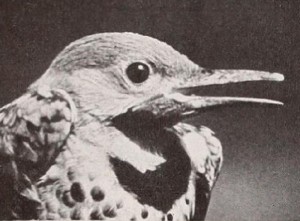 Date produced: 1943
Filmmaker(s):
Description:
"Henry E. Hird offers the framework of a timely continuity plan for a scientific record in A Letter. A naturalist father writes a film letter to his sailor son who shares the father's scientific interest in bird and insect life, as well as in floral beauty. We see the father writing and the son reading a letter, the information in which is brought to life in film. Mr. Hird is a very capable observer and movie maker, and the combination of these abilities has enabled him to offer, in this informal style, a wealth of information. Extraordinary sequences of nesting birds are included." Movie Makers, Dec. 1943, 477.
---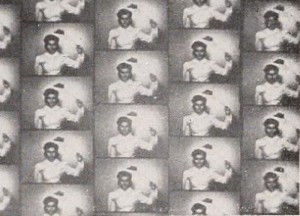 Date produced: 1942
Filmmaker(s):
Description:
"It is a strange and savage world indeed which Dr. Richard Cassell explores in his Warriors of Another World, a striking recording of nature's continuing and inexorable conflict. His warriors, among others, are the ant lion (with its simple but treacherous sand trap), the scorpion, the mantis, the black widow and the field spider. Into the life of each of these — and their unwary and often unarmed victims — Dr. Cassell has probed with his long focus lenses, to bring back reports of murder, sudden death and cannibalism among the insects. His technical handling of the specialized tools of his trade is beyond reproach, while his continuity treatments range the full gamut of motion picture story telling. Both micro and macrocinematography are used in the film's course, to develop well rounded sequences that are, incredibly, complete with medium shots, near shots, closeups and even reaction scenes made during the tiny but titanic battles. We see (in full frame closeup) the multiple lensed eye of a housefly, only to learn from immediate and striking imagery what such an eye might record — a housewife approaching with a fly swatter. Warriors of Another World is a distinguished contribution to educational film making." Movie Makers, Dec. 1943, 474.
---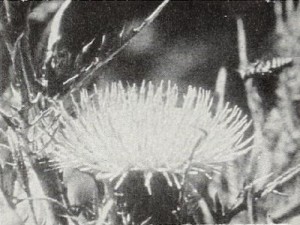 Date produced: 1942
Filmmaker(s):
Description:
"The recipe for a film like Dad and I Took a Walk sounds simple enough. You take equal parts of Father and Son, add a cupful of scenery, season with judicious pinches of natural science — and cook till done. The secret, apparently, lies with the "cook till done" section; so much depends on the cook. But W. W. Vincent, jr., is a good chef, to judge by the results from his cinematic oven. In clean cut, tripod steady Kodachrome, he and his son are seen roaming the pleasant Wisconsin landscape, with nicely timed pauses to point out, one to the other, a nesting robin, a praying mantis or a bright snake asleep in the warming sun. As the two men discuss their finds, spoken titles are double exposed against appropriate backgrounds or the pages of a bird manual are inserted naturally in full frame closeups. Dad and I Took a Walk is an attractive blend of personal filmdom's most popular subjects — field, family and fauna." Movie Makers, Dec. 1942, 508.
---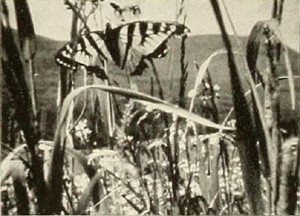 Date produced: 1940
Filmmaker(s):
Description:
"Robert P. Kehoe, who won Honorable Mention last year with Chromatic Rhapsody, has "done it again" — only more so. In Wildflowers, with his own inimitable magic, he has gathered into light and color all the lazy loveliness of high summer. Here, as if he talked their secret language, bees drone and butterflies dance before his lens. Daisies and buttercups, the wild geranium and "butter and eggs" — a dozen flowers you do know and a score you have forgotten — nod in the warm sun with simple and unassuming beauty. Often, six blades of grass and a single bloom will comprise a moment of ineffable gaiety and song. The rough wood of a slanting black post gives accent to a field of daisies, or the delicate tracery of a "four o'clock" is a breath taking frame for a summer sunset. In Wildflowers, Mr. Kehoe has written once again a lyric testament to nature's incomparable loveliness." Movie Makers, Dec. 1940, 600.
---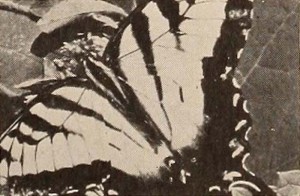 Date produced: 1938
Filmmaker(s):
Description:
"Technically superb macroscopic work marks the great part of the footage of Swamp Song, a color story of the insects found in the marshes and woods of the countryside, filmed by R. H. Unseld. Perfect focus and precise exposure distinguish the studies of insects, and it is not unlikely that they are the best of their type that have yet been filmed with an amateur camera. It is unfortunate that the story motif of this picture — a father and son wandering through the woods in search of insect types — is not better integrated with the extraordinary macroscopic footage. Nor is the technique of the titling on a par with the rest of the film. But the macroscopic insect scenes are truly astonishing, and such highlights as the invasion of a termite colony by a roving band of ants and a series of ultra closeups of butterflies are without parallel." Movie Makers, Dec. 1938, 621.
---
Date produced: 1932
Filmmaker(s):
Description:
"Garden Closeups, by W. T. McCarthy, ACL, demonstrates its right to be placed among the ten best films because of the painstaking care and time expended in its preparation and because of the exceptional results achieved. The film covers a subject which is almost entirely in miniature, but which, in its motion picture interpretation, reveals a whole new world which only the eye of a discriminating filmer and a nature lover could catch. Here are excellent closeups of the common varieties of garden flower, pictured so skillfully that the technique used is forgotten and the actual, living flower seems revealed on the screen, sometimes swaying gently in the breeze, sometimes rifled by a gigantic bumblebee pictured in alarming closeup. Another sequence will show the honeycombed intricacies of a wasp's nest, a time condensation technique showing its gradual cessation of activity as the winter comes on. An outstanding achievement in closeup technique showed the praying mantis in the very unprayerful act of devouring its victim. The film was made almost entirely with the aid of a telephoto lens with special extension, which enabled the patient cameraman to capture his flower and insect subjects from a moderate distance. Focus and exposure alike show the result of painstaking care in Garden Closeups." Movie Makers, Dec. 1932, 560.
---
Total Pages: 4