---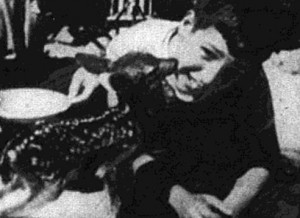 Date produced: 1954
Filmmaker(s):
Description:
"Eye to Eye, by Tullio Pellegrini, is an instructive and hilarious romp through the insect world, as seen via extension tubes and as scenarized with a sharply satiric sense of humor. Mr. Pellegrini has managed to poke just the right amount of fun at both insects and insect hunters (particularly movie makers) to tickle the most crusty rib in the audience. Among the more madcap moments are a parody of Dragnet, in which a spider lures his hapless victims to their deaths, and a sequence of "Bug-o-Phony" sound, in which (audio-wise) caterpillars make like locomotives and ladybugs like taxicabs" PSA Journal, Jan 1955, 48.
---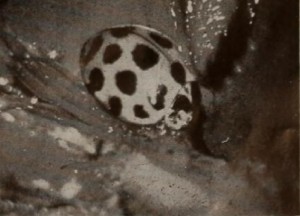 Date produced: 1953
Filmmaker(s):
Description:
"In The Ladybird, W. G. Nicholls has told the story of the life of the common ladybug — remember "Ladybug, ladybug, fly away home . . ."? — in a film that is entertainingly instructive as well as distinguished by excellent photography, composition and editing. Many of the extreme closeups of the tiny ladybird as it goes through the various stages of its insect life-cycle are indeed remarkable. Mr. Nicholls's skill in closeup cinematography is particularly well demonstrated in the series of scenes featuring the ladybird's value as a devourer of the aphids that so bother rose growers. A narrative that is educative and well written creates a feeling of respect for the ladybird as a friend to man in his constant struggle against destructive insects. Here is a nature study which is first class in every way." Movie Makers, Dec. 1953, 334.
---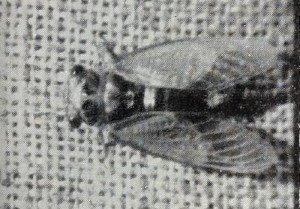 Date produced: 1951
Filmmaker(s):
Description:
"There is a lively and rewarding sense of participation about Nature Campers which, despite its threatening length, should give this picture wide appeal. In it, an eager-eyed group of young people and a few engagingly raffish naturalists pursue their studies of the outdoors with enthusiasm — and sound cinematics. Birds, butterflies, frogs and fish are among the creatures which come before Herbert Shumway's camera. But they come there, not just in the stiff ultracloseups of the studio, but as a natural part of the picture's development. The background musical selections are an enjoyable addition to an entertaining picture." Movie Makers, Dec. 1951, 412.
---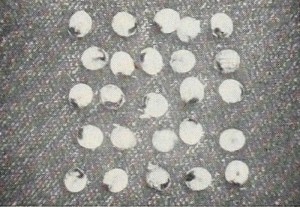 Date produced: 1950
Filmmaker(s):
Description:
"Citheronia Regalis, the Royal Walnut Moth, or Hickory Horned Devil are some of the ringing appellations admiring entomologists have given the colorful caterpillar on which Jay T. Fox has chosen to turn his microcinematographic attention. The result, The Birth of a Caterpillar, is an excellent example of scientific filming. In it, Mr. Fox records the egg, embryonic and finally emerging stages of his subject with sound scientific knowledge, exceptional technical ability and obvious patience." Movie Makers, Dec. 1950, 468.
---
Date produced: 1950
Filmmaker(s):
Description:
"Lily Was A Lady: Roy C. Wilcox failed to state what camera he used in filming this fine study of the habits of Lily, a praying mantis, but both his color photography and his editing skill have netted a highly interesting film about one of nature's queerest insects." American Cinematographer, May. 1951, 192.
---
Date produced: 1950
Filmmaker(s):
Description:
"Monarch Butterfly Story: This film, with its carefully written and recorded narration, is equally meticulous in its photography which chronicles the life-cycle of the Monarch butterfly from egg to adult. Major Anderson and his wife Claire Louise have collaborated in producing one of the finest studies of insect life ever produced by a non-professional film maker, and already one large educational film distributor is negotiating for its purchase. Employing two Bolex H-16 cameras, the Andersons have produced several excellent sequences in time-lapse photography aided by equipment home-made for the purpose by Mr. Anderson. The picture opens with scenes showing adult Monarchs in natual habitat. Interesting facts regarding the butterfly are told in the narration. Then the egg-laying period is shown, followed by closeups of the egg, hatching of the pupa, and it ultimate growth to an adult through the various stages of metamorphosis natural to the Monarch. It is the meticulous ultra-closeup photography and the perfectly executed time-lapse camera work that gives this production its class, and easily makes it one of the best 16mm color films of the year." American Cinematographer, May. 1951, 190.
---
Date produced: 1933
Filmmaker(s):
---
Date produced: 1931
Filmmaker(s):
Description:
"Film opens with views of commercial apiaries, working along into close up of hive. Hive is opened, queen shown, also drones and workers. Handling and shipment of queens and workers. Macrophotos of workers gathering honey. Production of wax and comb, also honey. Water carriers and guards. Production of queen and brood. Novelty hat and beard fashions from bees. Operator takes mouth full of bees. Closes showing 2 young boys beekeeping and gathering their crop." Educational Film Guide, 1937 Edition, 54.
---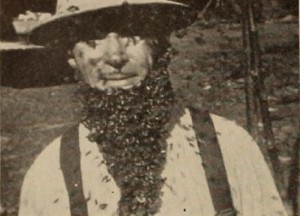 Date produced: 1949
Filmmaker(s):
Description:
"Out of his personal experience, C. H. Bacon has produced an intimately documented film study of honey bees, both from the viewpoint of the keeper and that of the bees. Included are some extraordinary detail shots of life within the hive — the birth, life and death of a queen bee, construction of a hive, protection against natural enemies and the production of honey. Happy touches of light humor balance the more serious aspects of the subject, while the bear sequence at the end provides an amusing climax. Exceptionally well lighted and capably photographed, the picture provides entertaining and instructive screen fare." Movie Makers, Dec. 1949, 469-470.
---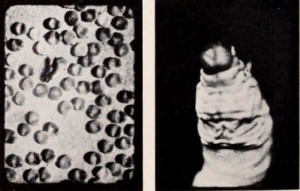 Date produced: 1932
Filmmaker(s):
Description:
"Arthur R. Powell of Asuza, California, decided to photograph the silkworm from the egg to its full growth. For some of us who are of a nervous temperament this may seem a tedious task to set for oneself, but Powell started it and determined to see it through to the bitter end." American Cinematographer, Oct. 1932, 28.
---
Total Pages: 4