---
---
Date produced: 1949
Filmmaker(s):
Description:
"This film shows pictographs on Drum Island, Nett Lake and spirit houses at Kathio, Mille Lacs. Also includes footage showing Ojibwe games (stick game, moccasin game and bowl game) played at the 1949 Territorial Centennial at Itasca State Park and a pow-wow at Lake Calhoun during the 1949 Minneapolis Aquatennial." Minnesota Historical Society.
---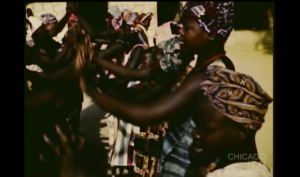 Date produced: 1947
Filmmaker(s):
Description:
"Silent film set in a small African village. The King takes his young son, the Prince, on a journey to teach him lessons on how to be a great leader by showing appreciation and care for the people they rule. The King guides the Prince to help care for the ill suffering from leprosy, learn skills like farming the land, making clothing and building shelter, and enrolls him in school to get an education and learn religion. The film shows many skills and medical processes of African villagers in detail from start to finish." Chicago Film Archives
---
Date produced:
Filmmaker(s):
Description:
"Un-staged documentary footage shot and edited by Sallie Wagner. Sallie's description of the film: 'Shorty Boys, Little Shorty building a hogan, Crip Chee and his hogan, grandson in doorway. Blackrock in front of hogan, Tchindi, Rose Martin doing laundry, cooking shelter at squaw dance, Hosteen Glish getting water, Bent Knee getting wood, Hosteen Glish making a canoe out of a log, Hosteen Glish's granddaughter weaving, digging yucca root for soap, Navajo washing her hair, Hosteen Glish making a cradle board'." New Mexico State Archives.
---
Date produced: 1939
Filmmaker(s):
Description:
"This film shows the Kegg family stripping basswood and birch barks and using the bark to make baskets and canoes." Worldcat.org
---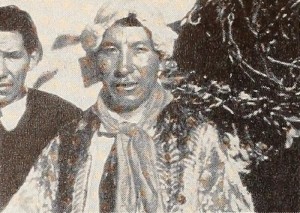 Date produced: 1952
Filmmaker(s):
Description:
"The curious and, to many of us, unknown peoples of the Bolivian Andes are the subjects of Ciudad de la Paz (City of La Paz), an interesting and colorful film by Eduardo Douglas Di Fiore. The peasants' life, arduous and squalid amid the beauty of their mountain home, has been competently and effectively documented. Their vividly colored costumes and monochromatic, weather-beaten faces take on a new beauty through the dramatic use of an interplay between natural light and shadow, a device which is used tellingly throughout the film. There are times, however, when Mr. Di Fiore tends to belabor his point. These overlong sequences, despite the ever-present beauty and grandeur, detract on occasion from the overall quality of the picture. The music and narrative (in Spanish) complement the mood and tempo of the film effectively." Movie Makers, Dec. 1952, 340.
---
Date produced: 1939
Filmmaker(s):
Description:
"Filmed in 1939 by the town doctor, Cologne is a personalized portrait of a farming community that merited only a single sentence in the WPA's 1938 guidebook to Minnesota: "COLOGNE (945 alt., 355 pop.) is a German community named for the ancient city on the Rhine." Dr. Raymond Dowidat and his wife, Esther, arrived in 1937 for his first practice after internship, and the impulse for the film seems to have arisen from their desire to document Cologne before they moved on to his next position in Minneapolis." filmpreservation.org
---
Date produced: 1965
Description:
Documental sobre las fiestas vascas.

A documentary about Basque celebrations.

---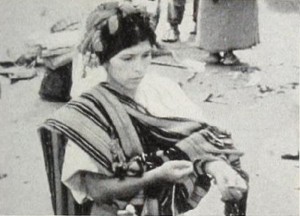 Date produced: 1942
Filmmaker(s):
Description:
"Living Mayas of Guatemala is a detailed study of human ways which explains enough, as it goes along, to give those who see it a feeling of intimacy with the strange customs that are recorded. There have been special film studies of the descendents of the great Central Americans of the past, and these have singled out some particular phase of Mayan life. Giles G. Healey has set himself a larger task, in interpreting the unity of the modern Mayas by following them through each day of a week. We see them at home, at work, at play and engaged with singular devotion in religious observances. These major sequences of the various days are full, and, for the most part, adequately filmed. Action is not posed, and the audience shares with the cameraman the feeling of observing something so vital as to make the filmer's presence entirely incidental. The final portion of Mr. Healey's movie offers a fine record of the special religious ceremony at Chichicastenango. A deficiency of illumination, although a cinematographic detraction, does not destroy the illusion of participation in the communal devotions. Here is an important contribution to the study of folkways, done attentively, intelligently and interestingly." Movie Makers, Dec. 1942, 508.
---
Date produced: 1965
Filmmaker(s):
Description:
La vida del Basierretarra / The life of the Basierretarra.
---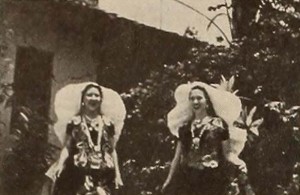 Date produced: 1938
Filmmaker(s):
Description:
"In producing Mexican Fiestas, the Hiram Percy Maxim Award winner of 1938, Ralph E. Gray has written a triumphant climax to his sympathetic and beautiful studies of Mexican life. Last year, in the Ten Best winner, Primitive Patzcuaro, he trained his camera quietly but observingly on the small scope of a single village. This year, in the dynamic sweep and action of Mexican Fiestas, Mr. Gray has ranged the length and breadth of Mexico to record with amazing vitality the thrilling ceremonies of a people at play. Here is an authentic documentation of religious and quasi religious holiday customs, both pagan and Christian. Here the simple mind of the Indian peasant interprets history and theology in his own colorful and often childlike idiom. Here, in the words of the film's own preface, "brave fireworks still exorcise the Devil; bright costumes do honor to the Diety, and exciting dances revive in antic splendor the ancient folklore of Aztec, Moor and Spanish Christian. To this striking and turbulent subject matter, Mr. Gray has brought a photographic skill which but rarely returned him anything less than perfection. The film's episodes, well edited and shrewdly titled, march smoothly onward to an amazing climax of pageantry and beauty. Important as a document of ethnologic value, entertaining as a drama of people at play, Mexican Fiestas is a worthy winner of the Maxim Award for 1938." Movie Makers, Dec. 1938, 596-597.
---
Total Pages: 3