---
---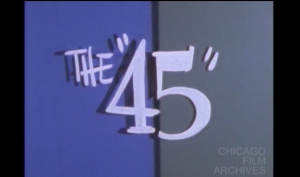 Date produced: 1961
Filmmaker(s):
Description:
"Plays out at an amateur level Jean-Luc Godard's dictum that all a film needs for a plot is a woman and a gun. This is how Margaret Conneely says The '45 came about: with a prop and an actor. From these elements she crafts a mischievous and entertaining film about a woman willing to employ any means to send away the man who comes looking for her husband with a gun." Chicago Film Archives
---
Date produced: 1928
Filmmaker(s):
Description:
"Jac Thall, of 957 77th Street, Brooklyn, N.Y., a publicity man for theatrical circuit, captured the fourth prize in the dramatic division for his little serio-comedy of the tribulations of a Povery Row movie company. This was called 'A Quickie' and was marked by some unusual amateur acting by Helen Johnson. The photography of Mario D'Giovanni, 45 Garmine Street, New York, was admirable too. 'A Quickie' was shot with a Bell and Howell on 35 milimeter film and was made chiefly on Staten Island." Photoplay, Nov. 1929, 86.
---
Date produced: 1933
Filmmaker(s):
Description:
"a burlesque on "Sherlock Holmes" (HMHT 1933: 446).
---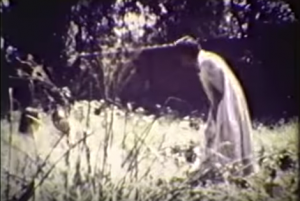 Date produced: 1973
Filmmaker(s):
Description:
" Ah, verda'? planteaba una extraña combinación entre la militancia política y la contracultural. Jugaba con el ataque a los símbolos del orden nacional y estatal (la bomba en el Monumento a la Revolución y en el PRI, los judiciales persecutores), la crítica a la sociedad de consumo representada por la huida de la pareja de jóvenes entre los espectaculares, la liberación sexual (la combi zarandeada porque dentro hacen el amor, o la urgente calentura de los monjes una vez que han probado el LSD y cruzado las puertas de la percepción), y la representación de la fantasía jipiteca de que el mundo sería más alivianado si todos probaran las drogas duras" (Vázquez Mantecón, 2012).

" Ah, verda' [Ah, right?] was a strange combination between political and countercultural militancy. It played with the attack to symbols of state and national order (a bomb in the Monument to the Revolution and in PRI offices [Revolutionary Institutional Party], the chasing police men), a critique to a consumer society represented by a young couple running away in between billboards, the sexual liberation (a truck shaken because someone is making love inside, the sex desire of monks once they have tried LSD and crossed the gates of perception), and the representation of the mexican hippies' fantasy in which the world would be cooler if everyone tried hard drugs" (Vázquez Mantecón, 2012).
---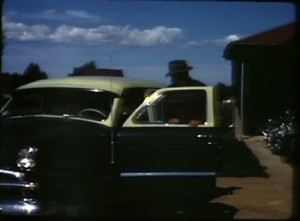 Date produced: 1951
Filmmaker(s):
Description:
"All In A Day - Consistently good photography marks this humorous document of the trials and tribulations that beset a man who goes fishing despite the objections of his wife. Overruling his wife's plea that he take her to visit her mother, the man sets out on his trip early the next morning. His first disappointment comes when the pal who was to accompany him bows out. Setting out alone, trouble comes in bunches. He gets a ticket for speeding, then a flat tire, and when he arrives at the lake selected for fishing, the boat is flooded with water. After bailing it out, the man rows out on the lake, forgetting his lunch, tackle, etc., and he must return to shore - further building up his state of high dudgeon. Before night falls, he's fallen in the lake, not to mention the fact he caught nary a fish, so he returns home a sadder but wiser man. But even then, his troubles are not over. His wife, who promised he'd 'be sorry' for going on the trip, locks him out of the house. In the closing scene he finds solace in his little son, who remains his only friend. One outstanding feature of this film is the maker's ability to cut scenes as he shoots. Result is each scene dovetails snugly with the next, and this greatly simplified, we are sure, the task of editing the film." American Cinematographer, May. 1952, 211.
---
Date produced:
Filmmaker(s):
Description:
"The Ritz-Carltons are lounging about on the porch when a car arrives. The Chauffeur releases a man who greets the family and gives the Mom a long string of pearls. Next scene introduces the Gumpskeys as poor folk. Mom Gumpskey is busy minding the kids and doing laundry before she confronts lazy Mr. Gumpskey (Meyer Davis). Next the young Ritz-Carlton boys go for a walk and get in fight with the young Gumpskey children. Dad Ritz-Carlton tells Dad Gumpskey to keep the kids off his property before getting into a fight. Next the children of both families try to outdo each other by dancing and cartwheeling. Fighting ensues and maid breaks things up. Meanwhile, Mr. and Mrs. Ritz-Carlton go to have tea at the Astorbilts whereupon someone accuses them of being fat. Scales are produced and everyone weighs themselves. Then the Ritz-Carltons go home. Both the Gumpskeys and Ritz-Carltons go for a picnic, and the 'Babbitts' are introduced. The Ritz-Carltons and Gumpskey are dismayed to find each other picnicing on the same beach together when a Ritz-Carlton child starts to drown. Gumpskey rescues the child." oldfilm.org
---
Date produced: 1927
Filmmaker(s):
Description:
"This proved to be an unusual serio-comedy, telling of a restless young husband and how he was cured. It was very well acted by Alfred Fontana as the husband, Margaret Ervin as the vamp, Anne Howe, and Beatrice Traendly as the wife. The directon of Russell T. Ervin Jr. was remarkably good, revealing an unusual facility for telling a story concisely and quickly. Then too, he understood how to cover any histrionic imperfections of his cast. 'And How!' is a suprisingly neat amateur film" Photoplay, June. 1928, 66
---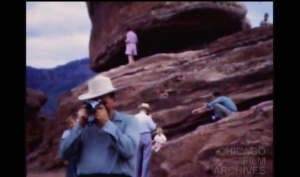 Date produced: 1959
Filmmaker(s):
Description:
"An amateur film made by and starring the husband and wife duo, John & Evelyn Kibar. After receiving numerous travel brochures in the mail, the Kibars begin reflecting on all the possible destinations they could visit - including Colorado, Bryce Canyon National Park and Jackson Hole, Wyoming. Actual travelogue footage shot by the Kibars acts as our reflective imagery, while title cards with dialogue are dispersed throughout the film." Chicago Film Archives
---
Date produced: 1950
Filmmaker(s):
Description:
"This humorous-sounding title suggests nothing of this film's content which has to do with a vacuum cleaner salesman and his tribulations when he is forced to pose as a woman, when a girl friend's husband arrives home unexpectedly. Both the exterior and interior shots are carefully exposed and a moderatly good editing job combines to make this a better than average effort." American Cinematographer, May 1951, 192.
---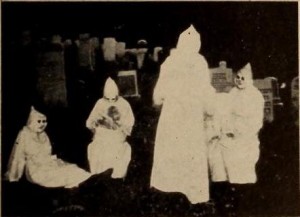 Date produced: 1949
Filmmaker(s):
Description:
"When darkness envelops the land and all sensible folk are safe in their beds, it is then, 'tis said, that the disembodied creatures disport themselves in and around the lonely cemeteries. A grave subject for a filmer, but Earl H. Sparks has created from it as zany a witches' comedy as the Walpurgis Night of unholy legend — or the madcap merriment of the Marx Brothers. Resourceful and adept technical handling, plus a lively if perverse imagination, imbue this phantom farce with high good humor and, shall we say, a haunting charm?" Movie Makers, Dec. 1949, 468.
---
Total Pages: 23