---
---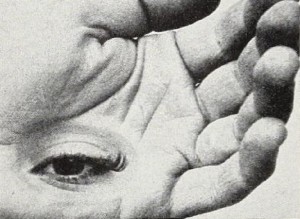 Date produced: 1942
Filmmaker(s):
Description:
"Robert Fels and his associates have made in Cine Whimsy a sound motion picture unlike anything that has seen the screen previously. Its plot is based on the literal picturization of figures of speech and, when the characters in this movie "lose their heads," they actually do! Similarly, when the heroine "hits the ceiling," she does just that and, when the hero "pulls the wool over her eyes," he does so with the aid of a ball of yarn. We could go on citing this kind of thing indefinitely without revealing the picture's true quality, which lies in a surrealist treatment, always ingenious and sometimes fantastic. The priest who rises from the cactus to "hitch" the headless couple who are hauling a cart on a barren road represents the kind of imagery that is typical of the film. The sound track is a brilliant combination of commentation and "fake" lip synchronism. Mr. Fells conceived and directed the picture; Newell Tune filmed it, and Norman Johnson collaborated on the shooting script. Mr. Tune's trick work is among the best yet produced on 16mm." Movie Makers, Dec. 1942, 507-508.
---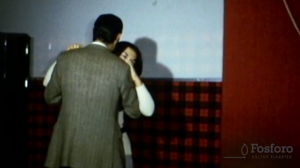 Date produced:
Filmmaker(s):
Description:
El filme muestra a una mujer esperando en su casa, tocando música, leyendo y acordando por el teléfono verse con alguien. Ella ve a una amiga y le dice que su novio, un hombre llamado Javier, está fuera de la ciudad por negocios. Primero van a una feria y después a un bar llamado El Pez Rojo, donde escuchan a una banda en vivo y toman algunos tragos, eventualmente ven que Javier está ahí bailando con otra mujer. Se van y Javier se queda bailando, después aparecen diversas imágenes de letreros de clubes nocturnos. Después se ve Javier manejando por la mañana con la otra mujer y deteniéndose a fumar un cigarro mientras es visto por su novia y su amiga. Mientras la pareja discute, la amiga de la primera mujer golpea a Javier en la cabeza con un arma. Después el filme corta a una escena de la primera mujer despertando y abriendo la puerta a sus amigas, mismas que reclaman haberla esperado demasiado, a lo que responde que se quedó atrapada por una historia que estaba leyendo, implicando que todo había sido producto de su imaginación.

The film shows a woman waiting in her house, playing music, reading and agreeing to see someone over the phone. She meets with a friend and tells her that her boyfriend, a man named Javier, is out of town on business. They first go to the fair and then to a bar called El Pez Rojo [The Red Fish] where they listen to a live band and have drinks, eventually they see that Javier is there dancing with another woman. They leave and Javier keeps dancing, then a series of images of several night clubs signs appear. Javier is then seen driving in the morning with the woman and stopping to smoke a cigar, where he is seen by his girlfriend and her friend. While the couple fights, the friend of the first woman hits Javier in the head with a gun. Then we see the woman waking up and opening the door to her friends who claim that she has kept them waiting for too long, and she says she got caught up in the story of the book she was reading, implying it was all a product of her imagination.
---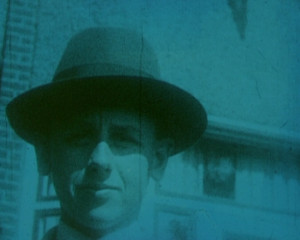 Date produced: 1931
Filmmaker(s):
Description:
"Amateur filmmaker, cinema historian and railway engineer H.A.V. Bulleid employs dry wit and sharp satire in this loose adaptation of the 'Saki' (aka Hector Hugo Munro) short story, 'Tobermory'. When Lord Bink - 'an extremely clever scientist' - creates a concoction which gives Clyde the Dog the gift of human speech, he gets a little more than he bargained for, as the dry wit and scathing tongue of Clyde wreaks havoc in the genteel world of Mrs Gatty's garden" (EAFA Database).
---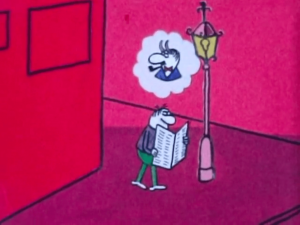 Date produced: 1971
Filmmaker(s):
Description:
Film experimental de animación que cuenta una pequeña historia de infidelidad conyugal.

Experimental animation film that tells a short story about marriage infidelity.
---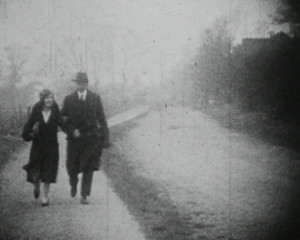 Date produced: 1931
Filmmaker(s):
Description:
"Elmer (Elmer Quane) is a hapless fool and a hopeless romantic, who has his heart set on Enid (Rita Lyons). But with Enid in the clutches of Arthur (Arthur Richardson), Elmer must go to extreme lengths to win her love. Left embarrassed by an encounter at the train station, and frustrated by his bullying boss, Elmer sits beside a secluded footpath. But when Enid's bag is snatched by a pair of thieves, and Arthur stands idly by, it is up to Elmer to save the day, apprehending the men and retrieving the bag. But has he won Enid's heart? Only his clumsiness, her ultimatum and a series of chocolate thefts will tell us" (EAFA Database).
---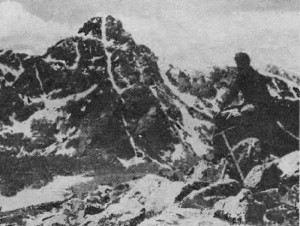 Date produced: 1958
Filmmaker(s):
Description:
"In a color chucklelogue Midgley will show spectacular pictures of Colorado today and give a nostalgic look into Colorado's colorful past. . . . The film features Denver, Pikes Peak, the Garden of the Gods, the Royal Gorge, Estes Park, ascent of Longs Peak, Trail Ridge Road, skiing at Aspen, and pictures of ghost towns and horseless carriages. Some of these pictures, filmed in excellent color years ago during the last days of the Narrow Gaugers, could never be replaced." The Clock Tower, Oct. 17, 1969, 1.
---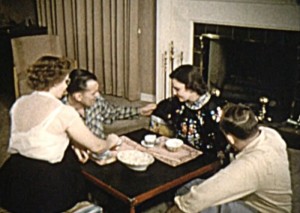 Date produced: 1954
Description:
A married couple responds to a newspaper ad seeking homes for foreign delegates visiting America. The couple receives the news that their guests are coming from Hong Kong, China, and they begin to alter their home and appearances to adjust to Chinese customs. However, when the delegates arrive, they do not meet the couple's expectations.
---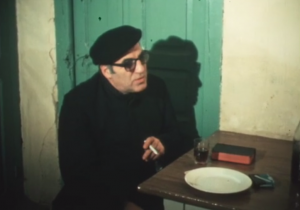 Date produced: 1975
Filmmaker(s):
Description:
Un cura preocupado de que una pareja viva en el mismo hogar sin estar casados, pide un milagro. Reza para que alguien en la pareja se enferme a fin de que valoren la vida y entiendan la necesidad de seguir los preceptos de su religión.

A priest concerned with a couple living together without being married, asks for a miracle. He prays for someone in the couple to become ill so that they will value life and the need to follow the precepts of religion.
---
Date produced: 1967
Filmmaker(s):
Description:
"The Daggy Shoe Caper takes less time to view than it does to read this review. The film lasts only 45 seconds, but in that time we learn an important lesson in life. You see there is this daggy shog and he puys a biece of meat. But when he sees his weflection in the rawter he gets selfish and mabs for the greet the other daggy shog has and - you've heard that one before, but the moral of the story is a new one! Great humor" PSA Journal, Aug. 1967, 37.
---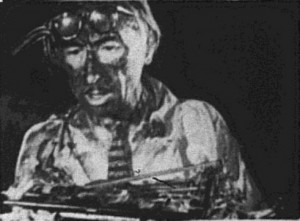 Date produced: 1954
Filmmaker(s):
Description:
"What happens when a modern gentleman of advancing years advertises for a mail-order bride and tries to answer the applicant of his choice? Der Brief, (The Letter), an excruciatingly funny farce by Dr. Oscar Wurmboeck, gives us one answer to this problem, as our shy but determined hero is confronted at every turn by confusion and frustration. Everything happens - the ink spills, the fountain pen leaks, the mechanical pencil won't hold leads, the wooden ones won't sharpen, and the typewriter refuses to type - to deter our man from his course. Competent camera work, incisive direction and crisp editing serve to point up the brilliant and appealing portrayal of the unfortunate lover by Rudy Rattinger, so that Der Brief builds quickly and smoothly from laughter to hysterics. Here is pure farce in the old tradition. It is nice to welcome it back to the filmic fold after too long an absence" PSA Journal, Jan. 1955, 50.
---
Total Pages: 19