---
---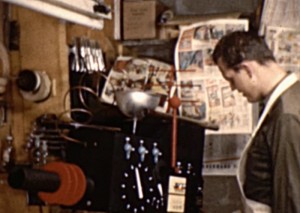 Date produced: 1951
Filmmaker(s):
Description:
After celebrating his fourth wedding anniversary, a man becomes obsessed with building a homemade weapon of mass destruction. The man's efforts reach a breakthrough after the couple celebrates their fifth anniversary.
---
Date produced: 1969
Filmmaker(s):
Description:
"The Bench is one of those twist-at-the-end films that is so simple it leaves you wondering why you couldn't have put 1 1/2 minutes to such entertaining use. The film by Jack Taylor of Rochester, N.Y. is another one of those "shorties" that puts the audience in a good frame of mind for more serious movie watching" PSA Journal, Nov. 1969, 57.
---
Date produced: 1967
Filmmaker(s):
Description:
"Black Book and Camera has good old George, you know George, photographing all the pretty lassies at the World's Fair. He then asks for their names and addresses so that he can send them a photo. Wouldn't a black book full of names and addresses be worth a pretty penny? W-e-l-l. . . George gets a lot of pretty pictures, but as for those names and addresses. . ." PSA Journal, Aug. 1967, 37.
---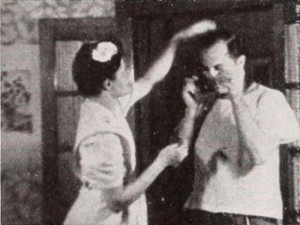 Date produced: 1944
Filmmaker(s):
Description:
"Werner Henze has shown in Bohemian Baloney that artists can make fun of themselves and their profession. An artist and his wife had planned to have a quiet evening at the movies when a telephone call warns of a visit by a wealthy prospective buyer of pictures and her meek husband. How the young couple suddenly transform their own characters and their tasteful and immaculate living room into a scene of "arty" surroundings is gaily depicted with just the right amount of farce. The compositions and lighting are excellent and there are gay, unexpected twists throughout, particularly when a self portrait of the artist comes to life." Movie Makers, Dec. 1944, 495.
---
Date produced: 1944
Filmmaker(s):
Description:
"Take a dog, a daughter and a pair of delightful parents, mix them together in a movie, and see what you get! If you get anything within striking distance of The Boss Comes to Dinner, then you have discovered the same secret that stamps indelibly this production by Ryne Zimmerman. It is the secret of good family fun, warmly presented and glowingly filmed. Here, in this delightful comedy, is a charming little imp of a girl, her absurdly performing pet and — lest we forget — a magnificent black monarch of the kitchen, all mixed up in a series of uproarious capers, as the poor boss and his wife "come to dinner." Mr. Zimmerman's camera work strides well along with his ability to plan and point up his comic developments. Produced all indoors, the film's lighting seems to radiate that intimate rapport and affection which bind together its happy family. The few titles are harmonious in design and clean in their execution. The Boss Comes to Dinner is a frolic of good fun and innate good taste." Movie Makers, Dec. 1944, 494.
---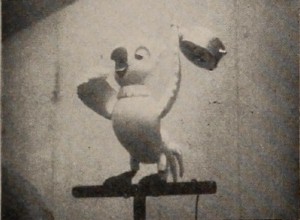 Date produced: 1947
Filmmaker(s):
Description:
"Animated figures have seldom been presented with such meticulous technique and in such clever situations as are executed by Clifford Bach in Breakfast in Bed. A perfectionist to the last twitch of an eyebrow, Mr. Bach has achieved exceptional realism in the movements of his small figures by painstaking frame by frame exposure and expressive camera viewpoints. His story follows the efforts of a cocky little cockatoo, Windy, to prepare breakfast for his master, Professor Whiffle. Windy's ingenuity overcomes all obstacles in a series of neatly motivated and genuinely amusing "gags." Mr. Bach's persistence and eye for design indicate a bright future in the field of animated movies." Movie Makers, Dec. 1947, 536.
---
Date produced: 1920
Filmmaker(s):
Description:
"Campus Smiles uses a playful tone to document the faculty, student body, and life at UW-Madison during the early 1920s. This documentary short is a compelling chronicle of the local culture at one of the nation's largest universities and offers a glimpse into the undergraduate sphere of the immediate post-WWI era. In it, humorous intertitles penned in early twentieth-century American slang introduce campus personalities and comment on social events." Archive.org
---
Date produced: 1967
Filmmaker(s):
Description:
"A Child's Introduction to the Cosmos is a humorous attempt to describe, in child language, what the Cosmos must be like. Actually, the charm of this film comes in its telling. Somehow the message doesn't matter too much" PSA Journal, Aug. 1967, 37.
---
Date produced: 1935
Filmmaker(s):
Description:
"The relatively short photoplay, Choosing a Scenario, has been awarded Honorable Mention because it is a smooth and superficially brilliant example of comedy film story making. Originally produced as one of the entries in a group filming contest conducted by the Cinema Club of San Francisco, the picture took first award in that contest for its director, William Palmer. ACL, its cameraman, K. G. Stephens. ACL, and its lone actor, J. Oliver Tucker, ACL. Although comparatively slight in significance, it offers fine photography, intelligent cutting, effective angles and deft acting in telling a clever story with lively tempo." Movie Makers, Dec. 1935, 551.
---
Date produced: 1964
Filmmaker(s):
Description:
"The Cinch is a quick, cute comedy about a do-it-yourselfer who decides to fix his own TV set. He fixes more than the set and ends up in quite a fix himself. The film won the Most Humorous Film Award. It is sharply cut and the fast pacing gives it its punch and humor" PSA Journal, Sept. 1964, 50.
---
Total Pages: 19