---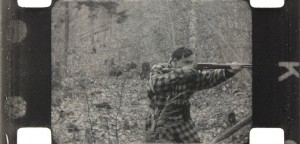 Date produced: 1926
Filmmaker(s):
Thomas Archibald (Archie) Stewart
Description:
"Structured around a hunting trip to Maine made by Archie Stewart and Howard Kendall. The two men travel to Perry, Maine, from New York state by train, then drive a car to a lake where they transfer their luggage to a motor boat on Grand Lake Stream and ride through heavy fog on rough water to West Grand Lake. They then carry a canoe to Lower Sysladobsis Lake, load the canoe with their rifles and supplies, and paddle off. After reaching their camp along the lake's shore, they check their rifles and eat before hunting." oldfilm.org
---
Date produced: 1937
Filmmaker(s):
Description:
"A Vacation with Lucy Carlisle, Margaret Pinkham, Virginia Carlisle." oldfilm.org
---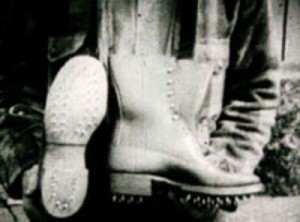 Date produced: 1930
Filmmaker(s):
Description:
"Depicts the year-round activities of the Machias Lumber Company on the Machias River in Washington County, Maine. Includes scenes of winter logging in the forest with hand tools and horses, as well as the spring log drive, with loggers using peaveys to break up log jams on icy rivers as the logs are moved from the forest to the mill. Includes footage of lumber loaded onto schooners in Machias for transport to New York and schooner being towed to sea by sardine boat." oldfilm.org
---
Date produced:
Filmmaker(s):
Description:
"Begins with a close-up intro of the Davis's in a small boat. One of the girls falls overboard and is saved. A woman drops her jewels overboard. Family disembarks. Finds a clue on a piece of paper. The Family sets out in boat with shovels, saws, axes, etc. Quarrel with another family. Find a deed." oldfilm.org
---
Date produced: 1964
Filmmaker(s):
Description:
"Racing Stars tells the story of a contest of boating enthusiasts in the Star class of sail boats. The Star is used primarily for racing, is about 23 feet long, has a keel with a 900 pound weight at the bottom, and carries only two sails, a main and a jib. Standards assure similarity of boats, of which there are about 5000 in all parts of the world. An animated diagram shows how Star boats follow the prescribed course in a contest An excellent commentary with superb photography keeps this picture moving with never a let-up, and any landlubber can smell the sea air by the time the picture ends" PSA Journal, Sept. 1964, 50.
---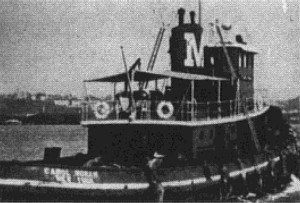 Date produced: 1960
Filmmaker(s):
Description:
"There are establishing scenes of the tugboat Carol Moran at dock in New York Harbor. We move aboard for an acquaintance with the captain. A call via radio comes from the dispatcher and very quickly the tug puts out for deep water. We are on the boat and live with the crew the experiences of a routine assignment, each of which must be just a little different. There are many things to see on these assignments and our cameraman has time for us to look. Carol has safely brought her mistress to dock; mission completed, Carol returns to her berth to await the next call. We have been part of a cycle of duty complete with the sounds attendant such a venture" PSA Journal, Nov. 1960, 39.
---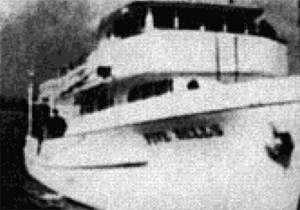 Date produced: 1958
Filmmaker(s):
Description:
"A documentary of Dr. Fernando F. Guerrieri's cruise on "The Five Bells" from Los Angeles to Salina Cruz, Mexico with intermediate shore stops. There are scenes from some of the sleepy villages. The main interest is life aboard the yacht, cleaning, mending, fishing, eating, and all the other things and events one might expect on a yacht in southern waters. The picture creates a feeling of relaxation and restful purpose, with some deep sea fishing" PSA Journal, Nov. 1958, 46.
---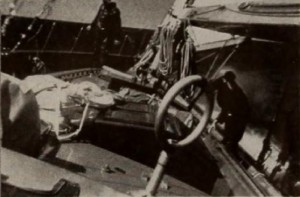 Date produced: 1953
Filmmaker(s):
Description:
"Lovers of boats and devotees of movie making alike will probably never see enough of Rochester Race, produced by Walter F. Chappelle jr. in the summer of 1952. For this picture is one of the most complete and authentic records of big-league yacht racing that has been produced to date. For big league indeed was the 72 foot yawl Escapade, owned by Wendell Anderson of the Detroit Yacht Club and sailing as scratch boat in the Rochester point-to-point race westward to Hamilton, Ont., eastward to Stony Point Light, and then back to the Rochester inlet. And big league too was Mr. Chappelle's detailed coverage of this grind, as the proud beauty — with a crew of fourteen and 2630 square feet of working sail area — barreled through heavy seas, slatted and drifted in the calms — but came home by 38 seconds the winner. Working under difficult (and often dangerous) conditions, the producer nevertheless achieved a variety and quality of scenes which are amazing. His handling of side or back lighting, as a big Genoa or spinnaker jib arched out from the Escapade, creates many moments of breath-taking beauty. With Rochester Race Mr. Chappelle has proved beyond the cavil of superstitious yachtsmen that a fine movie may be made on a fine racing craft — and yet still win the race." Movie Makers, Dec. 1953, 332-333.
---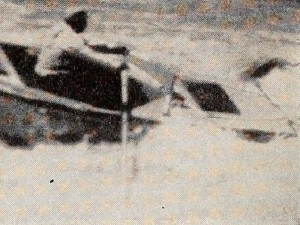 Date produced: 1952
Filmmaker(s):
Description:
"In Grand Adventure Louise Fetzner presents a lively record of a daring run through the wild rapids of the Colorado River, as it courses the Grand Canyon from Lee's Ferry to Lake Mead. While thrilling scenes of the intrepid boats and boatmen provide the film's drama, Mrs. Fetzner has not overlooked human interest sequences on the small daily activities of these hardy adventurers. Generally good in photography and editing, the film falls off in pace somewhat in its latter portions. And perhaps the frequent inserts of a title-map of the Colorado are more hindrance than help in what is essentially an action picture." Movie Makers, Dec. 1952, 340.
---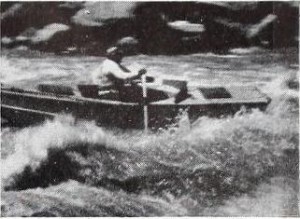 Date produced: 1951
Filmmaker(s):
Description:
"Grand Canyon Voyage is the record of how seven daring people in three tiny boats ran the Colorado River from Lee's Ferry in Arizona, through the awesome gorge of the Grand Canyon, to Lake Mead in Nevada. The trip itself was the exciting and gallant climax to four years of dedicated effort by Al Morton. Ideally, this film record of the trip should be infused with this same excitement, this same sense of gallant adventure. That it is not consistently so inspirited will be a source of sincere regret to all who know Mr. Morton. But perhaps no motion picture of this dangerous, demanding river run could recreate this spiritual overtone. The physical odds against filming were too great, too overwhelming, for controlled camera work and integrated continuity. Survival itself became more important than an image of it. Al Morton, we believe, has done a supremely difficult job far better than would the most of us. He has done it as well, surely, as any cameraman living." Movie Makers, Dec. 1951, 411.
---
Total Pages: 4