---
---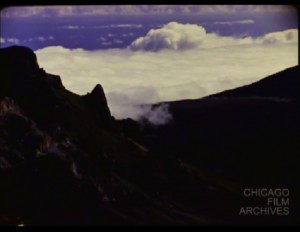 Date produced: 1941
Filmmaker(s):
Description:
"2 part travelogue film of Hawaii capturing the scenery, resources and people of the islands. Part 1 visits to a lava flow and other natural wonders such as Haleakala Creater and a black sand beach as well as numerous shores and valleys along the way. Stop motion animation of a toy car or ship tracks a change in location. Part 2 features footage of tropical flowers, picking coconuts, family picnic, farming and factory processing pineapple, Hula dance performances, surfing and canoeing competitions, and sunsets."
---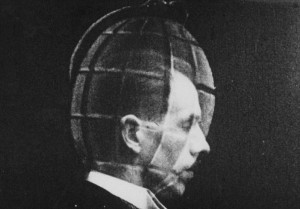 Date produced: 1936
Filmmaker(s):
Description:
"Norman McLaren and Helen Biggar's urgent work of animated agit-prop utilises a mixture of film forms (from found footage to title cards and staged action) stitched together with rapid editing to create an incisive and disorienting polemic against government armament spending. Made in 1936 as fascism was on the rise throughout Europe, the film was the result of collaboration between animator McLaren and sculptor Biggar, made during their tenure at the Glasgow School of Art. The idea was to use a rapid succession of violent images to jolt the viewer into demonstrative action against a new war, decades before such Brechtian techniques were employed by artists like Jean-Luc Godard. The result is one of the most striking and memorable of all animated political films" British Film Institute.
---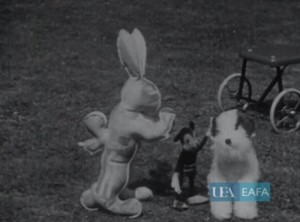 Date produced: 1932
Filmmaker(s):
Description:
"A record of the second birthday of June Thubron. The spontaneous actions of a little girl on finding her birthday presents. A record of her actions without any adult direction. The little girl plays with her birthday presents on the lawn and also waters flowers in the garden before falling asleep. In a stop-frame animated sequence subtitled 'Dreamland' towards the end of the film, her new toys come alive." East Anglian Film Archive.
---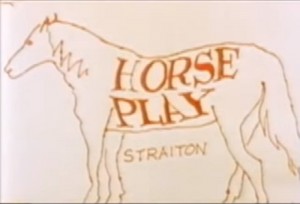 Date produced: 1972
Filmmaker(s):
Description:
"A half-horse, half-man pursues a young woman who turns herself into the same figure. Using a spare animation style, Straiton deals with a mythological subject that reveals his personal sense of humour. A beautiful film, set to original music, that is stunning in its simplicity." Canadian Filmmakers Distribution Centre.
---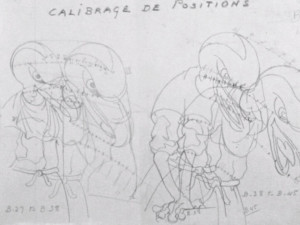 Date produced: 1938
Filmmaker(s):
Description:
A short film in which Émile Gallet demonstrates how to animate a walk cycle and illustrates the inner workings of a gasoline engine. The film also includes studies and designs for La Legende de Saint Nicholas (1949), as well as footage from Ducky 'n Busty (1937).
---
Date produced:
Filmmaker(s):
Description:
"Short film about the construction of a building. Opens with a cartoon, features the construction site, and ends with the finished building. Ray L. Huffman's name, who was a San Diego architect, is featured in the film." UCLA Film & Television Archive.
---
Date produced: 1956
Filmmaker(s):
Description:
"Animated puppets, dogs in this case. Synchronized with a song of the same title and cleverly done." PSA Journal, Nov. 1956, 45.
---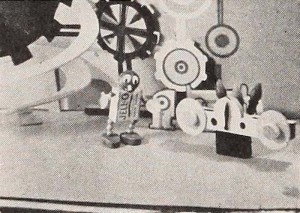 Date produced: 1939
Filmmaker(s):
Description:
"Jello Again is an entertaining film, produced entirely by animation, that stands by itself even when the special work necessary to produce it is discounted. This Kodachrome subject, filmed by Carl Anderson, is made entirely in stop motion with puppet actors, an exceedingly difficult job. The excellence of the handling of the puppets and accessory properties, together with the imaginative quality of the settings, makes the subject an outstanding one. Here and there throughout the film, there are certain indications of unevenness in exposure on the "over" side, but, because of the real achievement embodied in the film as a whole, this very slight flaw may well be overlooked. The models used in the action were most cleverly constructed and colored, and the variety of camera angles employed was especially appropriate to the subject from the point of view of presenting the material advantageously." Movie Makers, Dec. 1939, 634.
---
Date produced: 1966
Filmmaker(s):
Description:
"Jericho is a little animated film concerning a couple of dogs which get into a fight and knock down the walls of Jericho. Kallenberg and his wife spent many hours searching for the exact plans and dimensions of the old Biblical town and built an exact replica for the film" PSA Journal, Sept. 1966, 35.
---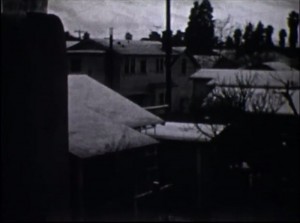 Date produced: 1932
Filmmaker(s):
Description:
Footage of residential Los Angeles after a snowstorm in 1932. Opens with an Amateur Cinema League leader and a stop-motion animated title.
---
Total Pages: 9