---
---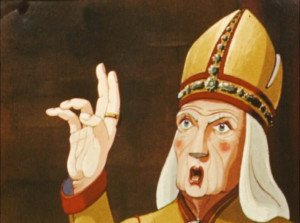 Date produced: 1949
Filmmaker(s):
Description:
"Émile Gallet, ACL, a man of rare talents and infinite patience, treated us to a showing the other day of his 16mm. color cartoon, The Legend of St. Nicholas, which, with a six year interruption by the war, has been in the making since 1938. Based on an old French folk song of the 12th century, the cartoon relates the fairy tale adventures of three little children, a wicked butcher and kindly St. Nicholas." Movie Makers, Sept. 1949, 327.
---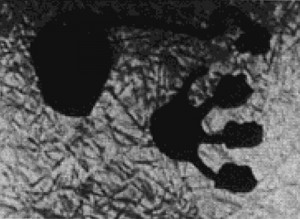 Date produced: 1966
Filmmaker(s):
Description:
"The Leucocyte Story, besides being a Ten Best winner, was also awarded the MPD Humorous Film Award and the MPD Sound film Award. It is a little gem of animation that is universal in its appeal and expertly done. The symbols depicted by the animated clay globs are a joy to watch. Without sound the film would lose fully half of its appeal" PSA Journal, Sept. 1966, 34.
---
Date produced: 1933
Filmmaker(s):
Description:
"dis. an. didattici"/educational cartoons
---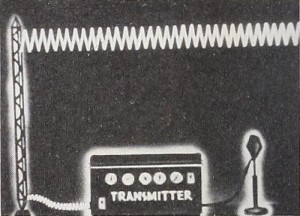 Date produced: 1942
Description:
"After looking at advertising films for many years, we have reached the point where we can take them or leave them alone — but this film took us. Although presented by the General Electric Company as a sales picture, this film is really an important educational document, and it holds one's attention every minute. Camera work and sound are, of course, excellent, and the sections of the film that are illustrated by animated diagrams, to show exactly what FM (Frequency Modulation) really is, are extremely well done. We have little or no radio knowledge, but the film was so clear and concise that we not only want an FM set when the war is over, but we know why. Special mention must go to the writer of the sound commentary, for the production of an excellent narrative. We can only hope that other companies that use movies commercially will follow the high standards of quality and good taste set by this film, for its advertising is both subtle and completely inoffensive. Listen—It's FM! deserves a top score in every respect, for continuity, cinematography and sound all combine to form a perfect film." Movie Makers, Dec. 1942, 506-507.
---
Date produced: 1969
Filmmaker(s):
Description:
"Little Soldier is a black and white film of 2 1/2 minutes running time that combines animation and real life scenes of war-torn world and the coming generation. A to-the-point film by Zack Burkett of Irving, Texas" PSA Journal, Nov. 1969, 57.
---
Date produced: 1966
Filmmaker(s):
Description:
"The Little Swan is an animated film using paper cut-outs, and is tailored to fit the music of the Swan Lake Ballet. A little girl cuts out the images and watches them dance through the air, only to be trampled under foot when her little brother and his friends get into a scrap over a football" PSA Journal, Sept. 1966, 35.
---
Date produced: 1962
Filmmaker(s):
Description:
"An abstraction made by scratching patterns on black and white film with a needle. The clear areas were tinted with acetate dyes - thus adding color. The visual images are fitted to the mood and tempo of a commercial recording. The film was made without the use of a camera and required no developing. A novel presentation. This will be blown up to 16mm and will be included in the Package," PSA Journal, Oct. 1962, 35.
---
Date produced: 1965
Filmmaker(s):
Description:
"Love in String is a most ambitious animated attempt to tell a yarn with yarn. Boy yarn meets girl yarn and together they spin a yarn of love on a tropical isle. Some coconuts later the story comes to a close with a thunderous climax. A sound track synchronized with the animated twine contributes a great deal to the effectiveness of the production. This picture also won the MPD Humorous Film Award" PSA Journal, Sept. 1965, 50.
---
Date produced: 1957
Filmmaker(s):
Description:
"Puppets have gained favor and interest among amateur filmers and Mr. and Mrs. Frank Kallenberg have done a right smart job with a table full of animals from the forest. The story opens with a monkey in a rocking char, reading his cook book. He turns the page to the recipe for ducks. This stimulates him to seek a duck, the capture of which creates quite an uproar among the animals. In the end, Mr. Monkey becomes aware of the error of his ways. This type of work is tedious and painstaking and these filmers have demonstrated their patience and skill in the movement of the many characters in telling a homey little story." PSA Journal, Nov. 1957, 33.
---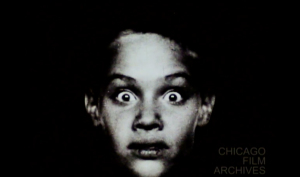 Date produced: 1971
Filmmaker(s):
Description:
"Expression of the evolution of man out of suffering seen through the use of animated portraits, decaying clay sculptures and various optical effects." Chicago Film Archives
---
Total Pages: 9