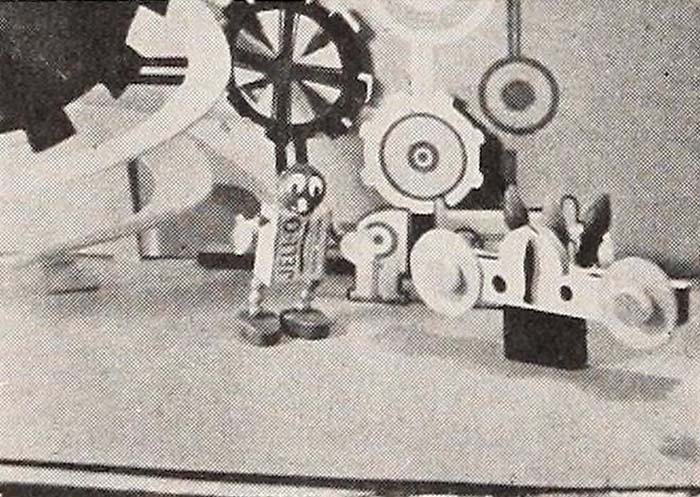 Date produced: 1939
Filmmaker(s):
Languages:
English
Length:
150 ft
Format:
16mm
Colour:
Kodachrome
Sound Notes:
Silent
Awards/Recognition:
American Cinematographer Amateur Movie Makers Contest, 1938 - Special Award
ACL Ten Best 1939 - Honorable Mention General Class
Description:
"Jello Again is an entertaining film, produced entirely by animation, that stands by itself even when the special work necessary to produce it is discounted. This Kodachrome subject, filmed by Carl Anderson, is made entirely in stop motion with puppet actors, an exceedingly difficult job. The excellence of the handling of the puppets and accessory properties, together with the imaginative quality of the settings, makes the subject an outstanding one. Here and there throughout the film, there are certain indications of unevenness in exposure on the "over" side, but, because of the real achievement embodied in the film as a whole, this very slight flaw may well be overlooked. The models used in the action were most cleverly constructed and colored, and the variety of camera angles employed was especially appropriate to the subject from the point of view of presenting the material advantageously." Movie Makers, Dec. 1939, 634.
Resources:
American Cinematographer (Jan. 1939, 17, 44) notes that the film includes 5000 single frame exposures shot over a nine month period.

Discussed by Anderson in "How Jello Was Animated" (Movie Makers, June 1940, 270-271, 293-294).

Also discussed in "Keen Competition Marks 1938 Contest" (American Cinematographer, Feb. 1939, 63).
Subjects:
Form:
Tags:
Screenings:
Screened by the Tri-City Cinema Club in 1942: Moline, IL
Screened by the 8-16 Movie Club of Philadelphia in 1943: Philadelphia, PA
---
Do you know where this film is? Get in touch with us at amdb@ucalgary.ca.